Report by Marcus O'Dean
It dawned rainy and a little blustery last Saturday, but I dragged my sorry backside out to Malabar to organise the morning .22 shoot for four old diehards. (Even the threat of rain keeps many service shooters away because they generally don't like stripping rifles down after a soaking.)
So time to shoot and there was a noticeable gusty wind in the Horseshoe Range when I got down to shoot the 50-35-25metre Three Position adapted Mini-Core match that our clubs had taken so well to. I was using my old 1968 Brno Model 2 with a Leupold EFR 3-9×33, which allowed me to see bullets impacting the target at the longer ranges out to 100 metres, so I was pretty happy with the outfit.
Readers will know that it has performed really nicely with CCI Standards and Winchester Power Points but disliked Federal bulk box HV Hollow Points and that I'd made an educated guess, after measuring weights and dimensions, the common denominator for success was a bullet measuring .224" diameter. The Feds, at .222" shot wildly. I could have a worn leade, but that is my supposition only.
Now earlier in the week I had visited Benson's Archery on a sales trip with Tony Pizzata and was interested to see that they now stock 'shooting stuff", ammo and accessories for the rifle hunter. And they are soon to start doing NSW Firearms Licence safety testing also. While it's small beginnings, I noticed that they had competitive prices on common calibers of centrefire ammo. They also had a stock of Highland rimfire ammo, so I bought four packets of Highland RX High Impact HVHP ammo at a good price, with this shoot in mind. As soon as I got home that evening I retrieved my digital caliper and measured the bullets Р.224" – GREAT!
Back to the Horseshoe, I shot two 5-shot groups over a pack at 50 metres with the Brno, with the first from a clean barrel going roughly an inch horizontal with three touching. (Wind may me a factor there.) The second group was a little rounder, having more vertical after an adjustment for zero and I was pretty happy.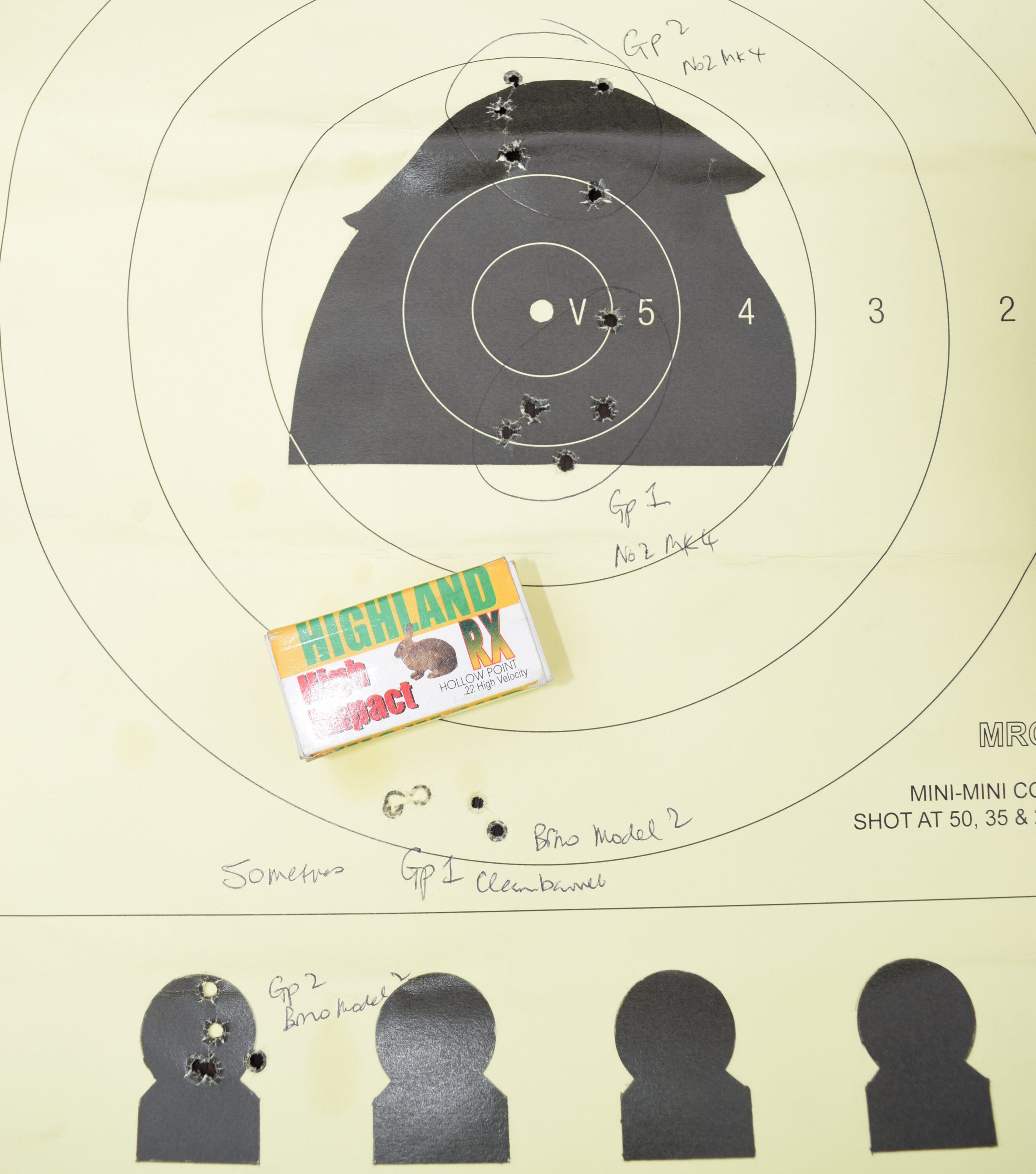 Next up I shot it through my No2 Mk4 Training rifle, which will put five shots into .75 inch at 125 yards on a good day with CCI Standards, and it wasn't so happy with this HV fodder (I am reliably informed by colleagues that SMLE Traners do not like HV ammo). If I did my bit I could use them in a match and get a possible, but a 2-inch group was barely "good enough for government work". Good to know anyway.
The match went well – I was on my game, despite still having an uncentred zero. I threw one at 10 o'clock which I didn't call and one absolute shocker, from standing at 25 metres, at 6.30 o'clock into the yellow.
The score went 149.25 out of 150.30, the highest centre bull count I have ever shot, with any ammo – there were 22 shots through one big ragged hole. Now I was calling every shot, observing most of the shots hitting exactly where I predicted on trigger release – love that Leupold.
The skirmish shoot at the end on the four bottom silhouettes from prone at 25 metres were child's play and I just had fun without putting too much concentration into it. It was a nice end to a really satisfying shoot.
Now we shot a Rimfire match on service targets on the main range at 100, 75 and 50 metres in the afternoon and the last serial was sitting at 50 metres on a Figure 14 "Hun's Head" target with a 3-inch 5-ring. With a low hold on the circle, nine of the 10 went inside the top half of the 5-ring, with one squeaking out at the top. Unfortunately, I did not cover myself with glory in the other two serials. Never mind, I wasn't shooting for a sheep station. I just knew that this rifle, scope and ammo combination instilled confidence. I could easily see the cluster of bullets forming throughout the shoot on targets with black aiming marks.
Now guess what? I am going back to Bensons to buy a few bricks of that lovely, cheap, accurate Highland rimfire ammo.