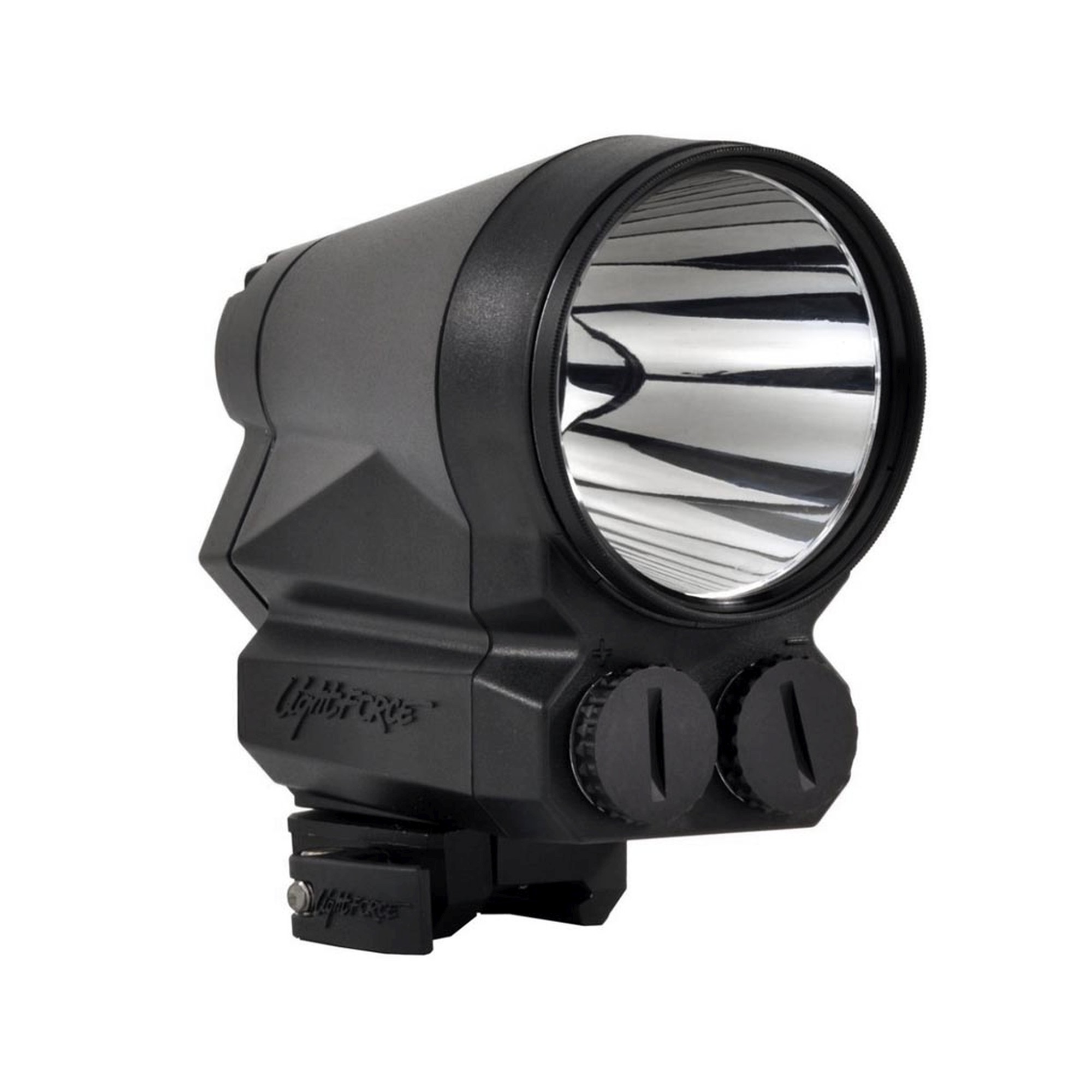 Based in South Australia, Lightforce prides itself on its quality range of high performance and innovative designed product. Its founder Dr. Ray Dennis is the man behind its original success, being an avid shooter that wanted more than just a spotlight that threw a dull beam into the darkness when out spotlighting, while also using excessive battery power. After years of development and design, taking into account weight, lamp, reflector, ballast design and power consumption, Dr. Dennis developed the innovative Lightforce range that today makes them arguably world leaders in the outdoor lighting industry. Searchlights, driving lights, utility lights and perhaps what most serious shooters know them for, spotlights are all a part of their range. And each of these categories offers a range of innovative models to suit individual needs.
For example, their Enforcer range of portable handheld spotlights are available in a selection of lights to suit your application. These include the Enforcer 140mm LED handheld with Fresnel technology, offering internal battery with 2-4 hour run time or extended time of up to 8 hours using a clip-on Enforcer battery. In addition to the standard LED Enforcer with excellent light output, a red/white Enforcer is also available offering red or white beam at the flick of a button. There is also a 4 colour model designed for mid range identification white dimming, red, amber and green. I've found this model ideal for shy foxes in close that may otherwise be startled by a bright white-light. Then there's the Enforcer Halogen range offering powerful 100w halogen spot beam, with separate switched low energy LED task light or the Enforcer Halogen Variable Power allowing complete control of high power spot to variable dimming via a conveniently located thumb control lever. Overall, however, the entire Enforcer range has also been designed to allow the user to quickly and conveniently change between power sources. Use it as a cordless unit or choose from an alligator clip or merit plug coil chord for power in seconds. Their separate, built-in task light is also a sensible addition, allowing the user to save power when walking or using the light for skinning or field dressing.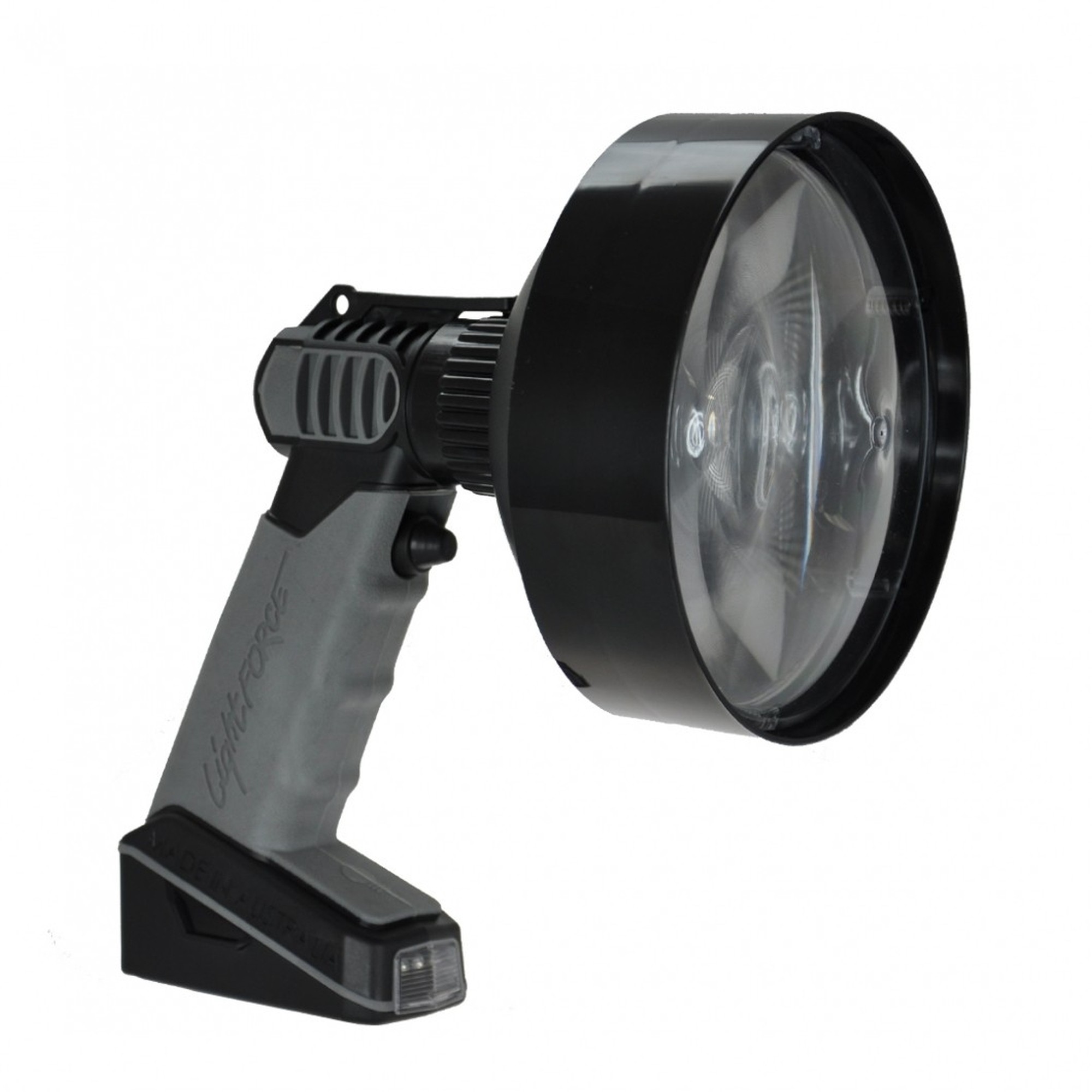 In recent times, however, Lightforce has taken their range to the next level in their new generation of HID performance lights. The Enforcer HID combines high performance in its crisp white beam via an integral ballast integrated within the moulded handle to regulate the current to the lamp. The Enforcer HID is available in 170mm and 240mm lamp options with the choice of 4200K or 5000K colour temperature bulbs that produce a crisp white beam in 50w or 70w performance respectively. It is noted the 70W HID exceeds 1.5 klms at 1 lux. So I don't believe anything comes close to this for distance and performance.
Add to this, its composite polymer construction making it extremely lightweight and durable, while its Parabolic reflector combined with built-in focusing mechanism allows a wide pattern beam through to long distance spot by simply rotating the reflector. The Enforcer HID range also offers a host of variable power options with revolutionary "Quick Change" in-field power options. So you can switch from cigarette lighter plug for portable battery pack or a vehicles internal power supply to direct battery connections on a vehicle via alligator clips in seconds.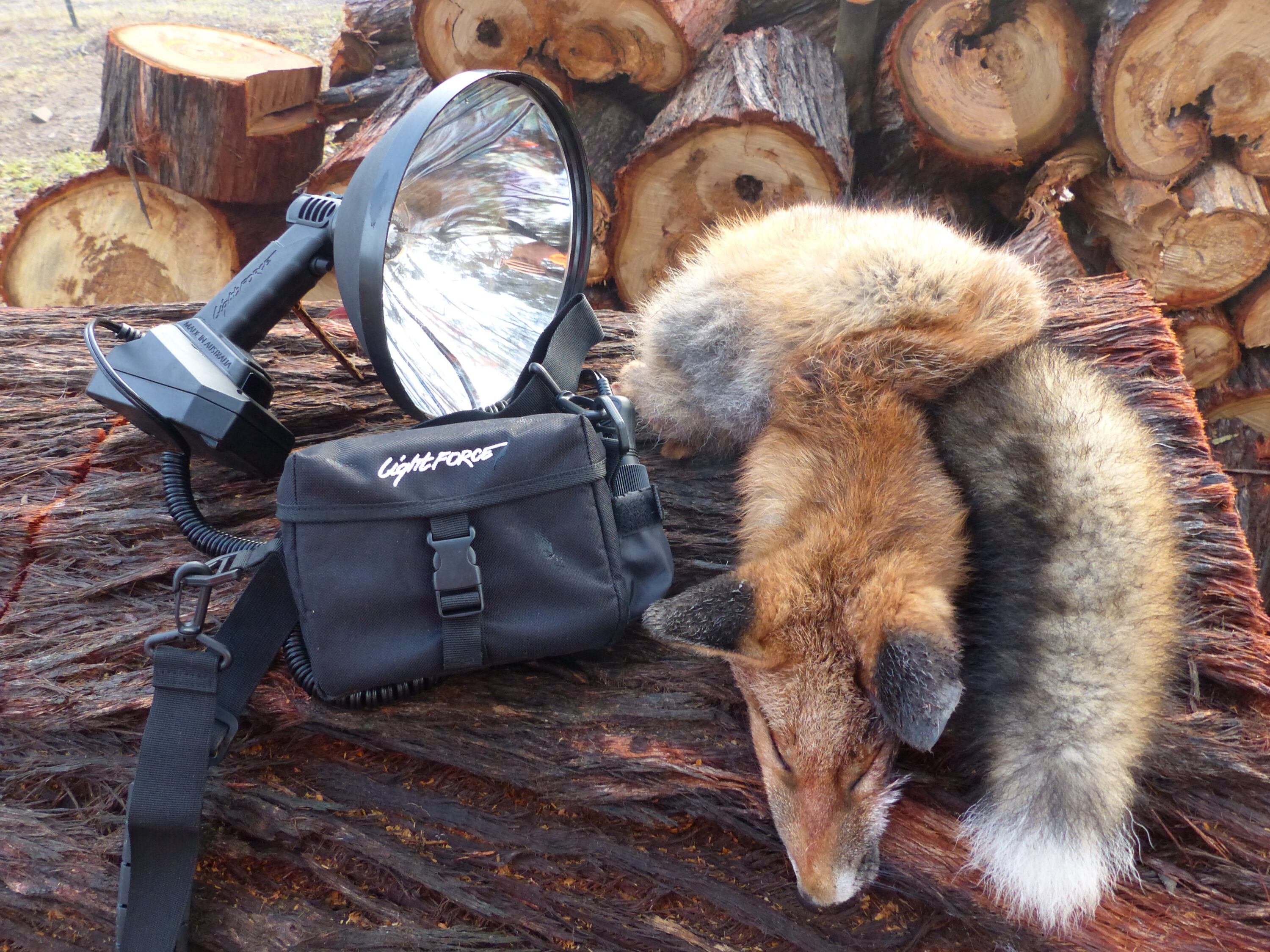 Recently, Lightforce sent me an Enforcer 240mm-70 Watt HID handheld spotlight, with a Lightforce LiFePO 4 Walk Battery Pack to take for a walk in the lambing paddock. The first thing I noticed about the battery was it's reduced weight, only 1kg in fact and approximately one third of the weight of standard SLA batteries. These Lithium Iron Phosphate batteries also retain their charge (shelf life) a lot longer and the battery also featured a charge indicator so you know exactly how much power is left. While charging time is approximately 3 hours, I'm told the cycle life is approximately 1500 uses, so a properly maintained battery should last for years. Add to this a canvas bag and shoulder strap, with lighter socket to plug the Enforcer into and I was ready for patrol. A short walk after dinner with my son Mick soon produced a scavenging fox. Out for more than an hour of constant use, the kit and battery didn't let us down and still had charge in it.
Lightforce also offer the PRED3X and PRED9X LED firearm mounted lights designed more so for close to medium range. Make no mistake, the PRED3 and 9X are a great tool once you've found your game, but they are certainly not a searchlight that will spot game out yonder to 400-500 meters plus. I've taken a close look at both these models and while the 3X is more so for very close quarters, the 9X is capable of spotting game to about 150 meters. Both are LED lights and both feature a rechargeable, built-in power source. In saying this, the PRED3 has a built in battery, the 9X has batteries that require removal to be charged. Another alternative, however, for rifle-mounted lights is the Nighthunter Halogen rifle-mounted spotlight in 140mm or 170mm reflector. This model is also an excellent choice offering a lot more distance if and when hunting alone and is powered via a portable battery pack. This unit features a snap-catch mount for rifle or shotgun, inline switch with Velcro fastener to allow convenient on/off while aiming and coil chord with cigarette plug that simply attached to your battery pack. Being extremely lightweight the NightHunter won't effect the balance of your firearm or point of impact and its' unique recoil absorption system built into the snap catch ensures the light holds its position after each shot.
Last but not least, Lightforce offer their traditional "Classic SL" halogen spotlight range in 170mm or 240mm reflector delivering unequalled light output, and engineered in their hi-tech polymer finish. As always, (I can remember this feature from decades ago) the red base at the bottom of the handle houses a spare bulb, with the option of an alligator clip or utility plug. What has changed however, is its new and improved reflector housing and strain relief gland. Add to this a brass ferule in 5/16th BSW for mounting options on the roof or window operated remote arms and you have what I consider the very best all rounder when on the back of the truck spotlighting. Naturally, Lightforce compliment their fine range of lights with a selection of modular filters. These filters allow you to manipulate the beam width and also provide the ability to change the beam colour. IR clip-on filters are available and filters in a range of colours including red, orange and green. Add to this remote mounting options, spare bulbs, portable batteries and more.
Lightforce are indeed innovators of an excellent range of product that continues to perform to my expectations, while constantly moving forward with new and updated design and technology.
To see the full range of Lightforce product ask at your local gun shop or visit www.lightforce.com