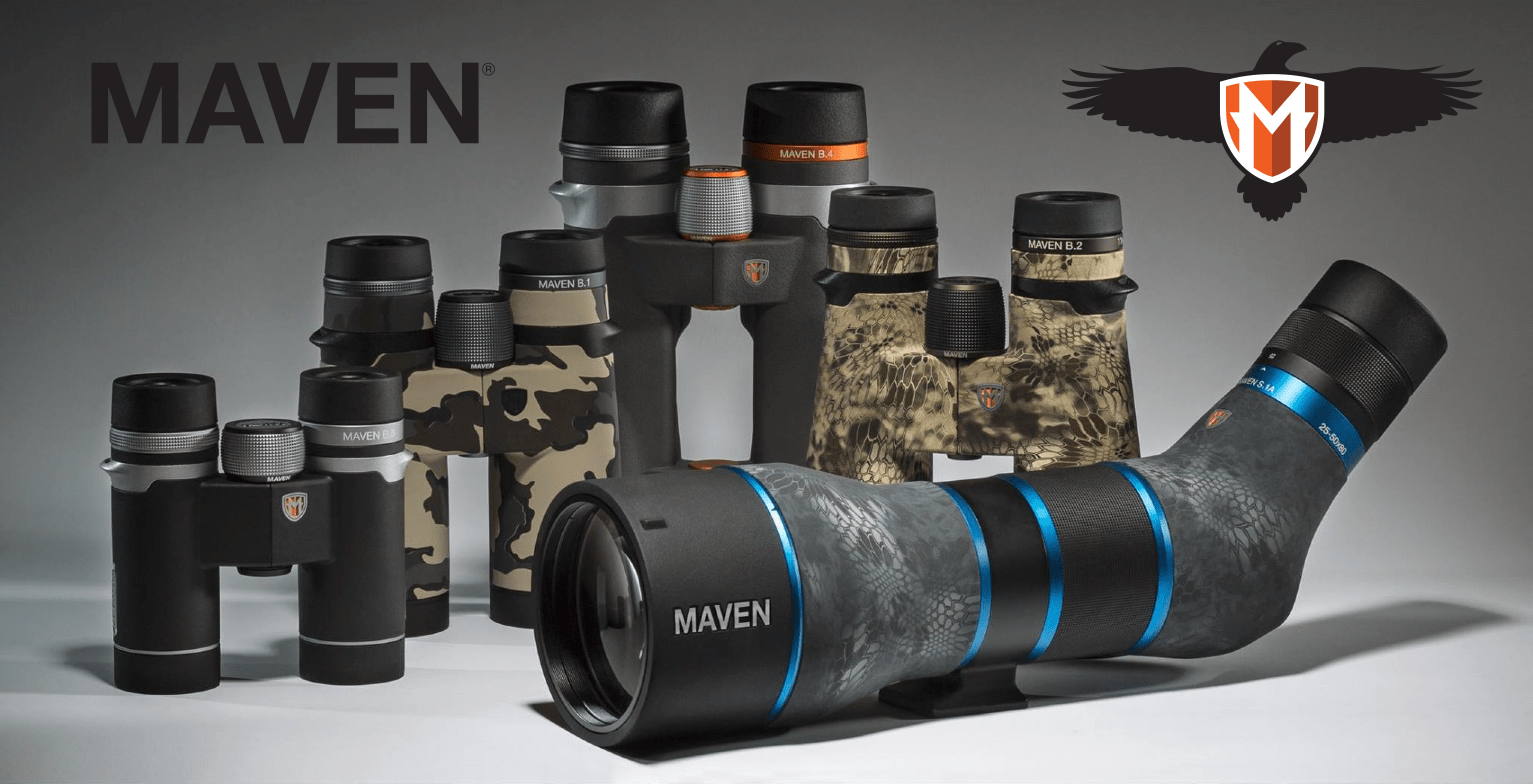 Maven Optics is an American based company who design and create high-end binoculars, spotting scopes and riflescopes. Unlike many manufacturers, they actually supply their optics direct to consumers in an effort to offer a high end product without the mark-up's. Father and sons team Neil, Ben and Ryan Kendall based in Victoria are happy customers who later enquired with the manufacturers if they could introduce and distribute the Maven range into Australia to benefit other Aussie outdoorsmen. The boys have now started their own online business known as Outdoor Sports so you can now enquire and purchase right here in Australia.
Maven currently offer four models in their B series binoculars and two models in their C series. These include the model B1 Series available in 8 or10 X 42mm, the B2 Series in 7,9 or 11 x 45mm, the B3 Series in 6,8 or 10 x 30mm and the B4 Series in 10, 12 or 15 x 56mm. All are extremely well made and come in the choice of several different finishes including black/grey, grey/orange, Kings Camo, Kuiu Camo and Kryptek. The C Series include the C1 in 8 and 10 x 42mm and the C2 in the choice of 7 or 10 x 28mm in grey/black finish only.
Maven also produces a 25-50 x 80mm spotting scope referred to as the S1A in the choice of angled or straight eyepiece. These are made of a combination of magnesium and polymer and quite lightweight which is great news for backpack hunters. The S1A spotter is available in a choice of finishes to match the BI Series of binoculars.
Make no mistake these optics are high end and feature a high-end price tag. However, they also come with an unconditional warranty and excellent service right here in Australia
Keep an eye out for a full report on this new-to-Australia brand of optics in an up and coming issue by our own Nick Harvey.
Outdoor Sports specialise in a whole range of outdoor gear including the full range of Maven Optics, packs, precision firearm parts and their portfolio is rapidly expanding. In the mean time to find out more visit their website www.outdoorsports.net.au