Ridgeline has the ultimate Christmas present options for every type of outdoor adventurer there is. There is sure to be something for every hunter's Christmas wish list.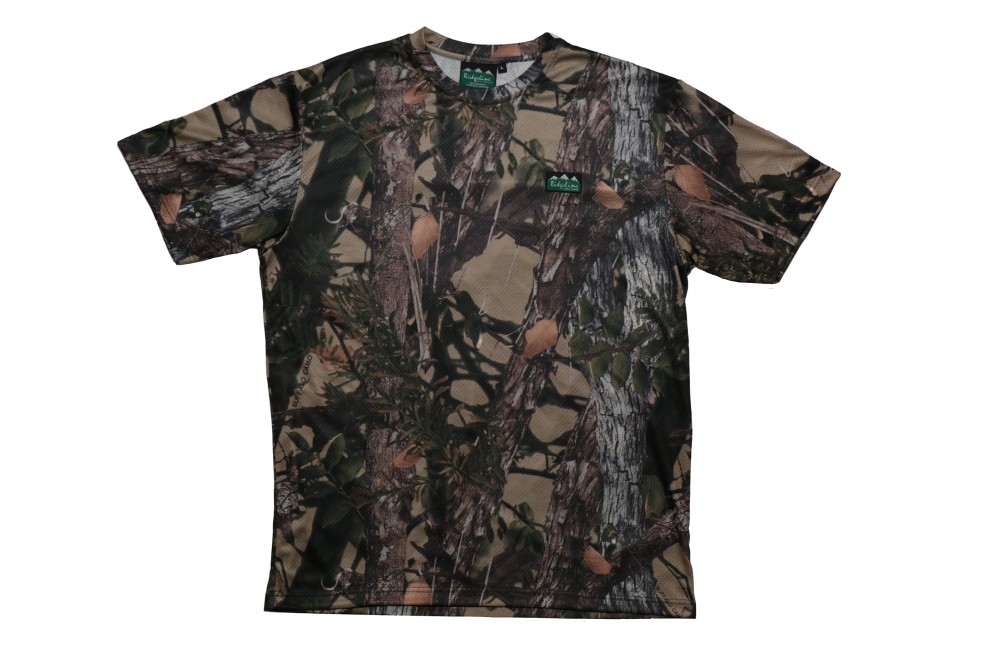 While you're checking out the gear and making your own wish list you can be ticking off your Christmas present shopping list too – no one will be disappointed when receiving durable, versatile and innovative outdoor gear. From accessories to survival essential, check out these special recommendations from the Ridgeline team.
NEW COVERT AIRFLOW TEE, BUFFALO CAMO
The latest Ridgeline Covert tee is made from polyester micro mesh designed to keep you cool while hunting in the¬†hottest¬†conditions. The micro mesh is a tight knit polyester base with the added features of¬†'Äú moisture control" to wick away the sweat from your body, and "anti bacterial" treatment to control odour during those long hunts.¬†RRP $59.95
NEW COLEMAN SHOOTING VEST
The Ridgeline new Coleman vest has been developed for international trap, skeet and sporting competition. Made from high quality poly/cotton and polyester mesh materials, the Coleman is available for right handed shooters, is suited to both trap and sporting, and boasts the following key features. RRP $129.95
CASADORA JACKET AND PANTS
The Casadora jacket and pants are the ultimate outdoor combination. With the legendary QuietTex material, both jacket and pants are fully waterproof, windproof and fully lined, designed for the huntress. Ridgeline's attractive ladies cut Casadora jacket ensures you are ready to tackle the outdoors in style. Features include 2 side entry pockets, zippered internal pocket, 2 chest pockets and a hard-wearing 2 way zip. The Casadora pants are the perfect waterproof and windproof pants to take on anything Mother Nature will throw at you. Features include 2 side pockets, hip pocket, 2 side vents, belt loops and 3/4 leg zip. Available in pink camo or buffalo camo and sizes: XS, S, M, L, XL, 2XL, 3XL, 4XL,5XL Jacket RRP: $249.95, Pants RRP: $149.95
HANDMAN KNIFE
Blade Material: 440 Stainless Steel, Blade Finish: black oxidized, Blade Length: 85mm, Blade Hardness 56HRC, Handle Material: black anodized aluminium + G10. RRP $29.95
SPIKER PANTS AND SPIKER JACKET
At last the whole family can head out hunting fully dressed in waterproof Ridgeline gear. Match the new Spiker pants with the Kids Spiker Jacket and even your smallest team members will be ready to track and trek 'till the end.  The Spiker Pants and Jacket are great for hanging out at the farm as well. Quiet peach skin finish fabric with lightweight lining; fully seam-sealed, waterproof, windproof and breathable; two zip pockets with flaps; velcro adjustable cuffs; hood attached and entire jacket folds into a small area. Spiker Pants RRP: $89.95 Spiker Jacket RRP: $89.95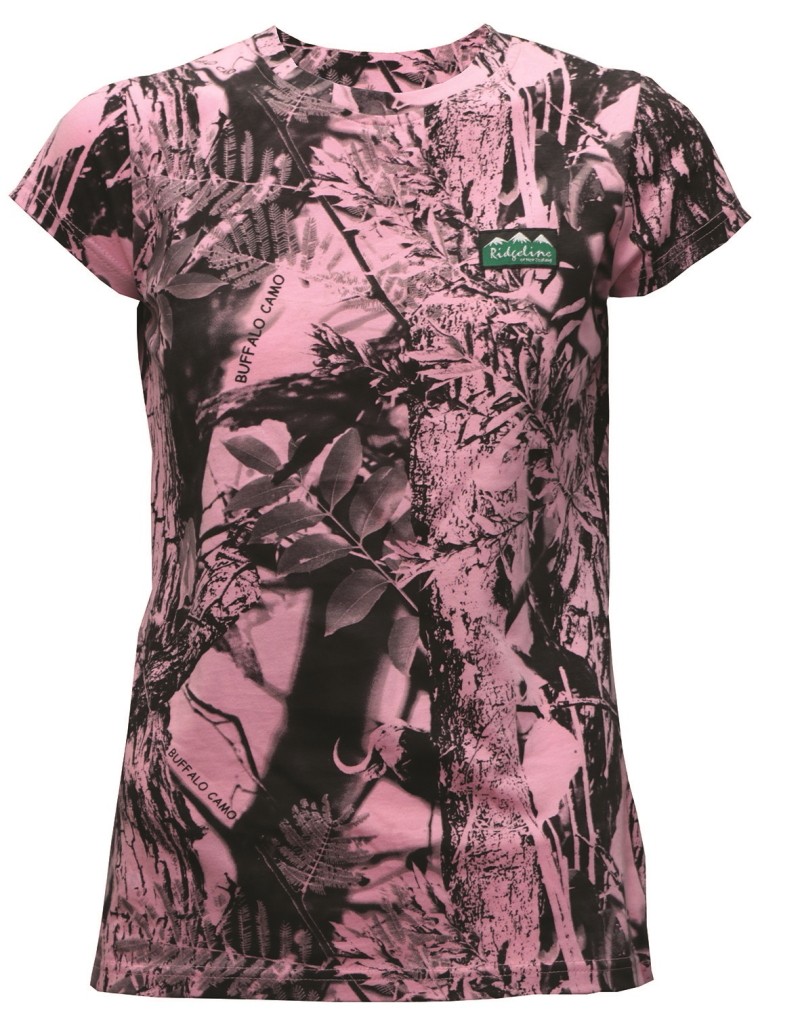 LADIES SPRING BUCK S/S Shirt
The ladies cut Spring Buck Tee is ideal for the hot summer hunts in the bush. Available in the new pink camo print, the ladies Spring Buck tee will keep you cool and comfortable in even the hottest hunting weather. RRP $64.95
MALLARD JACKET AND PANTS IN WAPITI CAMO
Frequently in the Ridgeline top of the charts list, the legendary Mallard is now featured in the new Wapiti camo print. The pack-away Mallard jacket features Quiet-TexTM – a two-layer fabric that is warm, light and waterproof. Perfect for those impromptu invites at short notice when you have to arrive as soon as possible. The jacket features a two-way adjustable hood, two zipper pockets and flaps, folds into small area – ideal for backpacks.
The Mallard pant is a lightweight yet waterproof pant. Made from a lighter weight material than our Torrent Pant. Two layer Tricot QUIET-TEX fabric. It boasts water rating 8,000mm and breathability 3,000g/sqm. Fully seam-sealed, waterproof, windproof and breathable with drawstring elasticised waistband with belt loops, two front zip pockets, internal flap pocket, 1/3 leg zip with storm flap, mesh lining and action knee cut. Jacket RRP $139.95, Pants RRP $129.95
RIDGE RUNNER WAIST BELT
Handy new style bum bag with support for 2 water bottles. Perfect for the day walk. Features one large front pocket, front keys pocket and pockets on either side. RRP $29.95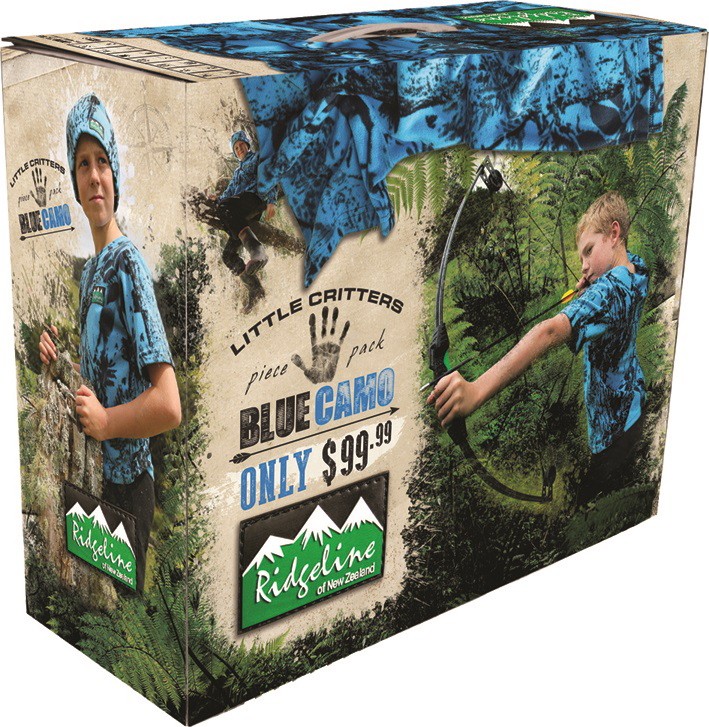 LITTLE CRITTERS PACKS – PINK, BLUE, CAMO
The Little Critters Packs offer great value for money and are ideal gear for kids when hunting, fishing, farming and enjoying the great outdoors. Many girls (and their mums) have been asking for their own version, so, coupled with the addition of a new baby girl to the Ridgeline team, it was time for the Pink Camo to make its debut! Cute and practical Рgo girls!  RRP: $99.95
TERRITORY II L/S SHIRT
Also available in Grassland camo, this functional button up shirt is specifically designed for Australian conditions. Comfortable and durable. With functional chest pockets and extra length for comfort, this shirt is the all-purpose camo garment. Offering that added protection to your arms from the sun, thorns and whatever else wants to take hold. RRP $74.95
STALKER PACK
The Stalker pack is everything you will need when out hunting for the day. It features the Ranger jacket in Buffalo camo print with membrane Рwhich will keep you warm and dry during your hunt. The base layer is the long sleeve micro top, made from Microfleece to allow you to breathe, yet keep you warm in the field. The zippered collar also allows you to regulate your temperature when required. Stay Dry trousers printed in Buffalo camo will keep you dry, hidden, and quiet when you move. The Microfleece beanie will ensure your head will be warm outdoors.  RRP $149.9
HIGHLANDER 3 IN 1
Ridgeline's Highlander jacket is this season's most innovative step forward in technology. The Highlander 3 in 1 can be worn as one large jacket to protect you against the elements, then it can be split into 2 lighter weight jackets: one fleece base layer jacket and one waterproof outer shell. The Highlander will provide the solution whatever the conditions are, there is simply no comparison. RRP $419.95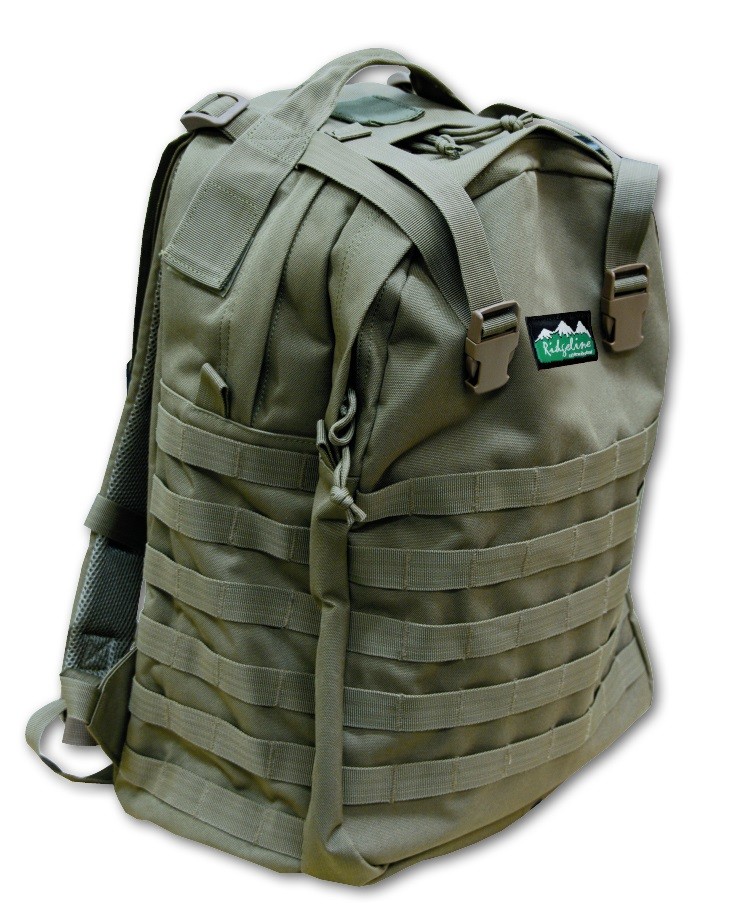 TROOPER
Tough, durable 600 Denier construction. A backpack for all conditions. Double entry format with internal divisions. RRP $109.95
Ridgeline specialises in producing comfortable, durable performance outdoor clothing at affordable prices and is the market leader and first choice of many hunting and outdoor enthusiasts alike. Ridgeline Australia supplies over 300 retailers nationally including Aussie Disposals, All Goods, Camping world, and all major hunting outlets Visit: www.ridgelineclothing.com.au for more information.