All hunters and out-door enthusiasts know that winter is as good a time as ever for adventure, Christmas in July provides the perfect opportunity to celebrate the challenging winter conditions and feeling of reward after a full day in the cold outdoors. Ridgeline has come up with some helpful accessory ideas to help you rug up and get out there hunting for something to bring home to the hearth for family and friends to enjoy together.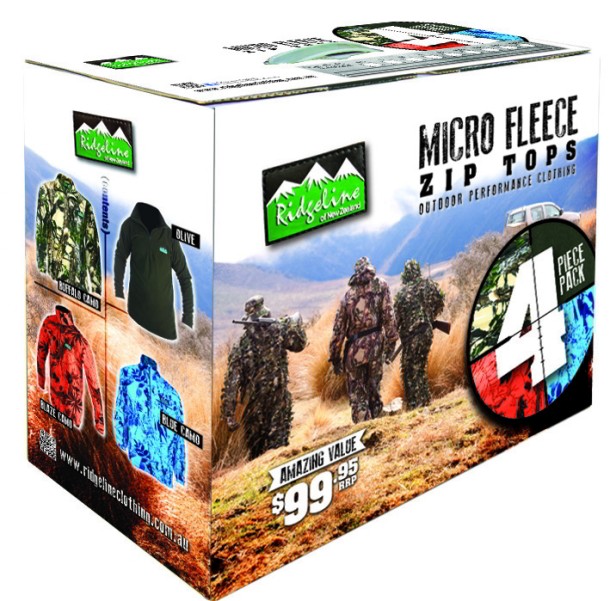 4 TOP PACK
This clothing pack features four of Ridgeline's most popular microfleece long sleeved tops – olive, blaze buffalo camo and the new blue camo. Constructed with ridgeline's traditional southern star fleece. RRP $99.95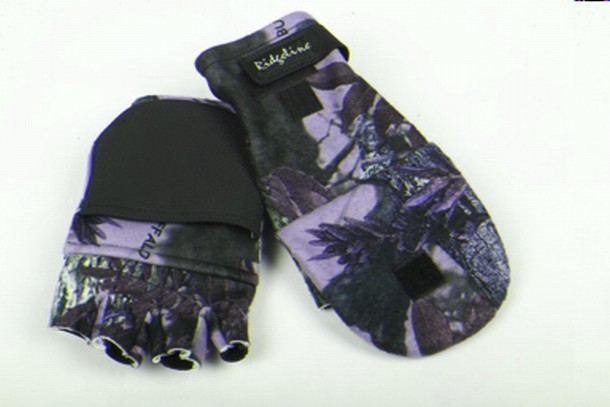 SNUGGER GLOVES No need to take these off, just flip back the mitten section with magnet holders to expose your fingertips as you need to. Fleece lining and grip palm sections mean these are a perfect addition to your winter gear. RRP $64.95
SNUG FIT SOCKS When you're out hunting or bushwalking, you'd want your feet to stay dry no matter the conditions out there. Our snug fit socks are an ideal gumboot/hunting boot sock, not to mention great for back in the hut after a hard days walk. RRP $11.95
HANDMAN KNIFE Blade Material: 440 Stainless Steel, Blade Finish: black oxidized, Blade Length: 85mm, Blade Hardness: 56HRC, Handle Material: black anodized aluminum + G10 RRP $29.95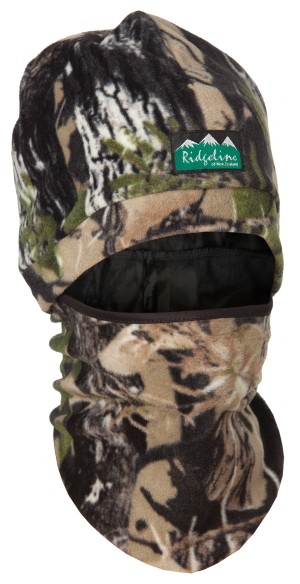 BLEANIE
Need a beanie and a balaclava and a neck warmer? Then get yourself a Bleanie and you have all three in one. This lightweight anti-pill southern star 200 micro- fleece garment can be rolled up to be a beanie, pulled down for a balaclava and the extra length adds warmth to the neck. One size fits all. RRP $34.95
HIPSTER 1 POCKET BUM BAG
The all-round, tough, practical bum bag crafted in durable QuietTex(tm) fabric and loaded with features. This bag is a great all rounder. RRP $39.95
WOMENS TOP TO TOE
A pack just for women: black premium fleece track pant with two side pockets; Claret/black two-tone premium fleece long sleeve zip top; 2 micro fleece t-shirts (black and grey); A pair of high quality black cotton socks and black fleece bean. RRP $99.99
BUFFALO CAMO CRITTERS PACK
This fleece pack for little nippers is guaranteed to keep them warm and comes with the following in buffalo camo: tumbleweed tee, nippers jacket, tussock trousers, and a two beanies (one in blaze). RRP $99.95
BAMBOO THERMALS
New to the range is Ridgeline's bamboo thermal pack. Bamboo is soft, can hold its shape, hard wearing and naturally odour free and comfortable. Each pack contains 1 x short sleeve top, 1 x long sleeve top and 1 x pair of leggings. RRP $99.95
DRAG BAG
Perfect for the field or on the range. This drag bag boasts transport features and comfort. Made of tough, durable 600D fabric. Pockets. Folds up easily. A must-have for every serious shooter. RRP $129.95

WIDE SLINGS – COMFORT PLUS TM RIFLE SLING
6mm rifle sling made of Neoprene fabric. Blackhawk swivels. RRP $49.95
Ridgeline specialises in producing comfortable, durable performance outdoor clothing at affordable prices and is the market leader and first choice of many hunting and outdoor enthusiasts alike. Ridgeline Australia supplies over 300 retailers nationally including Aussie Disposals, All Goods, Camping world, and all major hunting outlets Visit: www.ridgelineclothing.com.au for more information.