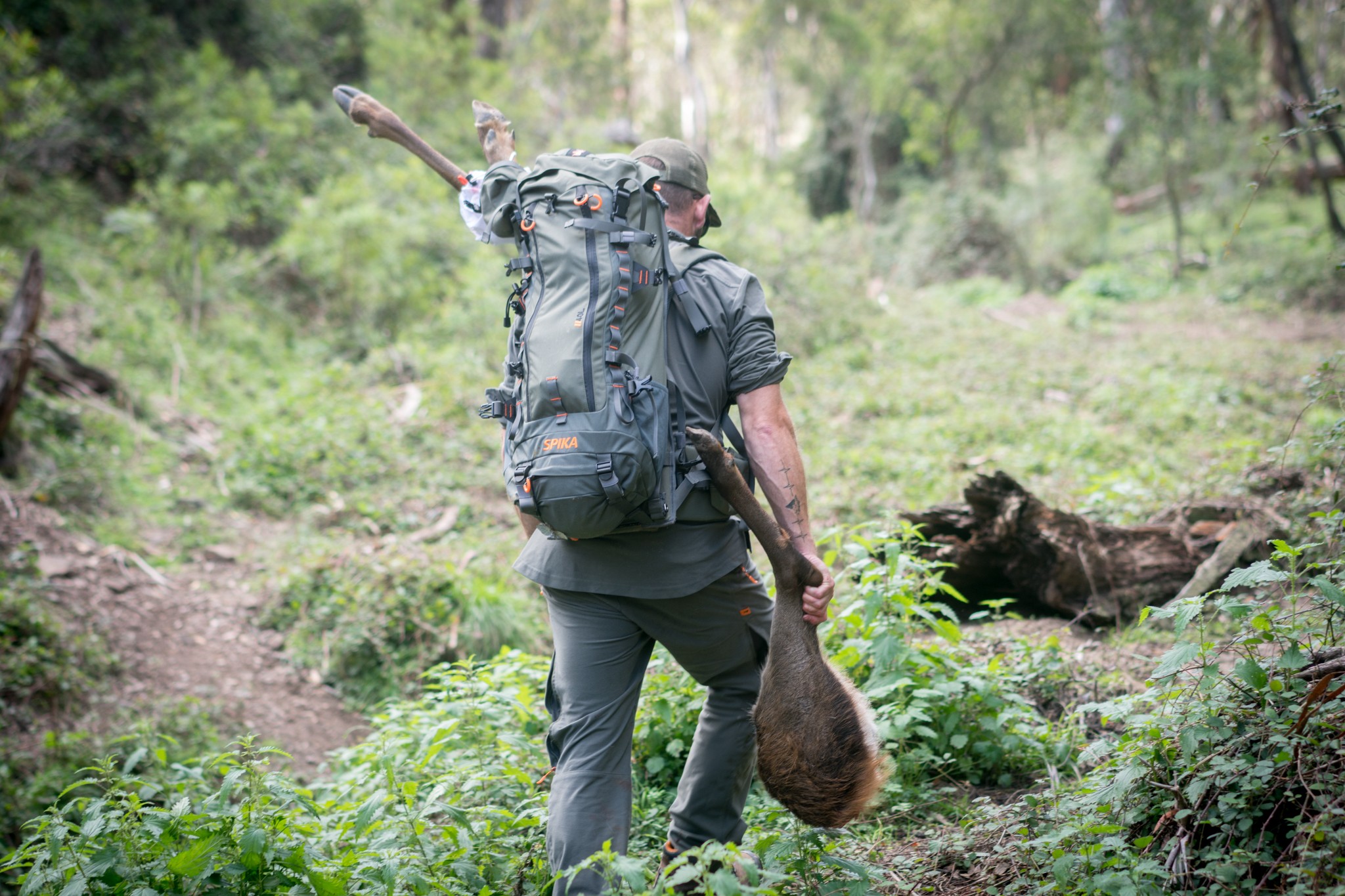 The Spika team have been putting the Drover backpack line together for some time now. I have been working with the team to improve and develop their latest range of backpacks, and I am excited to see the launch of the backpack line.
The backpacks have been designed with the Aussie hunter in mind. Meat hauling a significant consideration in the design and strength of the backpack.
The Drover range by Spika has got some serious features and has been put through its paces in Australia and New Zealand both with their own harsh and unforgiving terrain. These packs cater for most any hunt from a quick sprint into a gully, glassing for deer or a few days trek into the thick of it, there will be a Drover pack to suit.
To kick off the range Spika have designed and created a feature and function rich, robust bino pack & harness, It's got all the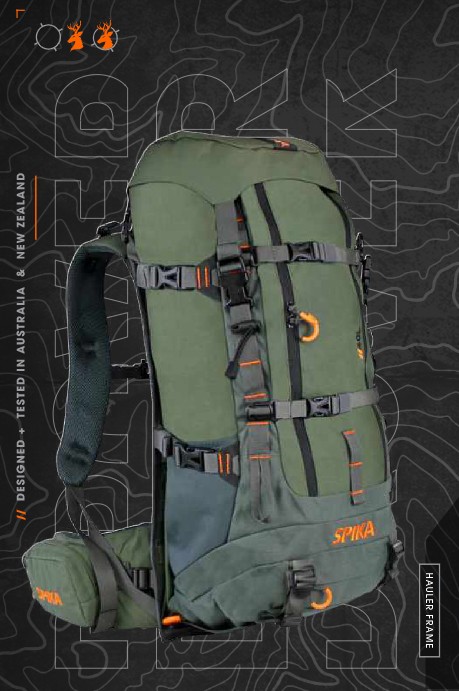 things you'd come to expect in a bino pack with a few extra perks that you never knew you needed like a built in rain cover, adjustable wire to fit the form of your binos and magnetic lid along with generous side pockets and padded reinforced four-point body harness, this Drover bino pack keeps everything you need at arms reach.
From here we take a look at the Drover waist pack, this pack is a great step up from the traditional waist pack with four easy access pockets providing generous storage and round holders, while ample lumbar padding and hip support provides a comfortable ride.
All the backpacks in the Drover range are compatible with the new upgraded Drover 2L Bladder, with a large fast fill opening, neoprene covered tube with quick release mouthpiece to keep your water supply fresh and on tap.
Keeping hydration in mind the first in line is the Drover Hydro, a nice compact pack perfect for day hunts with external tie down points and internal compartments, paired with the 2L bladder you can stay hydrated whatever your pursuit. It's lightweight and breathable shoulder straps make this pack user friendly.
When thoughts turn to day trips with a push into the hills you need to be sure you have everything you need on your person without becoming a pack horse, the Drover 25L has managed to check this box, ample storage for the essentials dual main compartments feature two way zippers with enough room to carry extra layers, camera gear, food, water and accessories. With Round holders and a built in butt stock holder your rifle is ready when you are. The floating air mesh harness promotes air circulation while the durable waist belt and load stabilizing frame offers bearing comfort.
Now we get into the serious Drover packs. But before we can talk about these packs we need to make mention of one of the best things about these serious packs, they both use the same removable Drover Hauler-Frame, that's right, you can swap out your pack depending on your needs.
It would be unfair on the frame itself to not give it a once over because this beauty can do a whole lot on its own. With a built in meatshelf, contoured aluminium frame, adjustable lumbar support, multiple tie points, side pockets and load adjusters the Drover frame is geniously functional.
Finally we can get into the 40L and the 80L as both these packs share a lot of the same functions and features, we will combine the main features while highlighting any specifics of either the 40 or 80 liter packs.
The Drover 40L Pack is for the outdoorsman that wants to go in light and come out heavy. Large enough to carry supplies for overnight pursuits, day expeditions with camera gear or if you just like the option of more room the Drover 40 is a great pack.
The ability to expand this pack out to its full capacity or remove the hood and to go ultralight make it highly adaptable. The front stash pocket can house a spotter and other essential gear while the main compartment is accessed by full length front zipper to gain access into the abyss that is a fully packed bag or if you prefer, you can use the traditional top load opening with the roll down closure.
The Drover 80 is the bigger brother of the 40 and is large enough to carry all your supplies for week long expeditions and pursuits where a large array of gear, clothing and sleep attire is required. The ability to expand this pack out to its full capacity or remove the hood and cinch down to go ultralight make it highly adaptable.
Due to the sheer amount of features these pack boast its best to hit each of them with the following bullet points;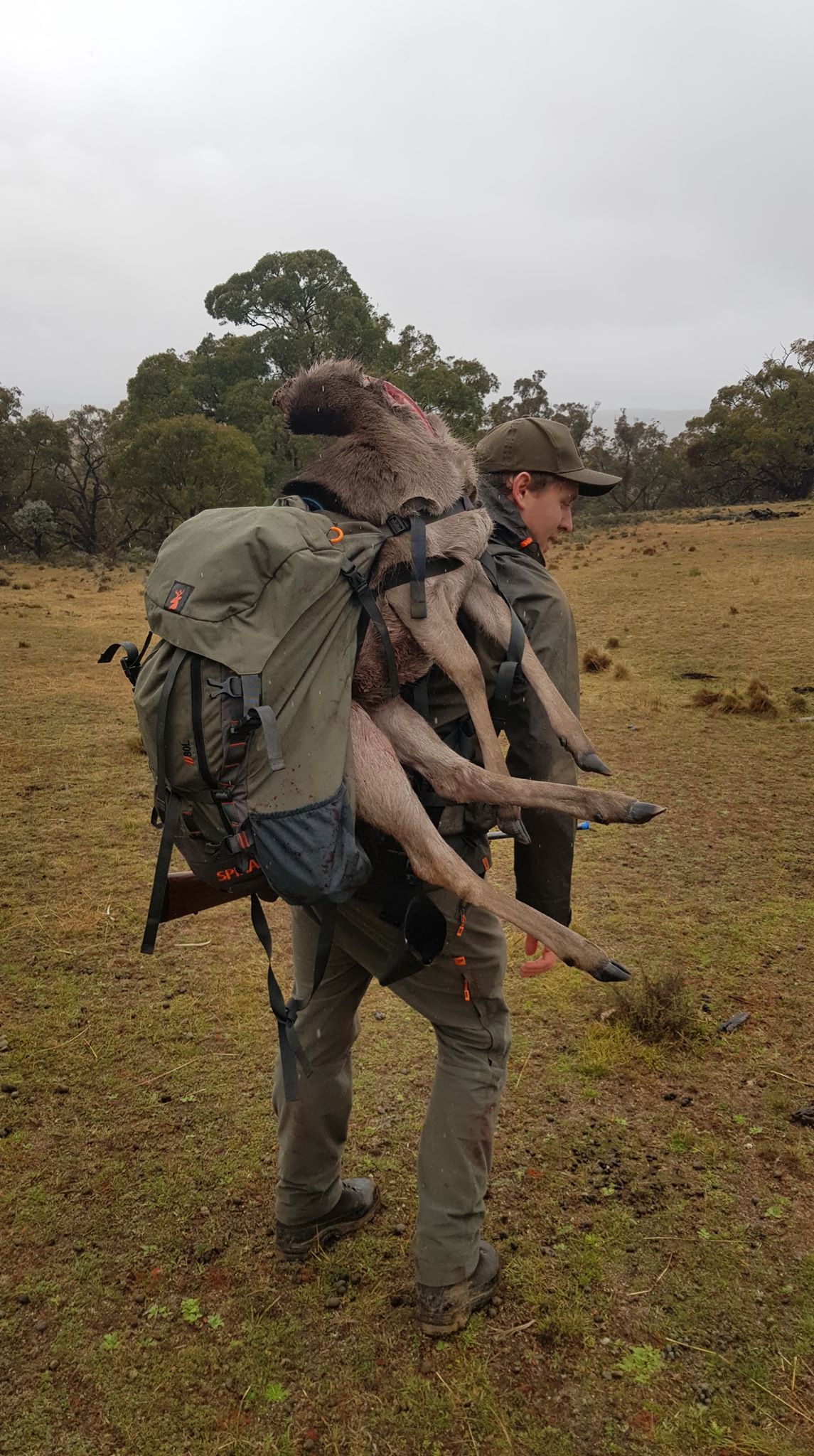 Universal attachment to the Drover Hauler Frame

Extendable Storage Capacity

Quick Access to main compartment

Front Stash Pocket

Roll Top Snow Collar

Hydration bladder compatible

Reinforced High Stress areas

External Tie Points

Side Pockets

Removable Hood

Industry leading Duraflex Hardware

YKK Zippers

Durable 500Denier Nylon Body and 1000Denier reinforced base

Rain cover

Rifle holder

Walking pole and Ice Axe attachment
With only half of these features you would expect to part with some serious coin, we are told that this is not the case as one of the main criteria beyond the needs of a serious hunter was to keep these packs at a price range that won't send us all broke.
We can safely say that the Spika Drover range has been over engineered, in the best kind of way, one that benefits all hunters, one that makes these packs near on bomb proof with their reinforced stitching in high stress areas, 500 Denier Nylon bodies and 1000 Denier reinforced bases, these packs are built to get outside and take a beating.
If we missed anything we apologise as this range packs a whole lot of punch, we tried to cover each pack hitting their key features, if you need to, and we think you will find out more on the Drover packs by Spika head over to drover.spika.com.au and get into the whole range. When you are ready to see them in person and pick one up head into your local Spika stockist and ask for Spika Drover Packs.
For a closer look at the Drover Backpack Range Visit Here.