By Marcus O'Dean
Tony Pizzata and I recently visited Goran Pehar of Extravision, distributors of the excellent Vortex line of hunting and tactical optics. The range was staggeringly broad, through binoculars, rangefinders, riflescopes and spotting scopes, red dots as well as the Pulsar line of night vision optics.
Goran has a very solid knowledge of optics and can answer any question you may have about the lines he sells, but also most other quality optics manufacturers in the marketplace. It is truly educational to spend some time with him. Not only does he know the theory, he competes solidly in NRAA F-Class Standard in Brisbane at the magnificent Belmont Shooting Complex. He talks the talk but also walks the walk.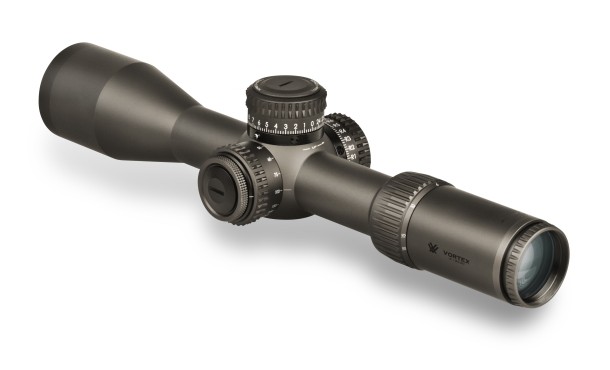 For the Tac-heads out there…
One product Goran showed us that is brand new to the market is the top-of- the-line Razor HD Gen II Tactical scopes, which come in 3-18×50 and 4.5-27×56 configurations, both based on 34mm one-piece aircraft-grade  aluminium tubes. Picture here is the 3-18×50 model. I handled the 4.5-27×56 model with Goran and let me say that this is a seriously big and rugged-looking scope that could easily see duty on a .50BMG sniper rifle. Image through the powers was impressively bright and crisp and the new Razor EBR-1C Ranging Reticle for subtention use was delightfully visible also. This would have been facilitated by the APO objective coating, HD premium  glass and XRPlus premium fully-multi-coated lenses.
One great feature I appreciated was the External Rotation Indicator on the left side of the Elevation turret. It is designed to give a quick visual and tactile reference of how many revolutions the turret has travelled from its zero. Once you are engaging targets somewhere in the massive 114 MoA/33 MRAD range of this scope, out at or way beyond a kilometer, this feature will come in really handy. By the way, these scopes come in matching MRAD/MRAD or MoA/MoA turrets and reticles. Naturally, these scopes feature zero-stop also.
If you just want a good hunting scope…
and you anticipate a bit of moderate long range work, or you just want to ring the odd gong at 600 metres in the bush, then the Vortex Viper 4-12×44 in 30mm tube (second picture accompanying this article) may be just what you are looking for.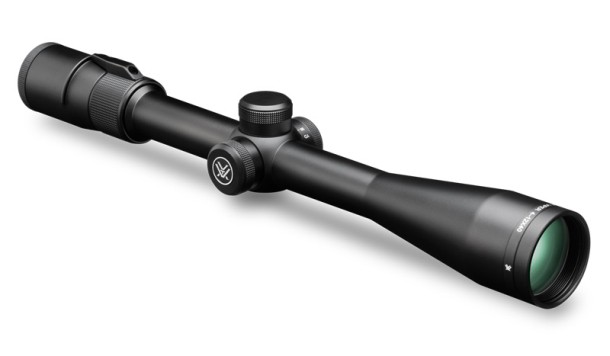 With XD extra-low dispersion glass and XR fully-multi-coated lenses, fast-focus eyepiece and one-piece allo construction, it is one rugged customer. I have its cousin, the Viper PST in 4.5-20 power; it just helped me win  a 200 metre service match last weekend and I have been using it to take home the gongs for a few years now in service and challenging sniper matches with my .223 Varminter.
With Argon purged tube, shockproof construction and the Precision Glide Erector System and quick reset turrets, it will prove most reliable in the field. My feeling is that it'd be the perfect companion to a .300 Win Mag medium weight hunting rig that stretches the barrel from time to time.
But if your tastes go towards the simpler, lower powered optics on occasional recreational hunting rifles, then the Vortex Diamondback or Crossfire ranges of hunting scopes will fill the bill nicely.
If you want to check out the full range of Vortex optical products, go to the Vortex Tactical Catalog or Vortex Hunting Catalogue in these links in PDF format.
All you need to do then is get out in the field and use the heck out of them.