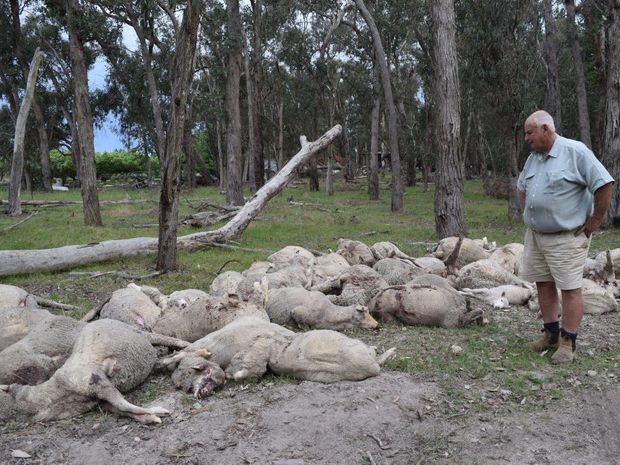 Wild dog control is becoming a major issue for many farmers across Australia. Chris Kemp shares his thoughts after losing 700 sheep on his farm at Merriwa over the past few months.
Chris and his family have been running sheep for the past 100 years and have never seen it close to this bad before.
The farm is situated eight kilometres from the Goulburn River National Park and he believes this is the major source of the problem.
The farmer believes the current generation of wild dogs is too cunning to be culled solely with poison bait.
Chris believes that the dogs are becoming wiser and veteran dogs that have survived 10 – 20 baiting programs are teaching young dogs to stay clear of the baits.
Chris also believes that the National Parks baiting programs are no longer working.
"But they won't admit to themselves that they have a population of dogs that won't take baits."
With each lamb potentially worth $150 at auction, the dogs are also bleeding Mr Kemp of his livelihood.
The slaughter of 700 sheep represents the loss of about 30 per cent of his flock. 
Mr Booth from Local lands services stated that they are reviewing their approach to wild dog management.
But baiting with substances such as the pesticide 1080 will remain the cornerstone of authorities response to wild dogs.
"Our primary control method is always baiting" Mr Booth said.
"Sure, there are dogs that aren't susceptible to taking bait. But you're not going to get any control method that's going to cover such a wide area with so few man hours. Trapping is a secondary means of control."
As the end of winter looms Mr Kemp and his farm are expecting a bloody time as the sheep lamb and a new generation of dogs becomes adolescence. The time to protect his flock has never been more urgent. 
More about the story from the Land
http://www.theland.com.au/story/4037767/pack-hunt-farmer-says-wild-dogs-and-eagles-killed-700-sheep/?cs=4941