All you hunters and Shooters out there listen up, because David Abela is running his fantastic Annual Sale this coming Saturday 28th February 2015 at both their Sydney and Melbourne stores.
Shoppers will be able to pick up reduced price firearms, optics, ammo and reloading gear as well as accessories, clothing and knives etc. Also in attendance will be industry reps from all the larger gun and gun-related Australian distributors to answer some of your burning questions.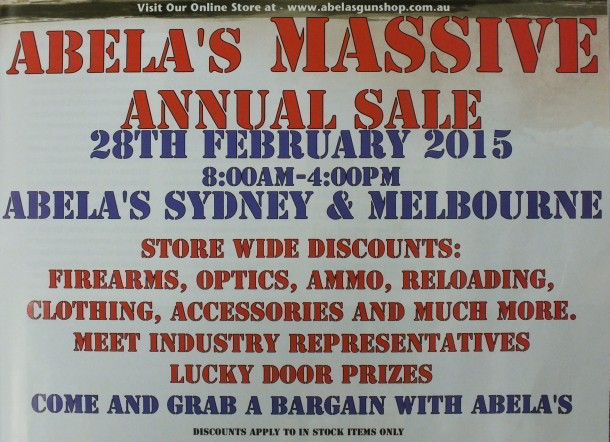 There are also Lucky Door Prizes for some lucky shoppers, so get on down to the Sydney store at:
13 Watsford Road, Campbelltown – phone 02 4626 3222. DL # 410 807 053.
or for you Mexicans south of the border in melbourne at:
869 High Street, Thornbury – phone 03 94803366. DL # 828 854 40F.
Discounts apply to in stock items only, so bring your plastic and your PTAs and pick up a good deal.