Major Victorian hunting organisations have welcomed the release of a report by Agriculture Minister Peter Walsh that provides irrefutable proof of what hunters have always known: that hunting is an important contributor to the state's economy. The report also debunks the popular Greens assertion that hunters are unintelligent loners.
The study "Estimating the economic impact of hunting in Victoria in 2013", commissioned by the Victorian Government and conducted by RMCG, has found that hunting contributes a whopping $417 million annually to the Victorian economy. In comparison to the contribution of other sporting recreations, this places hunting as second only to the Spring Racing Carnival. 60% of that money is spent in regional Victoria. In total there were 56 towns where the spend was estimated at $1 million or more and in three towns (Traralgon, Rosedale and Mansfield) it was estimated that hunters spent $10 million or more.
Speaking at the release of the study on Sunday in Northern Victoria, the Australian Deer Association's Victorian President, Col Brumley, hailed the report as "further proof of the importance of game hunting to Victoria".
"We have always known that recreational hunting plays an important role in Victorian society socially, culturally and environmentally" Mr Brumley said. "This report also shows that hunting is very important for the state economically".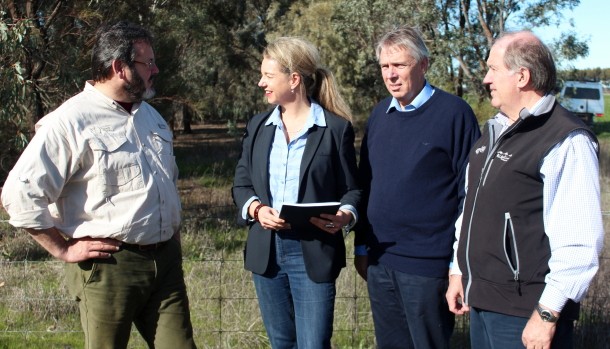 Col Brumley (Australian Deer Association), Bridget McKenzie (National Party Senator, Victoria), Peter Walsh (Agriculture and Food Security Minister) and Rod Drew (Field and Game Australia) at the release of the report.
Meanwhile, Field and Game Australia representative, Mr Rod Drew, said "I am not surprised by this report. The hunting community has been aware for some time that existing economic data was outdated and did not reflect the true magnitude of the hunting industry. This report helps to quantify the significant contribution hunters make to the Victorian economy."
Releasing the report at the closure of the 2014 duck season, Agriculture Minister Peter Walsh said that "the public image of hunters is very good" and described game hunting as "an inter-generational recreational pursuit. The report also documented that around 70% of hunters had "post-school" qualifications and that >80% were married with children.
Hunter numbers have increased by over 46% over the past decade and there are now more than 46,000 licensed game hunters in Victoria. Deer hunting is the most significant hunting activity financially, accounting for 33% ($138.3 million) of the expenditure.
The release of the report got positive coverage on the major commercial television channels.
To view the Channel Seven report CLICK HERE
To view the Channel Nine report CLICK HERE
To view ADA's Media Release CLICK HERE
To view Field and Game Australia's media release CLICK HERE
To download the actual Economic Report CLICK HERE