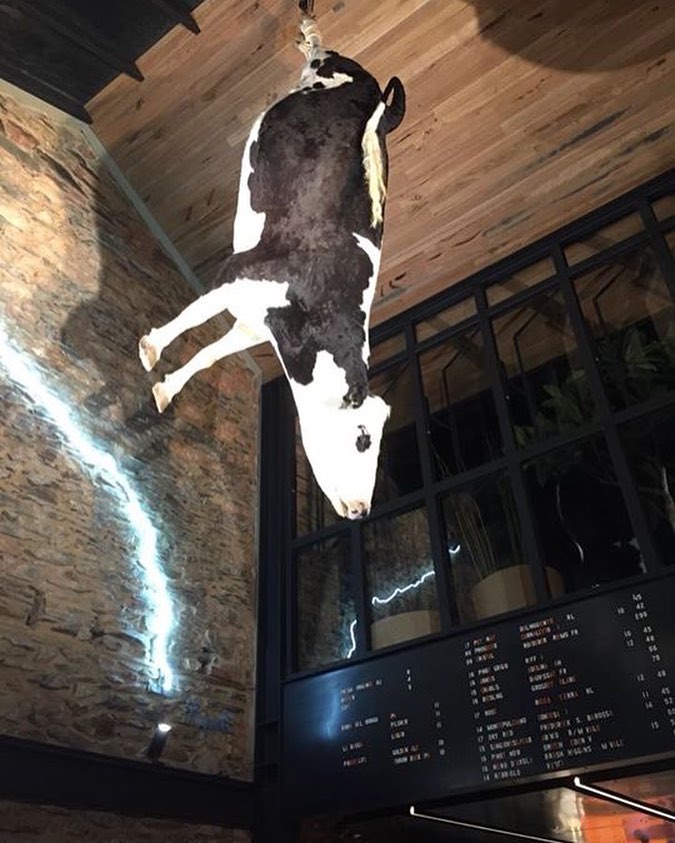 Vegan activists were outraged when they discovered the Etica pizza shop in Adelaide had a taxidermied cow hanging from the roof of their newly established restaurant.
The vegan activist pageThe Vegan Alliancebroke the story and had vegans across the globe started stamping their feet in the name of animal welfare.
Etica Restaurant, in Halifax St in the city, has been bombarded on its Facebook page with angry posts declaring the suspension of eight-year-old cow Schvitzy is obscene, shocking and "utterly disgusting".
Federico Pisanelli, who owns Etica: Pizza al Taglio with wife Melissa, says the pose of the cow, hung by her heels, is "purposely confronting", but that they have received many positive comments since the restaurant opened 12 weeks ago.
The pose of Schvitzy, as she was affectionately known, is purposely confronting. She has not been hung for decoration. The installation has a mission: it aims to draw a connection to the true consequence of consuming dairy.
"Schvitzy was eight years old. She was the by-product of a dairy farm in South Australia and belonged to a family at Mount Barker. We slaughtered her at her home. Her meat was entirely consumed and her skin was taken to hang in our venue."
"We are all at different stages of our own moral journey. It is easy to criticise other's ethics that do not align with one's own: Etica believes it is much more powerful to make an informed choice rather than adopt an ideology that one does not completely understand."
The stuffed black and white Friesian-Hereford cross, suspended in an atrium above the dining space, was commissioned from Melbourne Museum taxidermist Dean Smith.