By Marcus O'Dean
Pics by Tony Pizzata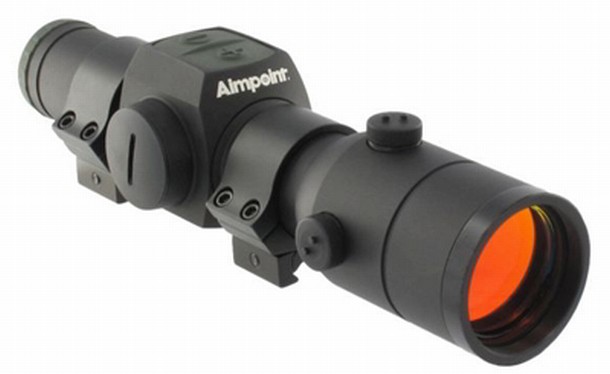 It's been a week or so since your correspondent attended an Aimpoint education day conducted by Beretta Australia and headed up by the redoubtable Chris Burton, long-time advocate of these excellent reflex sights.
Out from Aimpoint headquarters in Sweden were Erik Jeppsson and Erik Ås to show just how different Aimpoint red dot sights are to every other red dot sight on the market.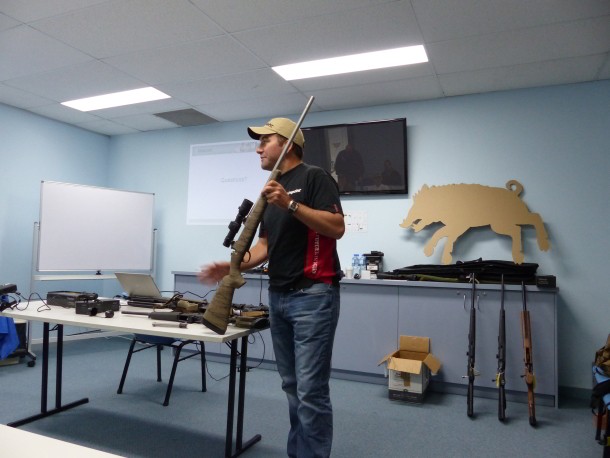 George Barton showing us the new Sako A7 Roughtec, a sweet-shooting rifle in .270 Win. and below with the new Tikka T3 Superlite with adjustable comb for varying sight heights.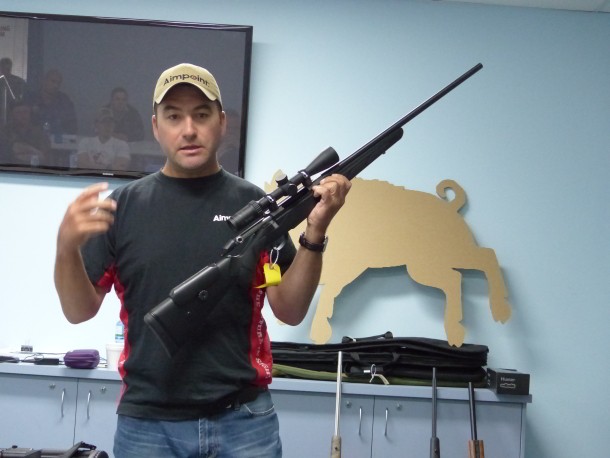 In addition, George Barton, Beretta Australia's Queensland Representative was there to showcase some of Beretta's other offerings, like the new Sako A7 Roughtec, the new Tikka Superlite with adjustable comb, the new Sako 85 Finnblack AKA a synthetic stocked Sako 85.
Classroom slide showing relative dot sizes, meaning the Aimpoint can do the job at 95% of all hunting ranges encountered in Australia.
On to Aimpoint's unique feature set that puts it out in front in the crowded sporting reflex sight market. In some cases, these differences were demonstrated and others explained, but their preeminence in the market bears out all of their claims.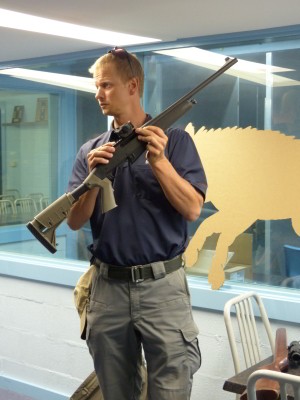 Aimpoint Sweden's Erik Ås explaining the finer points of operating an Aimpoint sight.

Warranty. All Aimpoint sights come with a 10 year warranty.
Parallax. Aimpoint sights are absolutely parallax free at any range you engage, whether your eye is correctly positioned or not, when that red dot is on the target, that is where your bullet will hit. No other reflex sight will do this.
Quality. Aimpoints are made to exceed Milspec requirements, are a closed system, which is waterproof to five metres, infallibly shockproof, sport a patented lighting diode which allows a five year battery life.
In all, Aimpoint sights are extremely user friendly, reliable and rugged. After a quick familiarization process where the shooter retrains himself to shoot with both eyes open, they provide much improved situational awareness over conventional magnifying optical sights.
We were shown video of a series of driven boar hunts in Europe, where the Aimpoint-equipped shooter was able to repeatedly select the correct pigs running across his front (European regulations apply there) and after making that split-second decision, infallibly and fatally shooting them … again and again. It was a most impressive video and spoke volumes of the value of the Aimpoint philosophy when instant rand effective response is needed.
Aimpoint Products. There was a range of Aimpoint sights for us to see, handle and shoot with, including the incredibly compact Aimpoint Micro H1, suitable for use on lever guns for scrub shooting or for the shotgunner who wishes to improve his hit ratio significantly without having to invest thousands of dollars in shotshells and bruised shoulders, such is the short learning curve to effectiveness with these sights.
Then we saw the Aimpoint Hunter, available in two 30mm diameter tube lengths to suit different receiver sizes. This was the sight I used to test the Sako A7 Roughtec in .270 Win.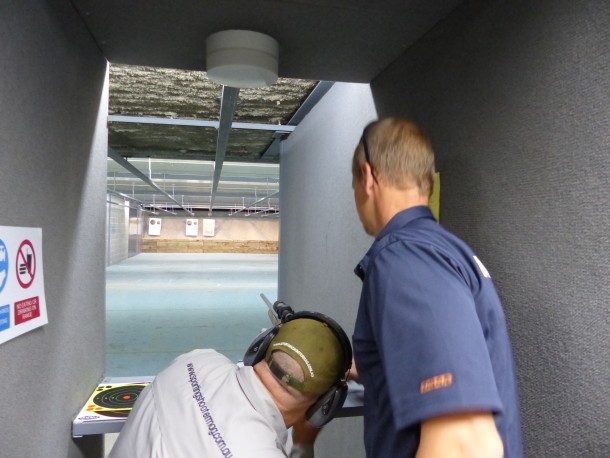 Boresighting the Aimpoint Hunter equipped Sako A7 prior to a zero session. Aimpoint's Erik Ås looks on.
My Shooting Impressions. My time at theSt Marys SSAA indoor range was limited, but I came away with a lasting conviction, tempered with my previous shooting experience, that the Aimpoint sight is a superior and highly effective sighting system.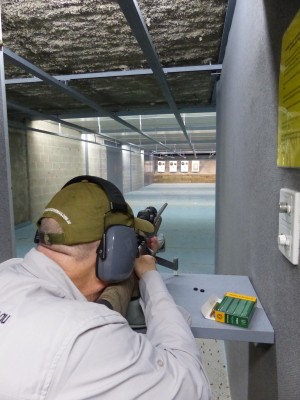 Above: Author shooting the zeroing session after boresighting the Aimpoint Hunter equipped Sako A7 and below, the subsequent group adjusted to near-perfect centre.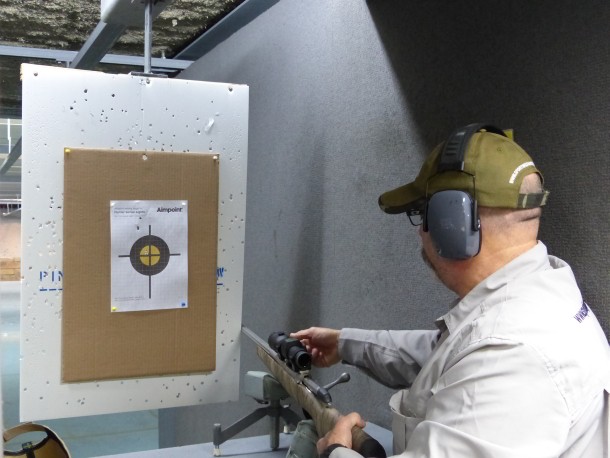 First up, I needed to boresight the Sako A7 Roughtec .270, which incidentally was equipped with an aluminium block-bedded laminated stock, similar in concept to the Bell and Carlson. Its nice broad rubber recoil pad promised comfortable bench shooting and that proved to be the case, even with the provided 150gn RNSP Sellier and Bellot ammo, which in other hunting chamberings I had always found to be at the top end of the velocity and energy spectrum. I digress, but the single most accurate ammo I had ever used in my own (or seen used in others') .270s, was the S&B 150gn Plastic Tipped offering. This is very good ammunition, it's reasonably priced and deserves to carve out a solid niche in the Australian market. With Beretta as distributor, good supply levels will also be more reliable.
Boresighting done, I tentatively took my first three shots, mindful that I did not have my prescription distance glasses with me. (Note to prospective buyers of Aimpoint sights – they have no dioptre adjustment – you just need to wear your glasses or contact lenses when shooting if your eyesight needs correcting). Consequently, the red dot I saw was an elongated blurry rectangle with which I attempted a consistent sight picture.
Those three shots cut just over an inch with two in the same hole up at 10 o'clock, some four inches from the bullseye.
The simple adjustment instructions from Erik Ås, active Swedish instructor of military, police and special forces the world over, resulted in my next two shots coming within 3/8th inch of the centre, almost touching. The fact it was not dead centre could have been because Daniel, from Safari Firearms, took sympathy on my semi-blind state and loaned me his own prescription glasses before the second group, so the conditions between groups were not consistent, despite my much improved sight picture – thanks Daniel.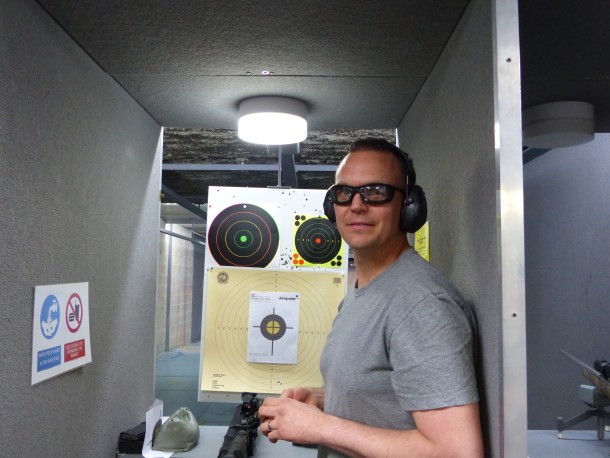 Andrew Peter, proprietor of Magnum Sports in Roseville, checking out the zero target he shot with an H&K AR 15 variant in 5.56mm mounted with an Aimpoint Micro H1 and below, the boys L-R who attended, Daniel and Michael (Safari Firearms), Keith (Abelas Campbelltown), Andrew (Magnum Sports) and yours truly. The grins show the enjoyment from the shooting activities.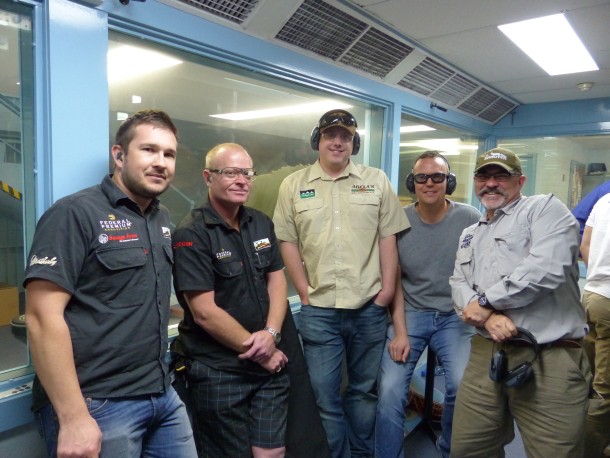 .
The Sako Roughtec was a delight to shoot, the Aimpoint allowed surprisingly fine shot placement. As with many things in shooting, operator consistency in hold, sight picture and release will capitalise with any systems and the Aimpoint's 2MoA red dot allows accurate shot placement out to all reasonable hunting ranges, even at only 1X magnification. That loss of magnification is more than made up for in the situational awareness the shooter experiences with both eyes open.
Have a look at Aimpoint sighting systems on their website www.aimpoint.com