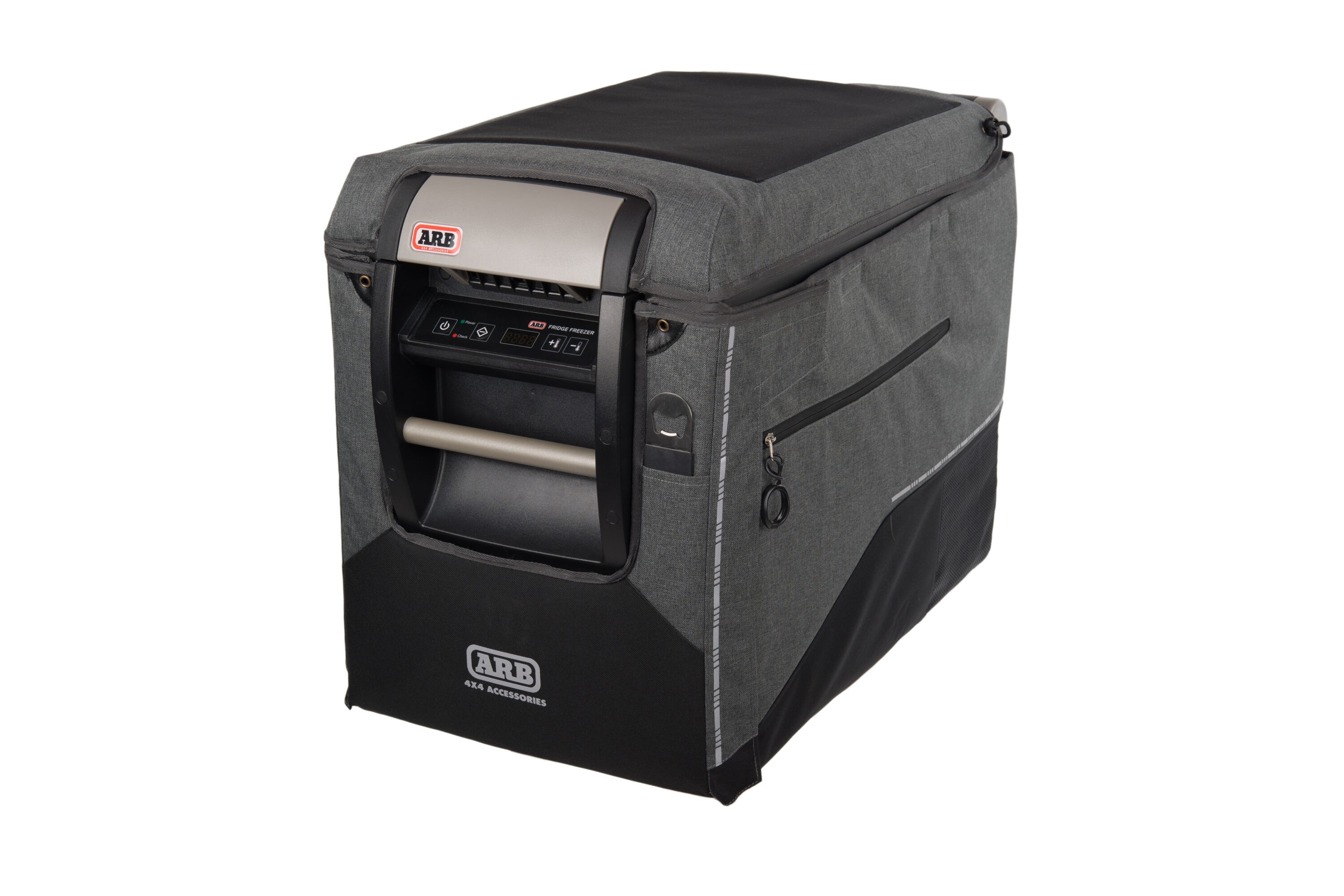 ARB are constantly bettering what's already good through extensive research and development to their huge range of 4WD and outdoor associated accessories. Yes, with new technology come new ideas and ultimately a better product and that's what sorts the good brands from the excellent ones in my opinion. For example I have used their Classic series fridge/freezer for almost a decade and found it very reliable when away on extended hunting/camping trips or when simply out on a meat-shoot for the freezer. In fact my ARB fridge lives on the back of my Hilux and is very rarely removed, rain, hail or snow. It sits on an ARB fridge slide for convenience that also allows me to lock the fridge down. Add to this, a lockable hard lid on the tub and the fridge is always out of sight.
Following the success of the ARB Classic Series came the 60 litre all-weather "Elements" portable fridge freezer with added features like stainless steel outer shell, self assist lid and much more. In fact I reviewed this model back in 2017 through the pages of Sporting Shooter after I put it through its paces on a dry, dusty trip out West. The big news however, is the fact that ARB has just released an upgraded version of the Classic series referred to as the Classic Series II. This up-dated model although very similar in looks to the original Classic series, features quite a list of up-grades and some very useful additions to its predecessor. At a glance, its new colour, new electronics and ability to operate via a Smartphone app are all significant updates in today's modern world of new technology. Firstly, its new colour scheme from the previous Blue/Grey to a Charcoal/Grey gives the unit a new look, which also matches many of today's modern 4WD interiors. Featuring powder coated, robust zinc steel cabinet sides and designed to withstand extreme off-road conditions, its new body with sturdy handles are made to endure the elements. Next is a tough injection moulded lid with recessed seal and front-latch closure that is simple to use and ensures a proper seal when closed. Another handy feature are rear clips on the back to secure the leads, preventing the plugs from being disconnected.
Internally, the Classic Series II features a rear facing, LED light with magnet switch that automatically turn the light on/off when the lid is opened or closed. Next a reversible storage basket with removable divider allows multiple storage options and finally, a convenient drain plug located on the bottom for simple cleaning.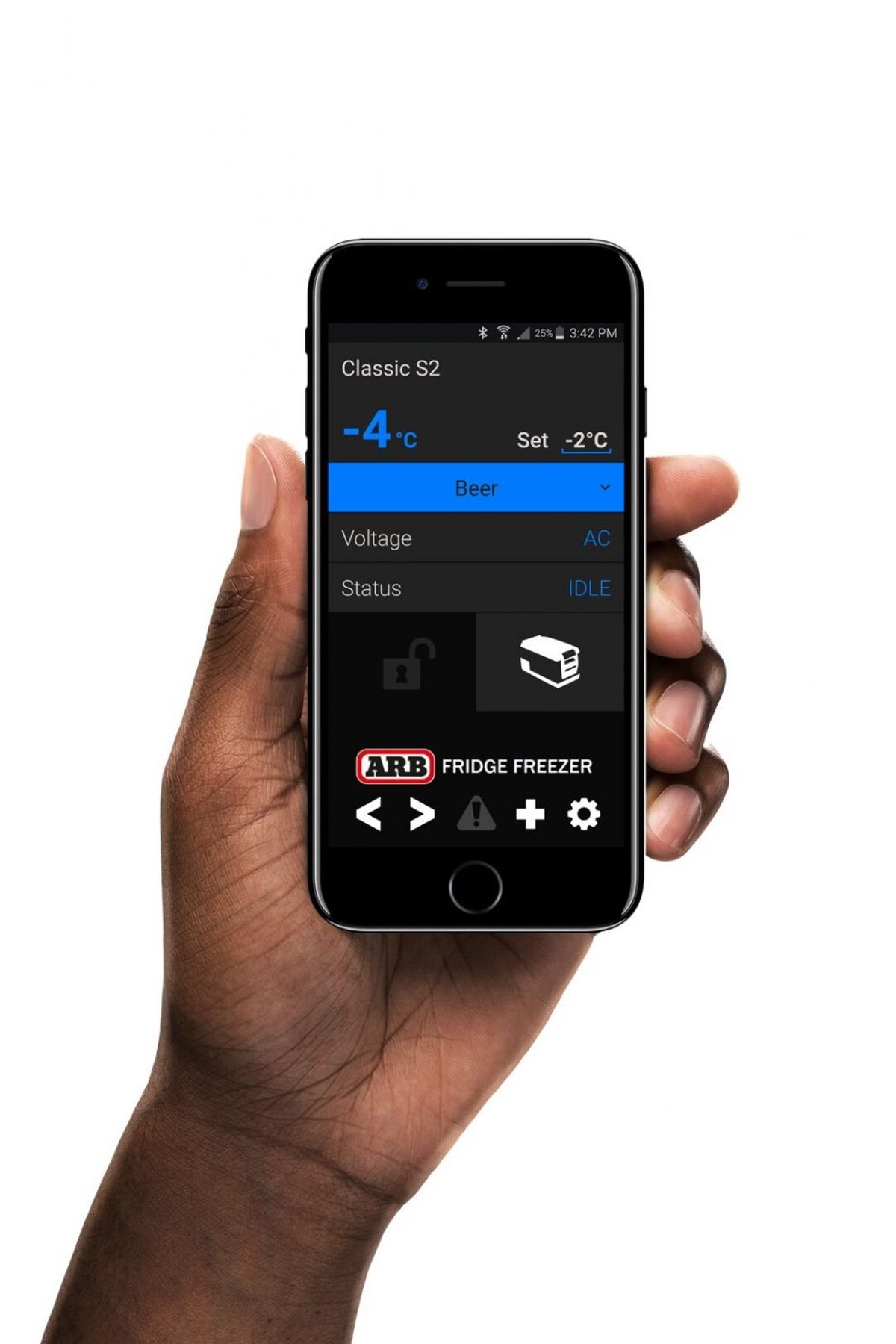 While the new Classic Series II offers the same durable Secop compressor as the original series, its control panel has had a few new features added. Firstly, the electronics upgrade includes a backlit control-panel with two brightness settings and a very handy click of the "plus" button reveals the health of your battery with 12V readout. Add to this all the regular features which are very simple to use. Perhaps the best feature of all, however, is its new Bluetooth connectivity capability to ARB's LINX system or via a new stand-alone mobile APP through your mobile phone.
To keep you up to date, ARB's Linx system (released in 2017) is a unique modern controller that controls your vehicles accessories like driving lights, air compressor, front or rear air-lockers, tyre pressures and in this case your fridge control etc. replacing switches, gauges and monitors that clutter your dash board. The new app via mobile phone or Linx allows complete control over your fridge from the front seat or in camp, without having to go to the units control panel. In fact if the fridge is accidentally left open, the app will even issue a lid-open warning. Other offerings include changing the reading from C. to F., battery protection level settings for high, medium or low, temperature presets and lots more. You can even monitor and control more than one fridge at once off the one APP. To enable control via these apps, when you purchase your Series II fridge freezer you also receive a wireless transmitter as part of the package that connects to the back of your fridge. ARB never ceases to amaze me with their new and innovative range of 4WD and associated accessories designed to make your trip a lot safer and a lot more comfortable.
The Classic Series II is available in four sizes, the 35L, 47L, 60L and 78L.
To compliment this range of fridge/freezers, ARB has produced a new-look transit bag in a similar colour scheme offering further protection and insulation to the ARB fridge. I'm told the ARB Fridge Connect APP is also available for monitoring the older Classic Series models (post 2014) and even the Elements fridge model but you'll need to purchase the new transmitter which is easily fitted and screws to the back of the fridge. The transmitter retails for around RRP. $79.00.
To find out more about the full range of ARB fridge/Freezers ask at your local ARB outlet or visit www.arb.com.au.