At last after the long wait, a full-length duck season is upon us. With the wet weather flooding paddocks and filling dams and swamps, there is promise of a great season ahead. Experienced shooters will know and newcomers will soon learn that waterfowling is a different experience to big game hunting. It is one of planning, patience and strategy. Now that the opportunity is finally here to implement your skills, Ridgeline has the essential tools to help you have a successful season. Whether it be camping, setting decoys, positioning blinds or retrieving targets Ridgeline will ensure you can push your equipment to the max and enjoy the full-length of this year's Duck season.
Free Standing Hunting Hide
When you've scouted the locations and picked your perfect spot this hide offers the perfect blind. With excellent camouflage it is as quick and easy to erect as it is to pack away ready for re-location. All 10 windows come with Camo mesh, with 4 roof flaps and 8 peg-ropes it is secure and functional. RRP $289.95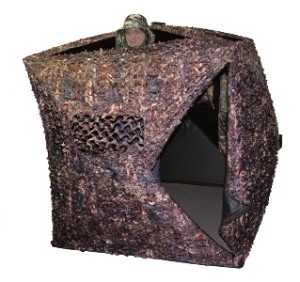 Hydro Day Pack (Medium) Buffalo Camo
The medium pack in Buffalo Camo is just the ticket for those extra essentials for your day in the backwaters. It's the ultimate utility pack with waist and chest belts for secure fit. This 30L medium day bag is the perfect companion, made from Ridgeline's unique Quiet-Tex and PVC internal fabric, it will withstand all the rigours and conditions that duck season throws at you. RRP $99.95
Water Resistant Veil Hat, Buffalo Camo
The classic bucket hat with a twist – a Buffalo Camo face veil. It has a drawstring for windy conditions and accessory loops around the side. Made from 100% waterproof Tricot it remains lightweight and is ideal for fine weather birding. This little number is a must for those who want to be concealed and protected. RRP $34.95
Neoprene Cartridge Belt
This cartridge belt made from sturdy neoprene, in Buffalo Camo is essential for Waterfowlers on the move. The perfect piece of equipment to carry ammunition easily while keeping it close at hand, allowing you to always be prepared. RRP $42.50
Five Pocket Gum Tree Bum Bag, Buffalo Camo
With 5 zippered pockets, this bag is the only way to keep your accessories organized and close at hand. Crafted from durable Ridgeline Quiet-Tex fabric, this Buffalo Camo bum bag will ensure you are ready for anything. RRP $54.95
Thin Dimpled Gloves, Camo
Made from stretch material, these lightweight camouflage gloves are a key element for hunters looking to improve their stealth and correct their accuracy. These high-quality gloves not only protect you from the elements but also work with you to improve your performance. RRP $29.95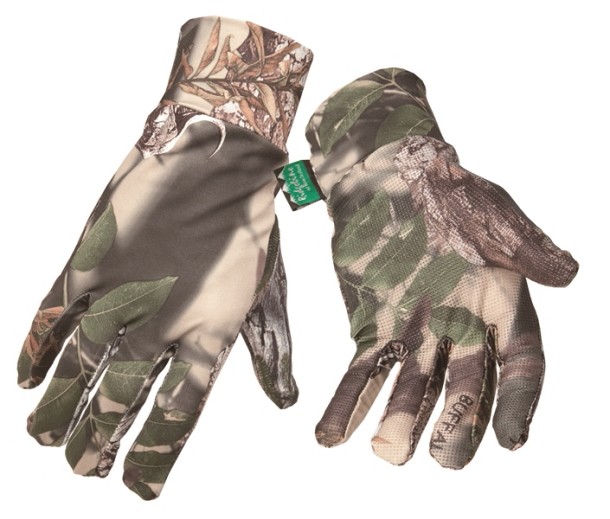 Shoveler Game Vest
The long-awaited Shoveler game vest in secretive Buffalo Camo has all you need for a day out on the field. It has two lower pockets for shell storage with magnetic closures for easy access and stealth operation. With dual sided chest padding, internal pocket to add extra padding if needed and expansion pads on each side with a large rear pocket to store your catch, this vest allows for maximum movement as well as maximum protection. RRP $119.95
Mallard Waterproof Jacket
The pack-away Mallard Jacket features Ridgeline Quiet-Tex, a two layer fabric that is warm, light and waterproof. Perfect for those impromptu invites at short notice when you have to arrive as soon as possible. Features include: waterproof and windproof, fully seam-sealed, quiet peach skin finish, lightweight lining, two-way adjustable hood, two zipper pockets and flaps. This jacket folds into a small area making it ideal for backpack stowage. RRP $74.95
Territory II Pants & Long Sleeve Shirt
Together the New Territory II Pants and Territory II Long Sleeve Shirt make the perfect Duck season ensemble. With new and improved lightweight cotton, these new additions to the summer range are durable and comfortable. RRP $64.95
Ridgeline specialises in producing comfortable, durable performance outdoor clothing at affordable prices. Ridgeline Australia supplies over 300 retailers nationally including Aussie Disposals, All Goods, Camping World and Mensland. Visit: www.ridgelineclothing.com.au for more information.