By Nick Harvey
Almost any well-made rifle will handle hogs, if you're willing to lug it around, but Browning's X-Bolt Hog Stalker in .223 and .308 is a short no-nonsense firearm that's perfectly balanced for offhand shooting and stocked to swing smoothly on a running hog.
If there is any rifle that deserves the title "pig gun" with the most popular cartridge for lignum and brush hunting being the .308 Win., the most popular rifle style is the lever-action carbine. There are, of course, a vast number of cartridges that may be used for pig hunting in heavy cover and these include the .44 Remington Magnum and .45-70. However, it's obvious that any rifle that kills the game is a good one, and it's also obvious that some will be better than others.
Pig hunting in the mountains, however embraces two different types of hunting  –  close range and long range. While you must be prepared for the former, you must also be equipped for the latter. So your choice of a rifle is most likely to be a compromise.
It need not be a complete compromise, for a lot of mountain hunters rely upon a scoped bolt-action better suited for long­ range shooting. Should they happen onto a close shot, they can take it or not at their option. But, I suspect that most pig hunters would prefer to take the compromise route with a rifle that will handle both situations reasonably well. And that's where the new Browning X-Bolt Hog Stalker comes in. It is arifle that will perform reasonably well at longish ranges and yet is fast handling enough to prove itself on a close and unexpected shot.
The X-Bolt is certainly the most contemporary design of current bolt action rifles.
It not only feels good, but shoots even better, has an excellent trigger, functions flawlessly and offers complete reliability. All of the desirable features one could wish for on such a specialist rifle.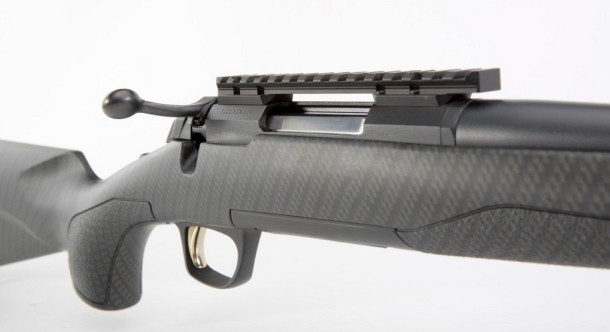 At the range, the Hog Stalker cycled with rather boring predictability. We experienced no problems whatsoever with loading, feeding, extracting or ejecting. In fact, with its butter-smooth feeding and controllable ejection, working the bolt vigorously ensured fired shells would be pelted well clear of the ejection port. Reliable functioning is a requisite for a boltgun that's purpose built for slaying hogs, particularly if you're emptying the magazine at a mob of pigs running through a clearing in the lignum or mulga.
The Hog Stalker is built on Browning's proven X-Bolt push­ feed super-short action and is available in .223 or .308. I think the .308 is the best choice for hog hunting anywhere there's a chance of coming across a big mud-encrusted boar. A 150gn .30 calibre a bullet carries a lot more authority than a 55gn or even a 80gn .224 bullet.
The Browning's ergonomically designed stock has a high, straight comb that slopes upward slightly toward the heel. The fore-end is rounded on the sides and bottom and fluted along the upper edges. The stock has a hand-fitting grip and is all-over matte-black with molded-in textured panels which provide
a sure grasp for sweaty hands. The butt is capped with Browning's Inflex Technology recoil pad made of super soft polymer. Not that the .223 has enough recoil to warrant dampening.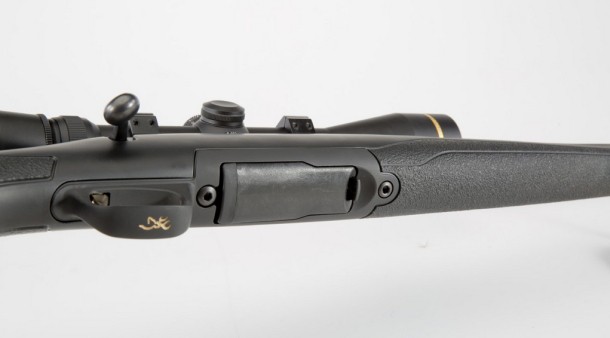 Like its companion A-Bolt, the X-Bolt action is flat on top with angled flats on the upper portion while the lower half is rounded. Lock-up is via three locking lugs spaced equidistantly around the bolt head which of course, contributes to a shorter bolt throw and greater scope/bolt handle clearance. The extractor
is a sliding type that takes a big bite of the case rim, yet it sits in a narrow slot machined in the rim of the recessed bolt face that houses a plunger ejector.
The low 60 degree bolt lift together with slightly flattened bolt knob canted at a 30 degree angle makes
it easy to grasp which combined with the rifle's slick-cycling bolt allows fast repeat shots at running pigs. The bolt slides smoothly thanks to having three guide ribs on the full length, non-rotating bolt body that align the three solid locking lugs when the bolt is unlocked.
A bracket-type recoil lug is sandwiched between the face of the barrel and the the shoulder, with the top milled off to match the contour of the receiver. The barrel measures 510mm from muzzle to bolt face and is thick enough to be classed as heavy heavy sporter. It has a diameter of 30mm at the breech tapering off to reach 15mm just 15mm behind the muzzle which is threaded 5/8″x 24 TPI to accept a sound suppressor or muzzle brake. It's fitted with a knurled cap which affords protection for threads as well as the crown by extending beyond the muzzle. The barreled action is finished in a practical matte-black which gives the rifle an almost funereal look.
The Hog Stalker has a flush-fitting detachable magazine made of polymer which carries five rounds in rotary fashion and feeds each cartridge in a straight line into the chamber. I'm all in favour of magazines that don't protrude below the belly of the stock to avoid the possibility of it snagging on brush or branches or falling out to get lost.
The X-Bolt has a tang-mounted, thumb-activated safety that locks the bolt when engaged, a feature
I like because it's easy to apply and fast to release as the rifle is thrown to the shoulder. This offers a valuable advantage when you want to get into action quickly on jumping a hog. It is aided in this by the rifle being very lively in the hands and how it points naturally, almost like a good shotgun. A bolt release catch located at the top of the bolt shoulder, can be depressed to allow the chamber to be cleared with the safety engaged.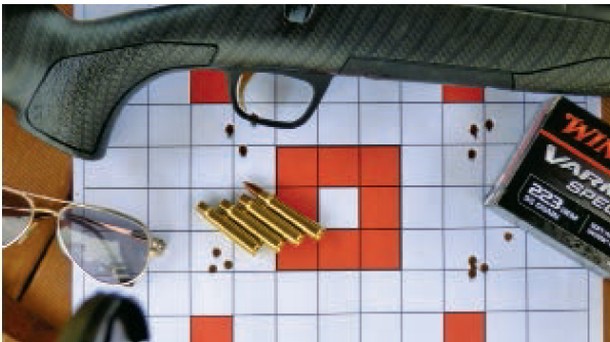 The X-Bolt's action features a unique four-screw base design. Winchester Australia, sent a pair of Talley one-piece alloy base and rings along with the rifle. They are light, strong and look really neat. Being medium height they positioned the Meopta Meopro 3.5-lOx 44 scope the right height over receiver and barrel so that my eye was centred looking through the scope. It's an excellent scope, but I'd prefer a more compact optic for this rifle.
Any rifle is only as good as its trigger and the X-Bolt's Feather trigger is a 3-lever design adjustable from 1.36kgs to 2.27kgs. The trigger on the Hog Stalker was smooth and crisp with a total lack of any creep or overtravel. Straight out of the box it broke at a hefty 2kgs which necessitated my removing the stock and lightening it off to have a clean, crsip 1.36kgs let-off.
I liked the Hog Stalker right from the get-go. Its balance and handling qualities are what appealed to me most, not so much because it's a short, heavy-barreled rifle, but I like its slightly muzzle-heavy balance that lets the outfit swing on target smoothly and effortlessly. It's short length is also an asset when you're pushing through lignum and brush with the rifle held ready across your chest.
After zeroing the scope, I settled down to do some serious accuracy testing of the outfit with Winchester's new hog-specific Razorback load which drives a 64gn XT bullet at 3020fps. This is a solid gilding metal bullet with a hollow-point designed for controlled expansion. Its solid construction and unique beveled profile ensures that the bullet holds together and drives deep. The flats compress the hollowpoint and close it very tightly, delaying expansion long enough for the bullet to get through the biggest boar's thick gristle shield together with a layer of encrusted mud before it begins the expand. The frontal area doubles in diameter to destroy a lot of tissue.
Since it was my intention to use the Hog Stalker on feral hogs with the Razor Back load, I was happy to see the first three shots group into 0.78″. The next four groups hovered below and just above that diameter, and average for five 3-shot groups was an impressive 0.96 inch. Figuring that the X-Bolt hog exterminator had the kind of accuracy needed for some serious long range predator work, I also checked its accuracy with Winchester's new Varmint Special load shooting the 55gn SPBT Sierra GameKing listed at 3215fps. Out of the stubby barrel of the Hog Stalker it clocked and average 3125fps The average for five 3-shot groups was an impressive 0.765 MoA. The Sierra MatchKing load racked up 3-shot groups measuring .408, .298,.592, .645 and .596 for an average .508 inch.
Today, due to improvements in firearms manufacture, quality control and advances in ammunition technology, stubby barreled rifles can fire cartridges with every bit as much performance as the biggest, heaviest rifles. Too, they're easier to carry and handle, more maneuverable, and as a rule more accurate across the board than their longer counterparts.
This is particularly true of the X-Bolt with its minimum-spec chamber and bore, well bedded action, clean crisp Feather trigger and short-stiff free-floated barrel that doesn't flex, or vibrate as much as a longer barrel when the bullet is traveling through the bore. More simply put: the shorter barrel is simply more stable, being less affected by disharmonic resonance, and thus more inherently accurate.
No need to look far for a hog to shoot; after recent rain  they'd been rooting up my rifle range. Stalking down along the creek, I found a medium size boar busy rooting in the soft bank and shot him behind the shoulder. He dropped in his tracks and lay kicking. The bullet wrecked his heart and lungs and lodged under the hide on the far side. That afternoon I managed to take another three pigs with the X-Bolt Hog Stalker. They weren't huge, weighing between 45 to 75 kilos and the ranges varied from 50 to 150 metres, but they were all clean one-shot kills.
The Hog Stalker is a nicely-balanced, easy-pointing, smooth­ swinging gun that points as predictably as my GSP. This kind of responsiveness was what helped me make a difficult running shot at a sow as she started running through scattered sifton bush. That short, heavy barrel stayed stubbornly on course enabling me to follow through smoothly and touch that musket off as soon as the reticle got past the hog's chest.
I propped up the biggest hog to take a photo to go with this review and assumed a stern and noble stare which is supposed to be impressive. But alas, my digital camera had a flat battery. The bloody thing was only a half grown boar and hardly worth the effort anyway.
Browning's X-Bolt Hog Stalker is an excellent rifle that need not be confined to one specific purpose; it can be utilized for other kinds of game just as effectively. In .308 Winchester it would be no slouch as a deer rifle.
Whether you're a sport hunter or a farmer looking for rifle with which to tackle a serious pig problem, It's worth considering Browning's new Hog Stalker. It's a high quality rifle that's been designed for a specific purpose, but one that's capable of unusually good accuracy and performance.
Browning X-Bolt Hog Stalker
Manufacturer: Miroku, Japan
Type: bolt-action repeater ; super-short action
Calibre: .223 Rem., (tested)
and .308 Win.
Magazine: detachable rotary holding 5 rounds
Barrel: heavy sporter; 510mm; rifling 6 grooves 1:12″ R/H twist Overall length: 997mm    
Weight Empty: 3.175kgs
Stock: Synthetic with black textured finish and Dura-Touch Armour coating. Stock option Realtree Camo
Dimensions: Length of pull: 343mm; drop at comb, 17.46mm; drop at heel, 12mms
Finish: matte black steel,
black stock
Sights: None, drilled and tapped for scope
Trigger: Three-lever Feather trigger adjustable from 1.36kg
to 2.27kgs
Safety: Two-position tang-mounted with release button
on bolt handle
Likely Price:  around $1475.
Contact: Winchester Aust. Ltd.Website: winchesteraustralia.com.au