The Easter holidays are fast approaching and that's the perfect time to re-stock the family's adventure gear. Ridgeline's new 2015 products add diversity and choice to kids' outdoor clothing options as well as great choices for the entire family.
Start planning your Easter outdoor adventures now and be ready to head off into the wilderness as soon as the last school bell goes. Here's a selection of Ridgeline's new range that will help everyone enjoy the holidays.
SPIKER PANTS AND SPIKER JACKET
At last – now the whole family can head out hunting fully dressed in waterproof Ridgeline gear. Match the new Spiker pants with the Kids Spiker Jacket and even your smallest team members will be ready to track and trek 'till the end.
The Spiker Pants and Jacket are great for hanging out at the farm as well. Quiet peach skin finish fabric with lightweight lining; fully seam-sealed, waterproof, windproof and breathable; two zip pockets with flaps; Velcro adjustable cuffs; hood attached and entire jacket folds into a small area.
Spiker Pants RRP: $89.95 Spiker Jacket RRP: $89.95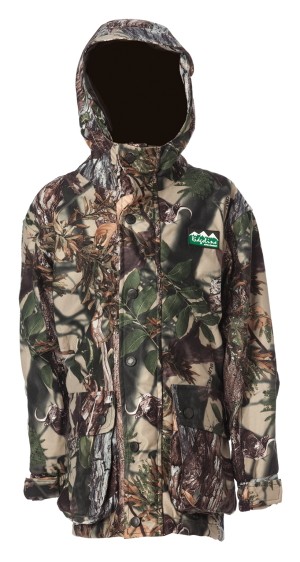 TUSSOCK TROUSER
Our Tussock Trousers are made from super-soft SOUTHERNSTAR 200 fleece. These trousers are machine washable and extremely durable. Warm and comfortable they will keep kids warm no matter what adventures they get up to.
RRP: $24.95
LITTLE CRITTERS PACKS – PINK, BLUE, CAMO
The Little Critters Packs offer great value for money and are ideal gear for kids when hunting, fishing, farming and enjoying the great outdoors. Many girls (and their mums) have been asking for their own version, so, coupled with the addition of a new baby girl to the Ridgeline team, it was time for the Pink Camo to make its debut! Cute and practical – go girls! RRP: $99.95
 CASADORA JACKET
One for the ladies. Made from our legendary QuietTex material, this waterproof and windproof fully lined ladies jacket is designed for the huntress in the family. Features include 2 side entry pockets, zippered internal pocket, 2 chest pockets and hardwearing 2-way zip. Available in pink and buffalo camo. RRP: $249.95
CASADORA PANTS
Team the Casadora Jacket with these fully lined Casadora pants – the perfect waterproof and windproof pants to take on anything Mother Nature will throw at you. Features include 2 side pockets, hip pocket, 2 side vents, belt loops and 3/4 leg zip. Available in pink and Buffalo camo. RRP: $149.99
FLEECE LINED BEANIE
This is a lightweight ant-pill fleece beanie with comfortable lining. This new style beanie will feel great on those winter days and will keep every head in the family warm. RRP: $24.95 
TROOPER BACKPACK
This flexible, reliable pack is a tough, durable 600 Denier construction. A backpack for all conditions and excursions, it has double entry format with internal divisions for easy packing and access. RRP: $109.95
Ridgeline specialises in producing comfortable, durable performance outdoor clothing at affordable prices. Ridgeline Australia supplies over 300 retailers nationally including Aussie Disposals, All Goods, Camping World and Mensland.
Visit:www.ridgelineclothing.com.au for more information.