By Marcus O'Dean
It is not often that hunters can source high-quality, wholly Australian products that contribute positively to their experiences in the field, but Lindner Socks Ltd, located in a shopfront /factory in Crookwell, NSW, is a standout in this regard.
Their socks are really well made in a variety of materials; the wool they source is locally grown, shorn and loomed. It was a few years back that I happened upon their website and the whole concept hooked me from the start.
A family company of German origins, who have been making socks for generations, the Lindners run a thriving business on a local model and their quality remains.
I reviewed a pair some time ago and I am still wearing them. Oh, and i also bought similar socks for my whole family. I love the spongy, cushioned feel on the sole of the Thick Full Cushioned Socks that I wear. Unlike other socks, these are milled on a multi-needle knitting machine, which leaves a sole akin to terry towelling in look and it is enduringly comfortable through multiple washes and wearings. They are warm and very functional, wicking away moisture and keeping feet very comfortable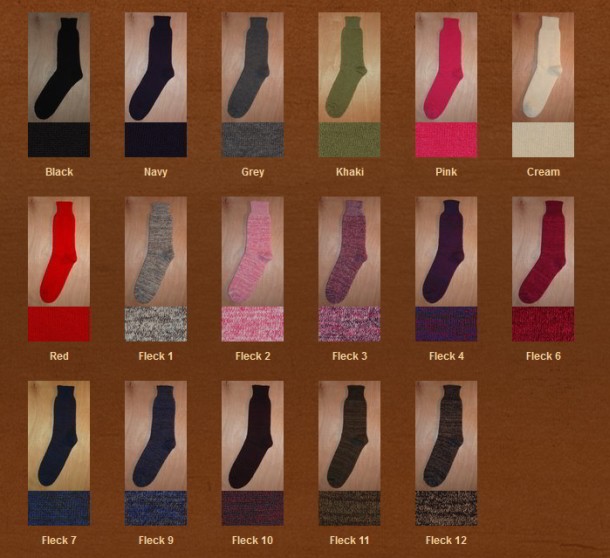 Here is the company blurb for the Thick Full Cushioned Sock, which comes in a rainbow selection of colours-see above.
The Thick Full Cushioned Sock is also made using 84 needles, and comprises of 75% wool and 25% nylon.
A terry knitting instrument lying between every needle on the machine creates a warm and springy cushion inside the sock.
The air pockets within the terry knit act to insulate your feet whilst allowing them to breathe and allowing the wool fibres to absorb any moisture, keeping your feet comfortable and dry in hot or cold weather.
Our Thick Full Cushioned Socks are ideal for wearing with work boots and gumboots, for hiking and skiing, and are also very popular worn as slippers or house socks, or as bed socks to survive chilly winter weather.
Contact details for these great socks below
6 Goulburn Street, Crookwell NSW 2583, Australia
www.lindnersocks.com.au