In the crowded field of high power portable lighting, Klarus has poduced an innovative competitor with attactive features and performance.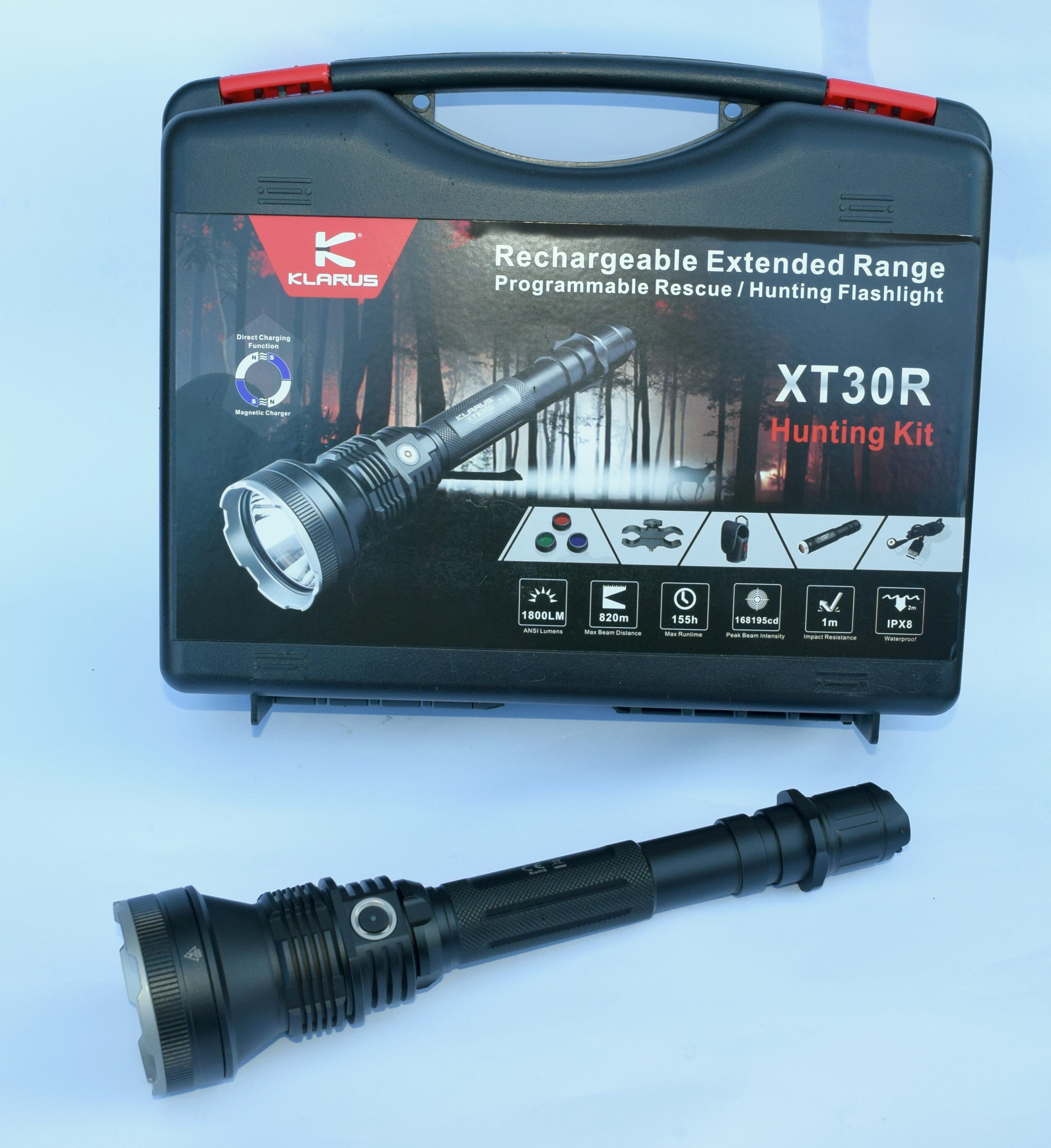 Klarus produces a range of lighting products, which will fulfill many uses across different outdoor needs and find a particular niche for hunters with the XT30R, touted as a "rechargeable programmable Rescue/Hunting Flashlight for use at extended range". It shares a profile common in many torches of similar appearance aimed at the hunting market, but it has a raft of distinguishing features which, taken as a package, provide great versatility and applicability.
With a maximum light output of 1800 Lumens (LM), maximum claimed beam distance of 820 metres and maximum runtime (on lower power modes) of 155 hours, the XT30R promises impressive field performance. For those involved in pest control at night, the double clamp bracket for attachment to a riflescope is nowadays a given in most such available kits, but the inclusion is a comforting start. Apart from this, the Klarus is built tough for a long life, being impact resistant if dropped from one metre, while it can be immersed to IPX8 International standard for waterproofness to 2 metres depth.
Colour Filters. The Klarus comes with three attachable filters, Red, Green and Blue. There are many anecdotal reports from night shooters about the effectiveness of red and green filters in not spooking animals under the light, whereas a bright white beam will often spook ferals, making shooting them more of a cat-and-mouse game. Indeed, using red and green filtered light on occasion recently, I'd say that they do not spook foxes nearly as readily as white light, when I switched from one to the others. I have not had the oportunity to use the blue filter in the field, so I'd be interested in any feedback from readers. What I do know is that blue light from electronic devices like phones and computers disrupts after-exposure sleep patterns in humans.
Recharging. The torch comes with two interchangeable middle tube units, each housing integrated 3400mA/7.4V battery assemblies. One is on the torch, the other in the case with other accessories. The torch is charged via a magnetic gold-coloured port on the torch's head unit opposite the mode operation switch with a small USB cable with gold port to mate with the torch gold port. Charging is intended to be carried out with the battery unit attached to the torch.
Features.
Full charge time, depending upon power source takes 5 or 10 hours. Colour coded capacity indicator on switch-on.
Mirror polished reflector
Duo power switch tail cap witha sping-loaded rocker switch turning beasm on whether main swith is on or off – a handy feature.
Intelligent Temperature Protection automatically adjusts output to protect the Cree LED to maximise lamp life to specified 50,000 hours.
Multi-mode beam output; Turbo-1670LM/818 metres, High-400LM/400m, medium-100Lm/185m, Low-20LM/75m, Strobe(1670LM) runtime 5 hours, SOS(100LM) runtime 75 hours.
Length 250mm, weight 354g, material 6106-T6 Alloy.
Accessories: Lanyard, two spare O-rings, charging cable cutout padded ABS carry case.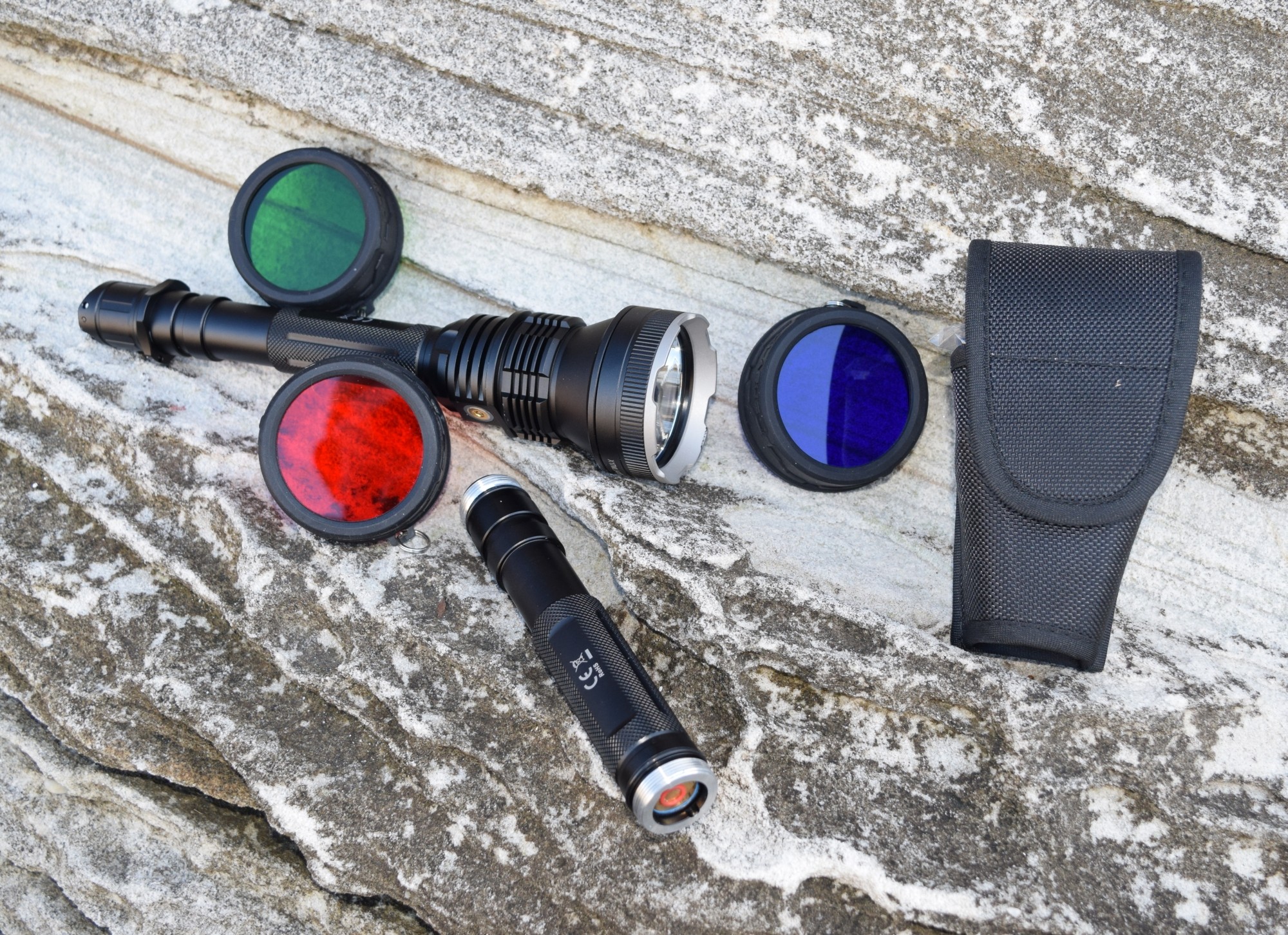 Operation. The main power swith is a rubber-coated push-button just off-centre on the tail cap. Adjacent is the spring-loaded rocker-bar switch, which bypasses the power button for quick convenient use. When you depress the main power switch, the torch comes on at the last used mode setting. Different modes are activated by using the Mode switch on the torch head. Successive hits on that switch scroll through all the modes available. in use it is very simple and is used by some other manufacturers on comparative units. The included fold-out instructions are printed in about 5-point type (a bit exasperating on old eyes) but they contain all the information you need to get the most out of the unit. They are most comprehensive and easily understandable.
Warranty. The XT30R has a limited lifetime warranty. If, after five years from purchase, problems develop, KLARUS will charge for parts only. Further warranty information is in the instruction sheet.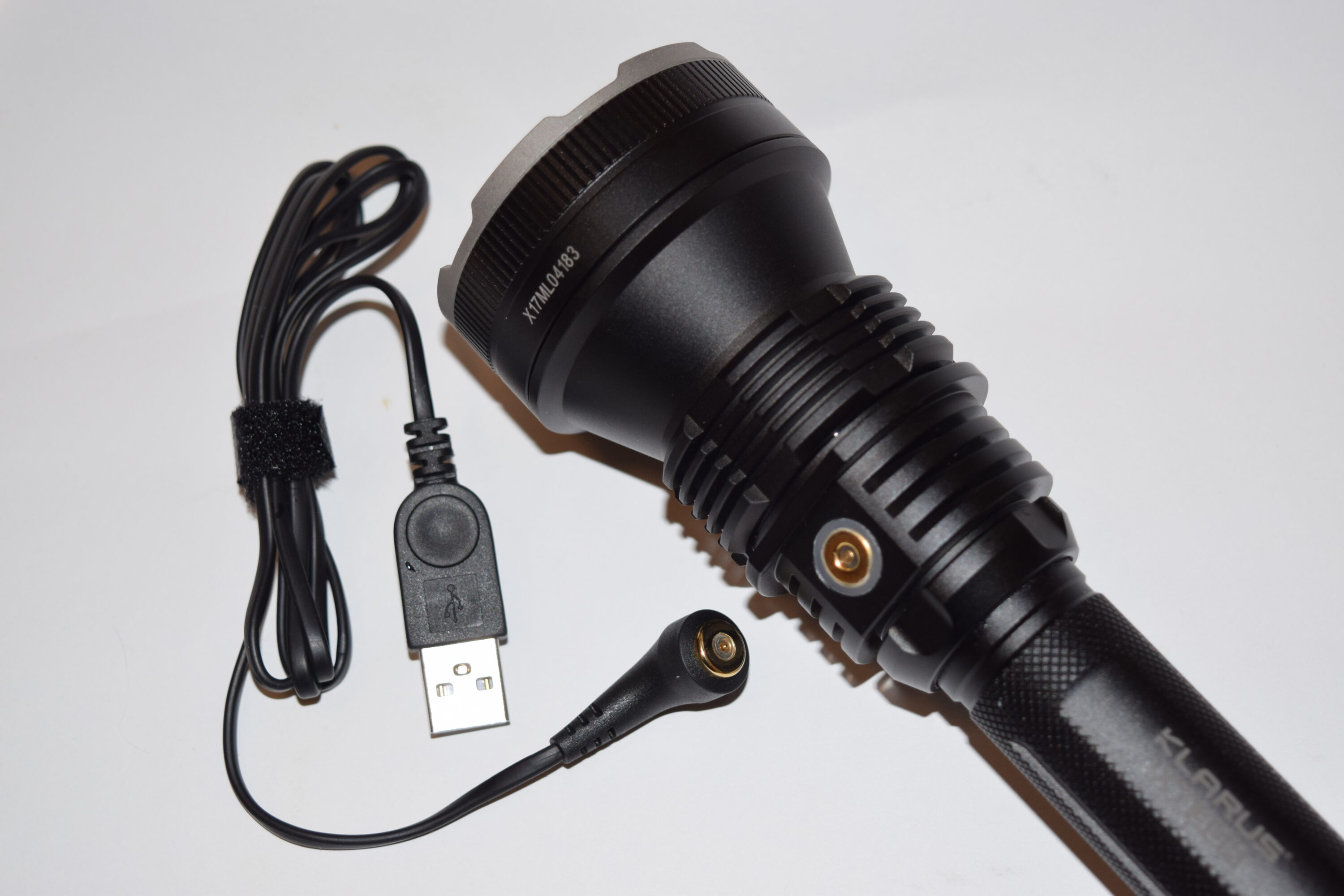 Testing At Night. As this unit arrived during the COVID crisis, my opportunity to get to the bush where darkness is really inky-black in places, I tested beam strengths in big unlit spaces in the suburbs ie Centennial Park and Gordon's Bay. I could cleary see detail on objects which I knew to be just over 600 metres away in relative darkness. When the clouds in the sky reflect some of the city's light output back down to the ground, this testing indicates in my mind that an 800 metre throw on turbo setting is realistic.
Overall Impression. In practical terms the Klarus XT30R is easily the equal of any similar unit available now, particularly when considering its many useful features that, in total, exceed those of its competitors. Some may have more stated maximum light output and range, but when used on rifle as a spotlight, just how far is it safe to engage. Practical shooting range at night is mostly limited by calibre, safety concerns like surrounding habitation and backdrops. The construction, quality, features and warranty make the Klarus a wise choice for the night shooter. Klarus products are distributed by CR Kennedy. Web: https://huntingdepot.com.au/
Info Box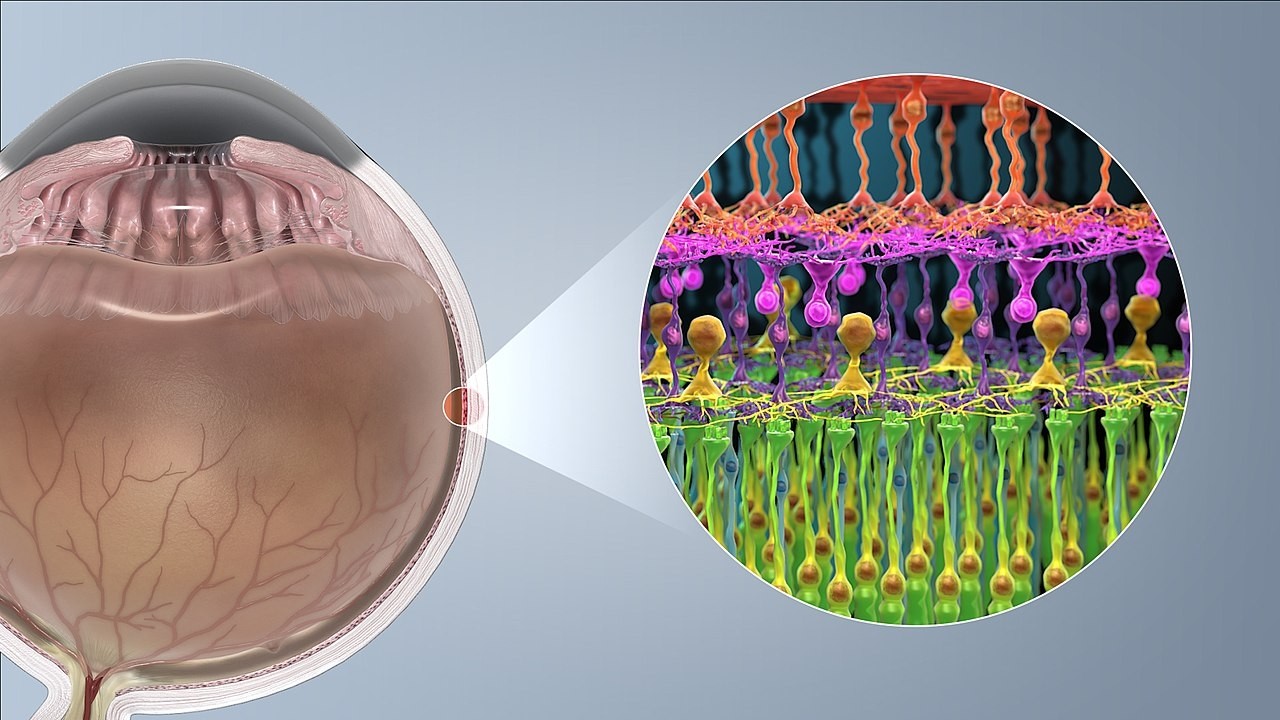 Filters And Night Vision
Most of us are aware that night vision takes some time to acquire on each occasion we venture out. Our brain enlists the use rod and cone cells in different situations and white light at night hampers a human's night vision when the light source is turned off. in daylight, cone cells distinguish and tramnsmit detailed colours. At night, rod cells come into play. Here is how the phenomenon is explained.
A rod cell is sensitive enough to respond to a single photon of light and is about 100 times more sensitive to a single photon than cones. Since rods require less light to function than cones, they are the primary source of visual information at night (scotopic vision).
Many old soldiers will know that their issue dogleg-shaped torches were provided with attachable red filters for use at night when they needed to retain their night vision to perceive threats when unaided by lighting. This is because red filters do not destroy night vision capability.