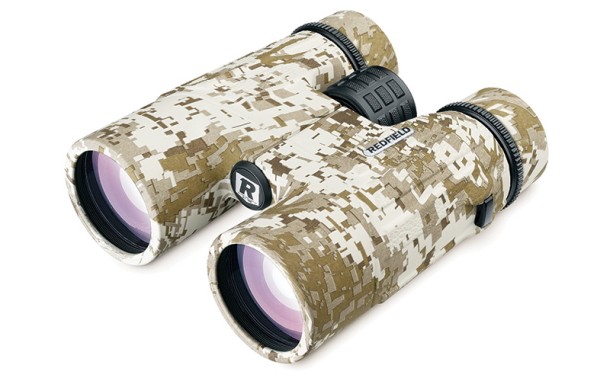 By Marcus O'Dean
I had the pleasure to attend the Nioa Leupold Roadshow Event in Sydney last week and I came away most impressed with many of the Leupold products but mostly with their attitude to customer service, for which they have an already enviable reputation.
I'll no doubt write about that sometime soon elsewhere but for now, there is one product I handled and looked through that "blew my socks off." These binoculars were bright, crystal clear and ergonomically brilliant.
Their 20x20MoA reticle was a very handy thing and I instantly fell in love with its digital camo pattern livery, which I would normally never entertain in an optic or on a firearm. I could not believe that they were Redfields, not Leupold Gold Ring optics. They would make a brilliant hunting binocular despite their low retail price and don't let that fool you, because all Redfield products come with the Leupold Full Lifetime Guarantee. I have included the company's information package below.
BATTLEFIELD™ Binoculars
The Redfield® Battlefield™ 10x42mm roof prism binocular features the same TAC-MOA™ reticle offered in the Battlezone™ and Revolution/TAC™ riflescopes. This allows for accurate ranging and shot calls from a lightweight and economical binocular. The 10x42mm size offers the perfect balance between magnification and exit pupil, performing in any terrain from dawn until dusk.
TWIST-UP EYECUPS
Flexible and accommodating, these binoculars are equipped with easy twist-up eyecups for use with or without eyeglasses.
NO FUMBLING
No fumbling around, even with gloves, thanks to heavy-duty focus knob knurling.
BAK4 PRISM SYSTEM
Brightness. Resolution. Edge clarity. Three things you need to spot a rack in tangled timber or hair through the brush, all thanks to the advanced BAK4 Prism System. These top-quality prisms help define objects so you can easily distinguish big game from background.
FULLY MULTI-COATED LENSES
Fully multi-coated lenses guarantee a bright, sharp image to spot your buck. These lenses maximize transmission of fading light for strong performance in twilight conditions. Eliminate muddy images and missed deer thanks to crystal-clear resolution and accurate color reproduction.
ARMOURED CONSTRUCTION
Aluminum body construction stays fog-free to keep you glassing in all conditions. Built tough, these binoculars can hack field, thicket, and creek bed without worry. Includes a soft case, comfortable neoprene neckstrap, and durable lens covers.

BATTLEFIELD RETICLE
TAC TAC-MOA™ RETICLE
The TAC-MOA reticle features stadia lines on the crosshairs set at 2 MOA increments. It easily rotates to set the reticle parallel with the horizon in any situation or position.
Quick Specs
Length: 5.9 inches
Weight: 750 grams
Field @ 1000yds: 341ft/112m
Minimum Focus: 4.3ft/1.4m
Reticle: TAC-MOA
Check them out at http://www.nioa.net.au/