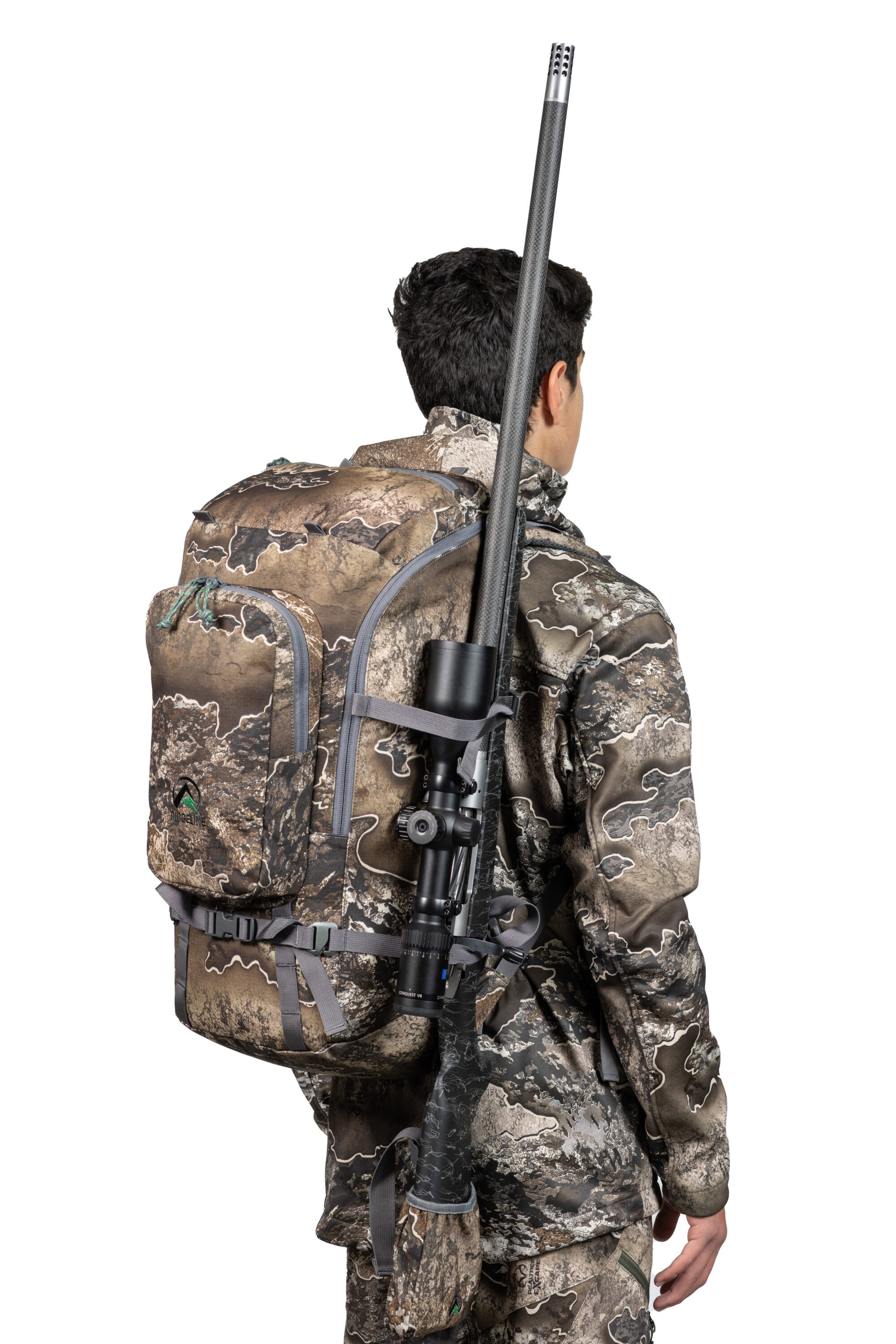 Ridgeline has recently redesigned their packs in a useful range of sizes for the day hunter in 25L capacity, a 35L Day Hunter Plus pack and the 45L Hybrid Trek for extended hunting trips. Available in the choice of plain Beech or Excape camo pattern these new packs were designed in New Zealand by an ex Kathmandu and Macpac designer, purpose built for active hunters and hikers and tested by Ridgeline's team of hard core hunters.
The fabric is 100% recycled rip-stop 3000/6000 polyester with a canvas look that's TPU coated for water resistance. In fact, I'm told TPU fabrics bond a thermoplastic polyurethane membrane to a base textile, in this case polyester fabric to create a high performing material that is durable, waterproof, but still maintains its flexibility. In addition, Ridgeline have incorporated quality YKK zips and air mesh harness systems to all their packs for durability and breathability. While their streamline design offers ease of use to the full range of packs, their well thought out internal and external pocket systems, straps and compartments allow for easy, safe storage of items.
Firstly, their 25 litre Day Hunter pack. This new model is hydration bladder compatible, comes with a water resistant rain cover, removeable waist strap and a detachable rifle scabbard with side compression strap system to hold your firearm and scope securely to the pack when hiking in or out. Featuring a padded air-mesh harness system, the 25L Day Hunter is made of 3000 Ripstop polyester with TPU coating and also offers top to front zip for easy access.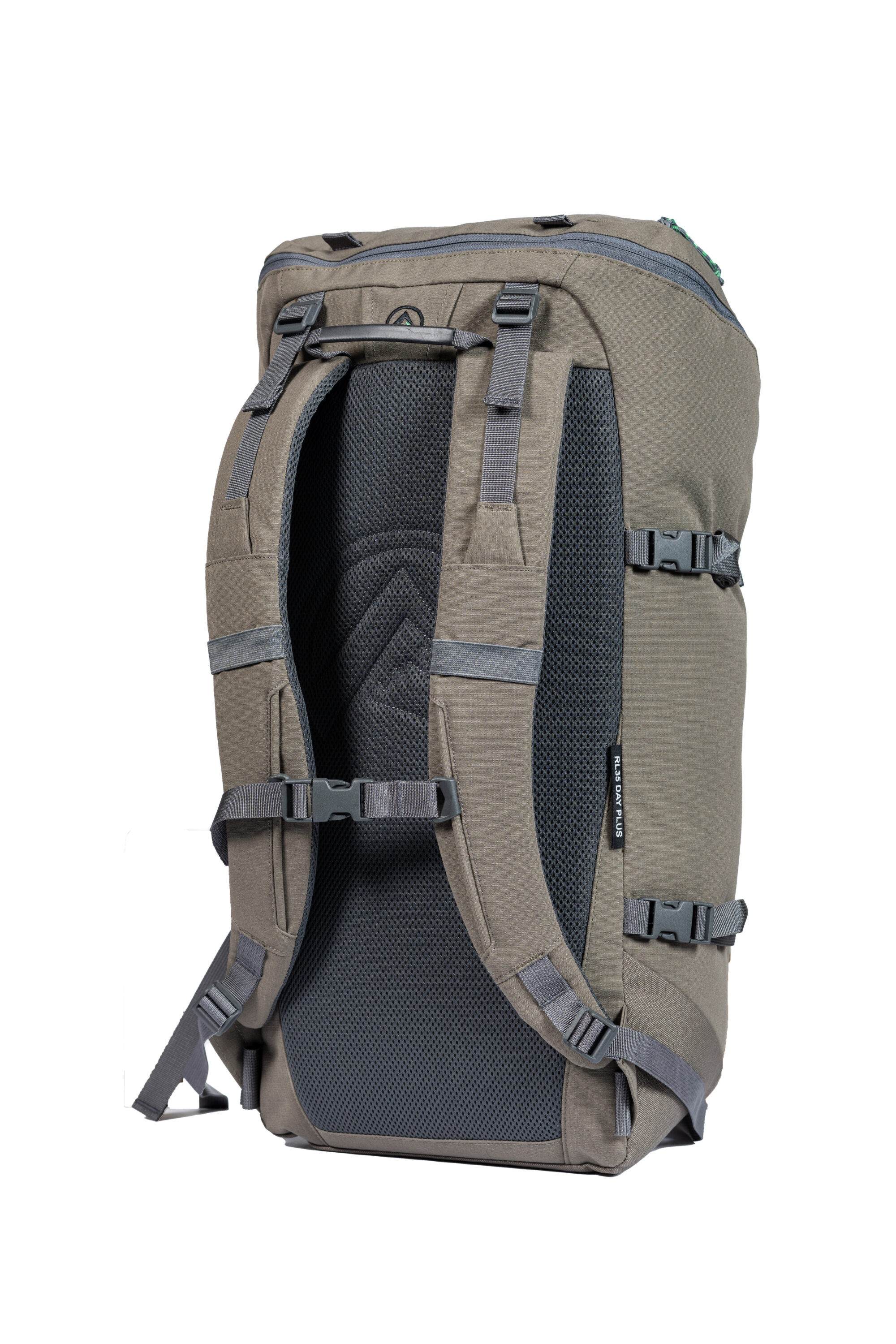 Next is the 35L Day Hunter Plus pack. Like the 25L model, this pack is also hydration bladder compatible, features a detachable rifle scabbard and comes with a water resistant rain cover. Featuring a little more room to the 25L pack, this unit offer removeable overload straps that can be used to hold excess gear like additional clothing, hide, meat or antlers to the outside of the pack. Next, side compression straps allow you to streamline the pack when empty or full and keep the contents snug. The 35L Daypack Plus also offers the same adjustable air-mesh harness system for comfort and ergonomic fit.
While the main pack itself is constructed of Ripstop 3000 poly canvas, the base panes is constructed of a heavier 6000 poly canvas material for added durability and also features the same top-to-front zip configuration as the 25L pack for easy access. In addition to a top pocket for rain cover storage and other items, the 35L pack features a frame sheet stiffened with a single aluminium stay for extra body and a slightly bigger load.
Last but not least, Ridgeline have also produced the 45L Hybrid Trek. This pack is ideal for extended hunts and overnight stays and features a removeable lid with generous pockets, rain cover, rifle scabbard and mole system and lots more. Featuring loads of space, the 45l Hybrid Trek is frame sheet stiffened with two aluminium stays for added rigidity.
At the time of writing, I was told the new 25 and 35L Day Hunter packs would be available in stores by early April. However, the 45L Hybrid Trek would not be available until mid-May, so keep an eye out for them at your local gun shop or visitwww.ridgelineclothing.com.au