Like most blokes, Ron Tufnell's interest in and passion for knives simmered and grew as a young fella growing up in his native South Africa. His interest continued while serving both in the army and with the Police Reserve. It was during his training as a fitter machinist, however, that his passion and knowledge of the blade was further developed and fine-tuned.
Ron did a number of knife making courses and, from that day, he has continued to learn, improve and master his craft. He continues to not only make his knives but also his equipment, such as the five belt sanders used in the 'stock removal' method of knife making. He started his business in South Africa in 1999 under the brand Rhino Custom Knives (now Tufnell Custom Knives). Ron still has the first knife he ever made: it's a good omen as a knife maker should keep their first knife – but it's also an interesting benchmark in improvement from then until now.
Ron prefers to use both Bohler N690, Elmax or M390 knife steel, depending on the purpose of the knife. These knife steels hold a good edge and are durable. All knives are hollow ground freehand. All blades are cut on a band-saw and shaped to the desired design. Being hand made, his knives are unique in that no two knives are identical.
Handle materials are varied and include various types of bone, antelope horn, wart hog tusks and various stabilised woods, composites, pearl shell and paua shell. Bone and wooden handles are stabilised by extracting all air by vacuum and filling open pores with liquid impregnates that both stain to the colour of choice and stabilise the material to prevent cracking.
All Ron's Knives are hardened and tempered in-house, using his furnace and tempering ovens. This achieves the correct hardness of the knife blades using the Rockwell c scale aiming for a hardness of 58-60.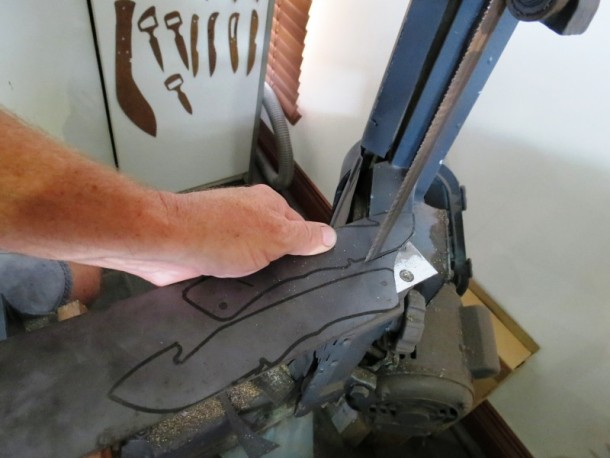 All blades are cut on a band-saw and shaped to the desired design: no two knives are identical.
A custom handmade knife should primarily be functional and fit for purpose. Not only does Ron achieve this, but his knives are also a work of art that show off the skill and craftsmanship of this fastidious and precise knife maker. This precision becomes obvious when you handle and scrutinise the folding knives that Ron painstakingly makes. They give Ron an immense amount of pleasure and satisfaction as a master craftsmen. The look of joy when handing over ownership to his customers is the icing on the cake. Ron clearly points out that his knives are made to be used, and his choice of the best materials in blade, handle, bolster, pivots bearings and pins give him the confidence to offer a lifetime warranty.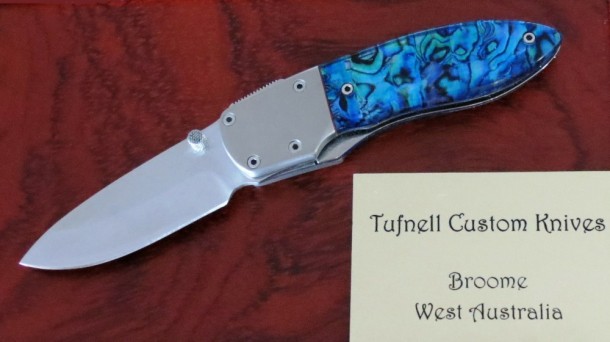 Ron uses all kinds of materials for handles including horn, bone, teeth, wood and shell. This folding knife with a paua shell handle is a stunner.
In South Africa it was his hunting knives that created his reputation. Attending all the best knife making shows and mixing with hunters to keep improving his product only enhanced the name he developed. With feedback from hunters, Ron designed his gut hook skinner and won the game skinning and butchering competition at the Tom Bourke Show. These events were an important community social gathering where Ron sought feedback from hunters on design, ergonomics, blade angles, gut hook shape, style and weight, resulting in continuous improvement in the product. This product also won the attention of Holland and Holland, who regularly commissioned Ron to make custom knives to accompany their rifles, using the same wood from the rifle stock to make a matching wooden handle for the knives.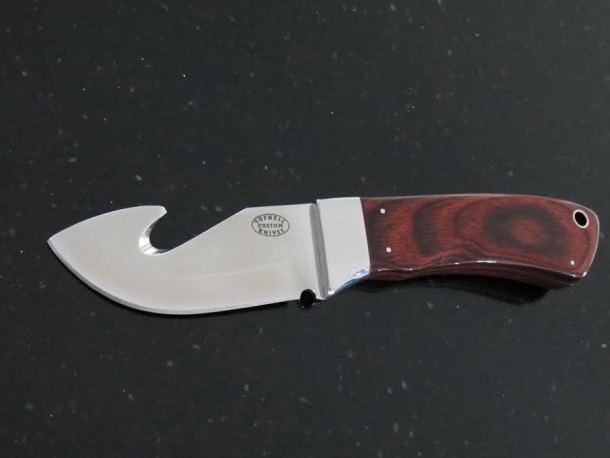 Ron designed his gut hook skinner after getting feedback from professional hunters in his native South Africa. Holland and Holland regularly commissioned Ron to make these knives to accompany their rifles, using wood from the stick as the handle.
One of Ron's specialties is unique roast carving sets. These can be laser cut with the silhouette of the African Big Five or elephant/rhino pairs. These stunning boxed sets make an ideal wedding or corporate gift and are a standout in class and quality, making them ideal family heirlooms for the future.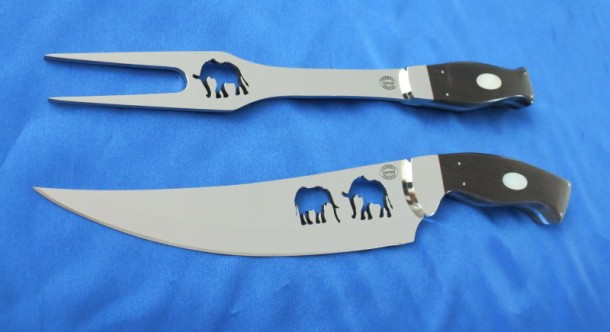 One of Ron's specialties are these unique roast carving sets. 
One sleepless night many years ago resulted in the design of a 'biltong knife' which has now sold in the thousands in South Africa where the discreet slicing of biltong is an art form perfected by the hunters on the veldt and now made easier and safer by Ron's patented design. Little wonder that this design is highly sought after as an affordable functional gift idea.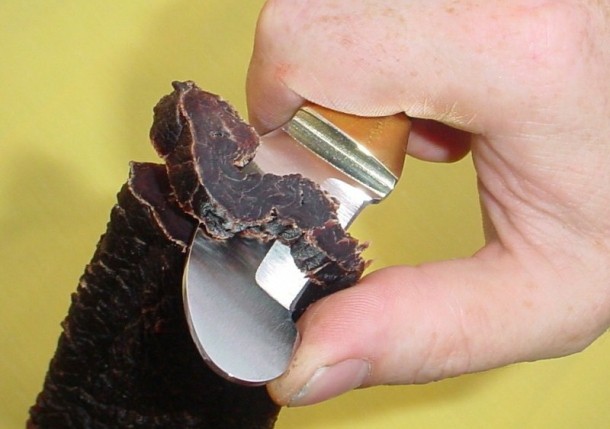 Ron has sold thousands of these purpose built biltong knives in Africa.
Ron's time in the armed services gave him the opportunity to customise and design knives and daggers that were purpose built for military and survival applications. These soon attracted the eye of influential officers, who commissioned Ron to make a number of operational, ceremonial and commemorative knives that were striking in design, functional in operation and much-treasured possessions for the operators.
Tufnell Custom Knives also offer knife making courses where a client, under Ron Tufnells supervision, will from a raw blank of steel go through all the processes needed to produce a treasured personal knife. This includes the technically challenging step in freehand hollow grinding.
Ron Tufnell has relocated to the wild and beautiful Kimberley region of Australia and operates his workshop and his company, Tufnell Custom Knives, out of Broome, Western Australia. For further information click HERE.
Editor's note: Sporting Shooter has obtained a gut hook skinner for review and is currently putting it through its paces. Look out for the report in an upcoming issue of the magazine.