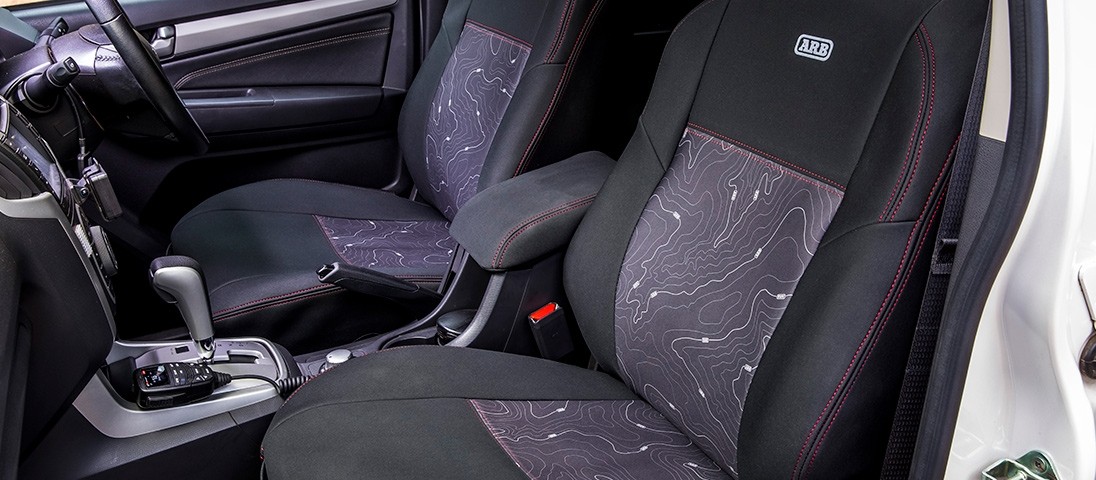 ARB have a few different lines of seat covers to fulfil different needs. Their top-notch covers are custom-fitted, thickly cushioned and durable. Here is an outline for your information:
ARB Seat Skin Covers
Designed with ruggedness in mind, ARB's Seat Skin covers hug beautifully to your vehicle's seats – while providing the same level of safety and comfort with inbuilt airbag stitching for rapid deploymentin emergencies. Incorporating the popular topographic ARB print with highlight red stitching, these seat covers create a sleek look inside your 4√ó4.
Made from a thick 3mm premium thermoset elastomer fabric, ARB's Seat Skin covers provide an excellent and firm fit to keep overtime sagging to a minimal, and preventing damage to the OE seats.
Independently airbag tested and certified, these seat covers utilise a high-quality stitch pattern from specialised Japanese sewing machines, providing a safe deployment of the SRS airbags.
Features
Easy and simple to install

Tailored for a vehicle specific fit

Water resistant and easy to clean

Rubber bonded back to prevent movement in use

Breathable for added comfort

UV protected – treated to 50UPF rating

Airbag tested in Melbourne to Australian requirements

220gsm density material

Flame resistant – will not ignite when in contact with flame
Front seats include map pocket and personal pocket on front

Available for front, rear, and third-row seats

Large product range to fit most current popularfour-wheel drives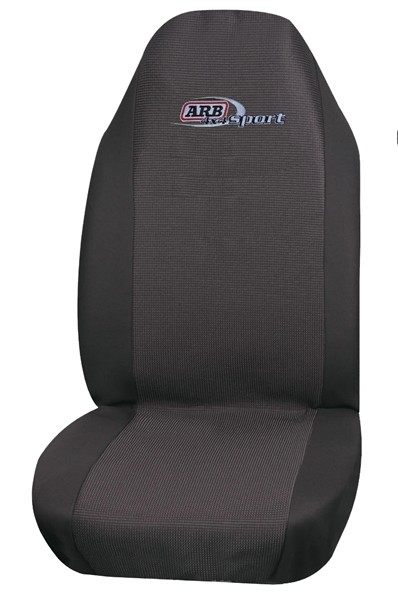 ARB Sport Slip On Seat Covers
Now while I would dearly love to sit in the superior ARB Skin covers in my 4WD Suzuki Vitara daily drive, I can be a bit of a "pig pen", not being so precious about keeping my vehicle interiors spotless, so I opted for ARB's simple Slip-On Seat Covers, which are inexpensive and fit all car seats pretty well just by pulling them on. Made of lightweight poly open-weave material, they are ideal for my needs.
I am averse to getting myself upside-down and inside-out and risking later potential ostoeopathic correction when trying to fit conventional seat covers – consequently they get pretty putrid before they get removed and washed – so these slip-ons suit me fine. When I drop too much coffee and meat pie gravy on my "slip-ons", I just whip them off in 30 seconds and put my spare set on, throwing the dirty ones into the wash with the clothes I dropped the rest of the gravy on.
Check these and other great vehicle accessories and apparel at your local ARB outlet or visit their web catalogue at www.arb.com.au