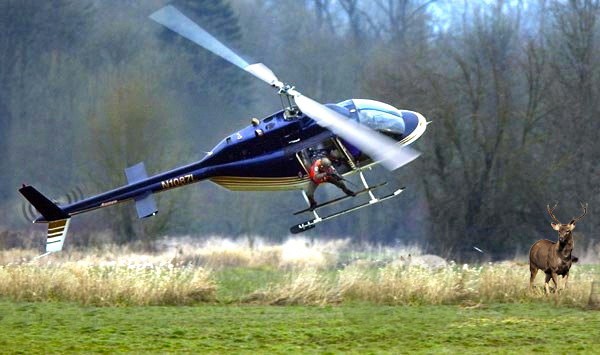 Parks Victoria have been undertaking a deer control trial in the Alpine National Parksince 2014/2015. The trial is occurring in four relatively small focussed areas which contain sensitive alpine ecological communities, susceptible to damage from deer. Two of these areas occur on Bogong High Plains, near Falls Creek, and 2 in the Southern Alps, north of Licola. (See Maps)
In 2015/2016, Parks Victoria introduced deer control contractors to the Bogong High Plains and now will extend contractor operations to the Southern Alps. The deer control work undertaken by the contractors complements the work undertaken by volunteers, which will continue.
Parks Virtoria confirmed itis "in the early stages of planning a Sambar deer aerial shooting trial in the Alpine National Park in 2018. The aim of the trial would be to demonstrate the technique in Victoria, and to assess its effectiveness, efficiency and cost. The trial area has not been confirmed but will be undertaken in an area of the park that is not open to recreational hunting, and outside the area that is the focus of the ground shooting trial".
Sambar deer aerial shooting trial
Sambar Deer have not yet been controlled using aerial shooting in Victoria. The New South Wales National Parks and Wildlife Service (NSW NPWS) Feral Animal Aerial Shooting Team (FAAST) has been undertaking aerial culling of Sambar Deer in the Kosciuszko National Park in recent years and have reported excellent results. Parks Victoria is interested in trialling this approach in Victoria, in collaboration with NSW.
The trial area has not been confirmed but will be in an area not open for recreational hunting. It is likely that the trial would be carried out over a 3 day period.
The trial would involve an independent Parks Victoria observer monitoring the success of the aerial shooting operation from the air, including the response of deer, deer seen, deer culled and catch per unit effort.
The Alpine National Park Deer Control Trial includes measuring catch per unit effort of ground shooting operations and comprehensive monitoring of deer abundance and impacts in environments similar those to where the aerial shooting trial is occurring. The catch per unit effort figures calculated from the aerial shooting trial will enable Parks Victoria to assess the efficacy of this technique and estimate the potential reduction in deer population and impacts through comparison with the data collected in the deer control trial.
The paper also confirmed that there will be no recovery of animal or meat from the culls.Deer carcasses in wetlands or waterways, and those visible from walking or vehicle tracks, will be broken up and moved. In areas where they have no impact on visual amenity or water quality, deer carcasses will be left where they fall.
SSAA Victoria – AerialCulling Needs Ground Support
THE SSAA Victoria is calling on Parks Victoria to allow hunters into National Park areas earmarked for a trial helicopter deer culling operation at some stage this year.
The trial is designed to control deer numbers in sensitive conservation areas and SSAA Victoria hunting development manager David Laird said there was an opportunity to allow hunters to assist.
"Recreational hunters contribute significantly to the State's economy and SSAA Victoria has consistently called for increased access to areas of public land for deer hunting," he said.
"Deer hunters are estimated to have taken nearly 100,000 deer in Victoria in 2016 and contribute in a very significant way to overall population control.
"With increased access and hunting opportunities, this contribution will only get larger."
He said he supported the trial as recreational hunting alone may not be enough to mitigate negative impacts, especially in sensitive areas or where high deer population densities exist.
"Helicopter culling may well be appropriate in some circumstances," Mr Laird said.
"However, recreational hunting should always be considered as the initial option where land managers believe that deer numbers need controlling.
"There are cases where deer control activities do need to be targeted in specific areas and SSAA Victoria is involved in a number of programs where this occurs," he added.
"Different tools and techniques need to be evaluated to understand their effectiveness and limitations."
Mr Laird said control measures need to be incorporated into an overall management strategy for deer.
"The strategy needs clear objectives with measurable outcomes and stakeholder engagement," he said.
"An interesting case study involves the control of Sika deer in the Kaweka Forest Park in New Zealand.
"Aerial deer control has been used in conjunction with recreational hunting over many years, with positive outcomes for all stakeholders.
"If aerial deer control were to be introduced into Victoria, the Association would expect extensive consultation from government to develop programs that have similar benefits for all stakeholders."
PARKS Victoria will not say how many deer were killed in a cull by contract shooters in the Alpine National Park earlier this month.
The Weekly Times reported a Parks Victoria spokeswoman confirmed a cull had taken place at Howitt Plains in the Alpine National Park, north of Licola, in the past fortnight, but would not respond when The Weekly Times asked on which date or days the control program — initially set down for February 3- 5 — occurred.
The spokeswoman said the Parks Victoria operation was part of an ongoing effort to control deer in the park.
"Parks Victoria uses highly skilled professionals to undertake these operations, which are thoroughly planned and carried out under strict conditions to ensure safe, effective and humane practices at all times." the spokeswoman said.
"The operation did not involve the use of any helicopters. It was an on-ground operation conducted mainly in the late afternoon and evening, so it had little to no impact on visitors."
Parks Victoria did not respond to questions about how many deer were killed, if the carcasses were removed, how many professional shooters were involved or the cost of the control program.
Instead it issued a statement that said: "Parks Victoria is investing in the Alpine National Park Deer Control Trial to determine what are the most efficient and cost-effective methods to manage deer to protect endangered alpine peatlands."
"The program is being conducted in partnership with Australian Deer Association and the Sporting Shooters Association of Australia utilizing both volunteers and skilled contractors".
ADA spokesman Barry Howlett said it had been notified by Parks Victoria it would carry out a Howitt Plains cull "some time over summer". ADA had not been involved, but contractors had, he said.
SSAA also confirmed it had not been part of the operation earlier this month. Since the deer control trial began in May 2015, 86 deer have been culled from the Bogong High Plains.
Deer-Control-Trial_overview.pdf
Parks-Victoria-Alpine-National-Park-Deer-Control-Trial-Update-FAQs-1.pdf