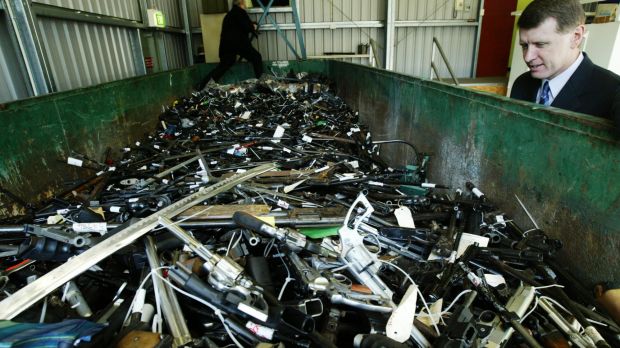 The Age reported that the federal government is poised to announce a national gun amnesty following an unprecedented wave of violent firearm-related crime in Melbourne.
State and federal ministers and attorney-generals requested an amnesty be considered by senior officials in the National Justice and Policing Senior Officials Group last year. These officials gave a unanimous in-principle support for an amnesty last month.
State ministers must agree to proceed, however, support for an amnesty is strong and it is understood the timing will be settled before the end of the year.
Victoria's Police Minister Lisa Neville said the state government would support the move.
"We are working with our State, Territory and Commonwealth colleagues on how it will be rolled out. The Commonwealth is leading this work and the details are still to be settled," Ms Neville said.
Fairfax Media revealed shootings are now a regular weekly occurrence in Melbourne and gun related crime has doubled since 2011. Also noted was that there are now more legally owned firearms in the country than before Port Arthur.
Just when I was convinced that this was another one sided gun control article. State shadow Police Minister Edward O'Donohue along with Gary Bryant from the Firearms Safety and Training Council bring some balance and relevance to the article.
"Any response from Victoria Police and (state) government should be focused on this cohort, not lawful guns owners," Mr O'Donohue said.
"Licensed firearm owners and users are not the problem. The problem are criminals and criminals do not respond to regulatory environment. They don't care about regulations," Mr Bryant said.
Criminals that are using weapons to partake in gun crime obviously do not hand these weapons in when an amnesty is announced. Which begs the question what are these amnesties really aimed at?
Politics being what it is today it seems these amnesties can only be seen as tax funded political publicity stunts.
Read the full article here