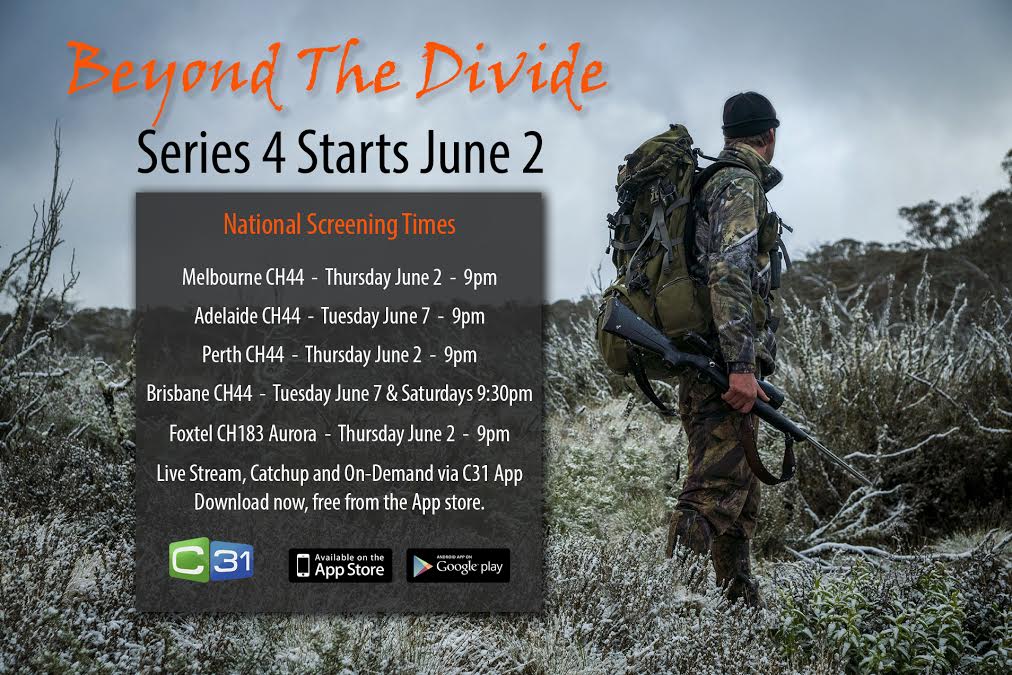 Series 4 of the ground-breaking hunting TV show Beyond The Divide is all go next week, with broadcasts starting from next Thursday, June 2.
This year is set to be the biggest and best season yet, following on from the huge ratings success of Series 3 in 2015. This year the show will reach a truly national audience through expanded broadcasts via Foxtel, and the new dedicated online platform of C31 Melbourne.
This season the catchphrase is "anyone, anywhere, anytime can catch the action'Ķ"
Series 4 features another action packed 10 episodes but this year we stay closer to home in a southern hemisphere special. Episodes feature everything from varmints and ferals through to backpack sambar, roaring reds of the Tararua Ranges in NZ, wild dog hunting, quail hunting on Flinders Island plus plenty more and, as usual, all hunts are strictly fair chase and free range.
The show this year pushes the boundaries slightly further, broadcasting to a "mature" audience and showing more of the field dressing process and utilisation of game meat in field situations.
For more information visit the Beyond The Divide website, or to download the free C31 app and get ready to watch on mobile, tablet and devices click HERE. Finally, if you have missed any of the action so far, you can catch up on Series 1-3 on DVD, which can be ordered via the website.
Free to air national screening times
Melbourne Ch44: Thursday June 2, 9pm
Adelaide Ch44: Tuesday June 7, 9pm
Brisbane Ch44: Tuesday June 7, 9:30pm
Perth Ch44: Thursday June 7, 9pm
Foxtel Ch183 Aurora: Thursday June 2, 9pm