The Crossman Pioneer Air Bow has made its way to Australia and with this comes its suitability as a hunting implement. The NSW Game licencing unit are currently looking at its suitability for use in the State forests of NSW.
The air bow has been listed as an "arrow rifle", which is considered a Category A firearm under the Firearms Act 1996.
The air bow puts out some FPS over its traditional and compound relations. Arrows fired from recurve bows travel at an average of 225 fps while arrows fired from compound bows travel at an average of 300 fps. A 375 grain arrow fired from the Air bow travels at 450 fps. Greater speed means a more balanced trajectory and increased resistance to wind, which translates to improved accuracy.
Many Australian Hunting groups have distanced themselves from the air bow.
Australian Bowhunters Association spokesman Bruce Kelleher said the air bow had been "discussed" at a national level.
"We wouldn't have it in our association," Mr Kelleher said.
"All our bows are vertically operated and are completely different … you don't need a licence and you can't walk about with them loaded."
A Sporting Shooters Association of Australia Victoria spokeswoman said the airbow was "effectively a cross bow and the only reason it would fall under the firearms act would be because it is powered by compressed air".
With that said the only difference between men and boys is the cost of their toys.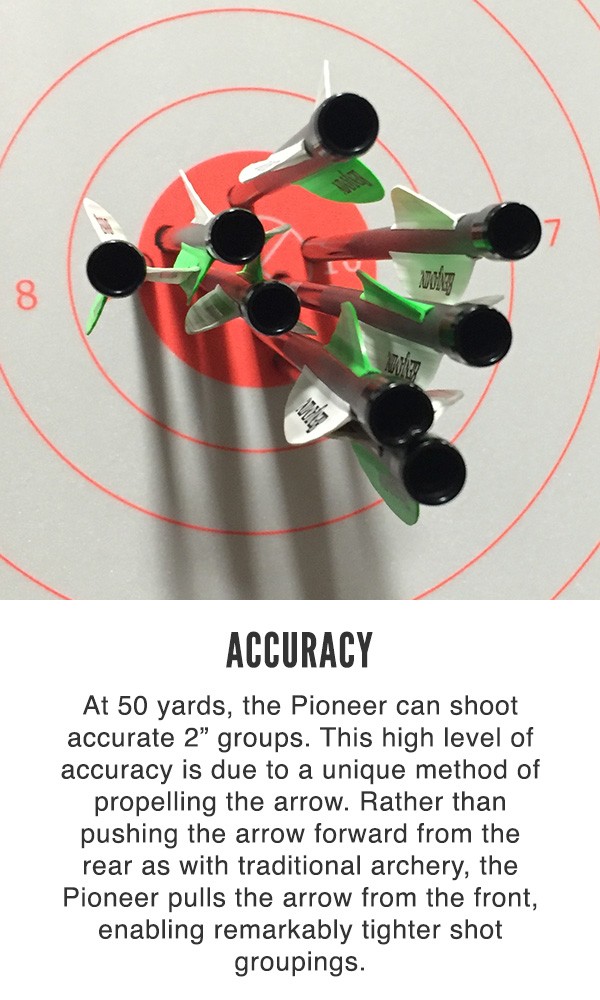 SPECIFICATIONS
Pre-Charged Pneumatic (PCP) Airbow
Powered by 3000 psi of compressed air
Integrated pressure regulator delivers 8 consistent shots at 450 FPS
Bullpup configuration, short 33.5" overall length
Ambidextrous top cocking bolt
BONUS: Realtree AP camo decals included
Comes with 3 custom arrows with field tips, 6×40 mm scope, sling and quiver
160 fpe with 375 gr arrows @ 450 FPS
Length: 33.5 inches
Weight: 7 pounds