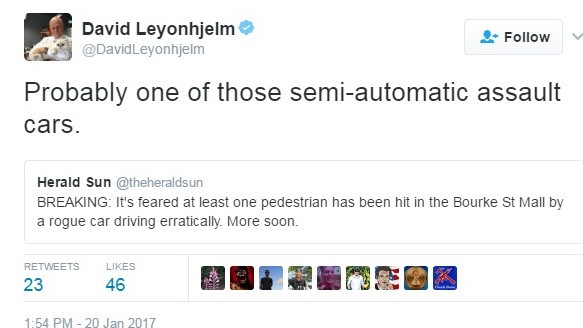 LIBERAL Democrats Senator David Leyonhjelm has been slammed for a tweet appearing today after the Melbourne CBDattack.
David Leyonhjelm has openly been a supporter of gun rights. Most noteable would be the recent debate with the Adler shotgun.
Todays Tweet:"Probably one of those semi-automatic assault cars," has come under fire for using the incident to suggest it's people, not objects, that kill.
His comment has prompted hundreds of angry replies, with many calling on him to resign for making jokes about the disaster.
Senator David Leyonhjelm defended his tweet telling AAP the outrage "only emanates from those who are too stupid to get it".
"My comment referred to the 'rogue' car, as if the driver is irrelevant," he told AAP.It's people who commit crimes, not inanimate objects. "The same argument applies in the debate about firearms."
Greens Leader Richard Di Natale has called on Senator Leyonhjelm to apologise.
"This is a tragedy and not the time for crass political point scoring," Senator Di Natale told AAP.
"Senator Leyonhjelm needs to pull his head in and apologise for his insensitive comments."