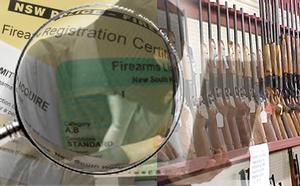 The Firearms Registry review is a step in the right direction for firearms owners. Unfortunately, the FAR has failed to serve firearms owners for many years and made us scapegoats for their administrative errors.
LAFO's whilst happy with the news, are sceptical that an ex-Police officer working for a Government that has not shown any support for firearm owners will result in anything substantial being found.
If the review is not a politcial stunt we would expect to see many of the FAR failings identified.
Shooters Fishers and Farmers Party Media Release -The Hon. ROBERT BORSAK MLC Parliament of New South Wales Legislative Council
After months of detailed negotiations, the Government have finally relented and agreed to an independent review of the service and processes of the Firearms Registry.
The successful negotiations between the Shooters Fishers and Farmers Party and the Government have resulted in today's announcement of an independent three-month review of the Firearms Registry. The review will be undertaken by former Assistant Commissioner Geoff McKechnie, based on our agreed Terms of Reference.
"The SFF welcomes this announcement following negotiations with the Premier and Deputy Premier. We would also like to acknowledge the hard work put in by SSAA NSW in achieving this result," said Robert Borsak, leader of the SFF.
"The FAR has victimised legal firearms owners and made us the scapegoats for the Edwards murders when the truth is it was their administrative failure of the highest order that caused the tragedy.
"John Edwards should never have received a Commissioners Permit to get a firearms licence. It is a failure of FAR process, control and administration.
"SFF constituents and most law-abiding firearms owners have been unhappy with the FAR for many years. The major complaints are processing times for applications, poor service provision, flawed and unfair adjudication, and much much more.
"The SFF office receives daily calls and emails from constituents who have been treated poorly by the FAR, which is unacceptable from a government agency.
"We look forward to seeing Mr McKechnie's recommendations after a three-month review and assessing the suitability for improvements for customer service and systems at the FAR," said Mr Borsak.