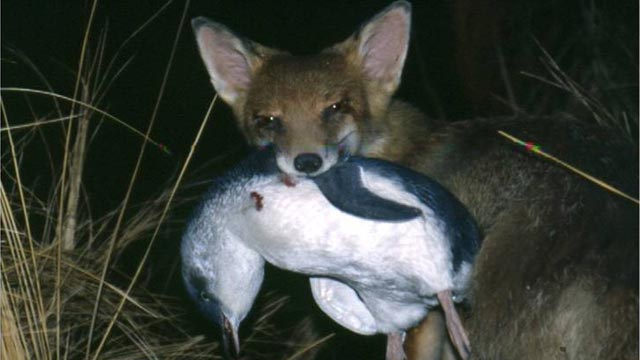 There are groups that want to pet and protect these destructive animals but as hunters we do our best to keep them from destroying or delicate native animals.
The Herald reported that foxes had killedabout 70 little penguins on Middle Island –the first bird massacre on the island since the world-first Maremma program began in 2006.
The island normally has guardian dogs to protect the birds throughout breeding season. Unfortunately, the dogs were not in place as the season was yet to begun.
The grisly discovery came on the first visit to the island ahead of breeding season.
An autopsy conducted by a vet confirmed a fox or foxes as the culprit.
The most recent population count on the island identified 182 penguins. The deaths wiped out about 38 per cent of the colony.
It is the first known instance of a fox attack on Middle Island since the Maremmas were introduced in 2006.
In an interview with theHeraldMiddle Island Project Working Group chair Dr Anne Wallis said the penguin deaths were"devastating".
"The Maremmas have been down at Stingray Bay this morning to scent the beach and let any foxes that are in the area know that the dogs are back on patrol for the season," Dr Wallis said.
"Although the loss of so many penguins is simply tragic, fortunately it is early in the season. Burrows on the island were investigated this morning and there was no evidence of eggs.
"The Middle Island penguin population is known for its ability to produce two lots of eggs per season and there is still time for this to occur.
"The Maremma dogs are the best tool we have to provide that protection.
"The Middle Island Project Working Group will assess the need to take the dogs to the island even earlier thanhas been done in the past."
Warrnambool Coastcare Landcare Network Penguin Monitoring Coordinator Dr Trish Corbett said the fox attack showed the precarious balance of the colony.
"It only takes one fox to get onto the island at low tide to decimate any penguins there," Dr Corbett said.
"During the winter months penguin monitoring and accessing the island can be dangerous due to the weather, the tide and shifting sand levels.
"For the almost 500 people who have contributed to the project over the years, this is heart-rending."
As well as the Maremmas "scenting" near the island, council staff were planning to monitor the beach on Wednesday night before the dogsreturn to the island on Thursday morning.
Foxes almost wiped out the colony in 2005, with fewer than 10 birds surviving, triggering the introduction of the Maremma program.
The island remains closed to the public but I am sure there would be no shortage of some sharp shooting foxes hunters that would donate their time to clean out these native destroying pests.