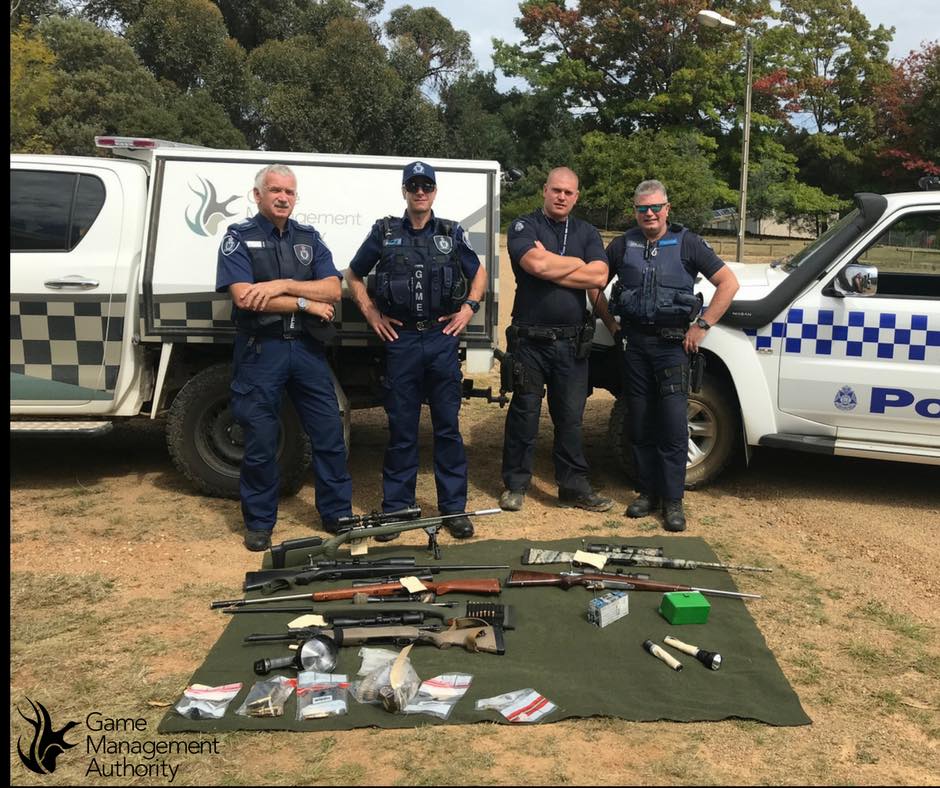 The GMA have copped criticism of late for not doing enough to reduce illegal hunting. Over the Easter weekend the GMA set up an illegal spotlighting sting in Victoria's North West with the help of Victorian Police.
Most hunters were doing the right thing when pulled over. Seven firearms have been seized, plus illegal silencers, spotlights and ammunition.
The sting sends out a clear message that illegal hunting will not be tolerated. Last year a similar sting was run in the Eldion area with similar success.
How can you help? Victoria Police and Game Management are asking the public for assistance in helping identify person(s) committing these offences. If you see what you believe may be an offence, record the date, time and place; note any vehicles with as much information as you can safely observe (registration numbers, description of vehicle and occupants). If you witness any shooting, police ask that if it is safe, that you note the number of shots fired and the direction of shooting. If possible, obtain the direction of travel of vehicle/shooter and evidence of any dead animal(s).
000 should be used to call for police assistance in the first instance.
Information is also sought in relation to drug/alcohol use whilst shooting, trespassing, shooting from roadways and stock that have been shot.
In addition to the above, if you know of person/s who are involved in any of the above activities, this is also a platform that their activities can be anonymously reported.
To report suspected illegal hunting to Crime Stoppers on 1800 333 000, the customer service centre on 136 186 or via the online reporting form on the GMA's website.