For the second year in row, an Aussie has reached the semi-final stage of the US reality show Extreme Huntress.  Donna Partridge, from the mid-north coast of New South Wales, has made it into the final 20, picked by judges from an impressive pool of contestants from around the world. Now Donna needs your vote to help her get to the final 6 contestants that will progress to the hunting skills competition at the famous 777 Ranch in Hondo, Texas.
Donna is a keen and accomplished hunter who grew up on a cattle property near the small country town of Gloucester, close to where she currently lives. She is a doting mother to two young girls – the youngest only three months old. Her husband, Matt, also hunts and, according to Donna, their family enjoy exploring the great outdoors together. She most regularly hunts local Aussie game such as pigs and goats with both bow and rifle, but she and Matt also spent their honeymoon hunting in Africa. You can find out more about Donna on her Facebook page (head over and give her a 'like') or in this article published on News.com.au. You can also read the essay Donna wrote about why she hunts, that helped get Donna selected in the first place.
To help get Donna to the 777 Ranch where she will represent Australia in a week-long test of her hunting skills, pitted against five of the best female hunters from around the world, please VOTE HERE. It will only take you a couple of minutes. With a close competition expected, your vote could make all the difference.  Good luck Donna!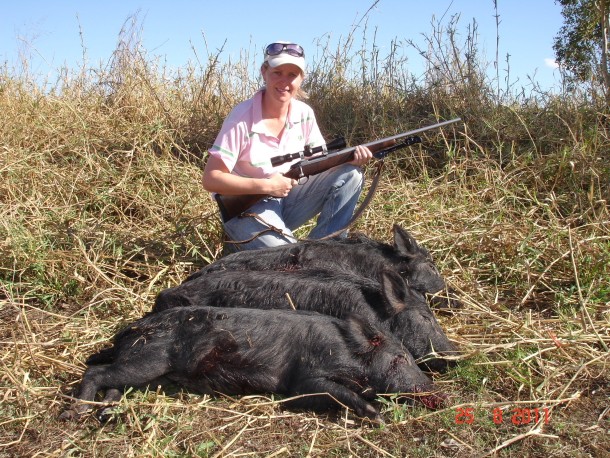 Feral pigs and goats are the mainstay of Donna's hunting activities – but she and husband Matt also spent their honeymoon hunting in Africa.