One of Australia's largest collections of rabbit and dingo traps will go under the hammer at an auction in Murtoa, Victoria, this Sunday, July 27. Leigh Hammerton, from Wimmera Auctions, says there are around 600 lots for sale including 400 rabbit and dog traps from all around the world, as well as old machinery, enamel signs, tin signs, rabbit 'hoes', ferret muzzles and other associated collectibles.
Mr Hammerston expects the auction to attract at least 200 bidders – and many more interested observers – from all over the country.  "Several traps will make over $1000 each," says Leigh, "with the pick of them being a Platypus brand trap that is expected to make over $5000". It should be a great event for the local economy, too, with local accommodation booked out.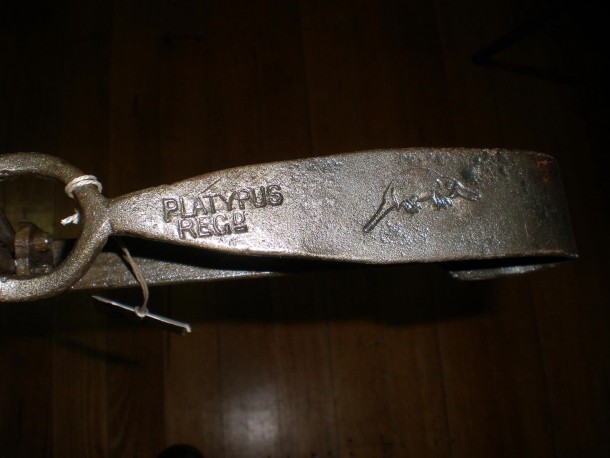 A rare Platypus brand of trap is expected to bring thousands of dollars – but there are hundreds of other traps for sale too.
The collection belongs to well-known collector and western Victorian farmer, Darol Walsgott, who has been collecting rabbit and dingo traps for two decades, accruing hundreds of items during that time. Ill health has prompted him to bring his collecting to an end and offer it for auction.
According to an article published on the ABC website, Mr Walsgott started his collection following the death of a relative in 1993.
"My cousin, I was the executor of his estate, and in his clearing sale there was a whole lot of traps there and one of my cousins went through and picked out the ones that were different to each other and there was about a dozen there," he said.
"I decided 'this looks interesting' so I bought them and that's where it all started."
In the years since, Mr Walsgott has collected hundreds of traps and trapping paraphernalia and written books about the industry. He built a loft in his shed to house and showcase his collection, which includes traps of all shapes and sizes, some of which are more than 100 years old.
"When I first started collecting I was collecting rabbit traps and did illustrations of each one, because that seemed to be the easiest way of keeping track of what you had in the collection," Mr Walsgott said.
"The first book I put out had about 500 traps in it.
"The last book, plus the supplement to that book, details 2700 traps so there's a lot out there.
"There's not such a great many turning up now, I've only turned up about 20 in the last three years."
Mr Walsgott will keep some of his traps, including three large traps hidden around a corner in his shed.
"We refer to them as 'man traps' because they came from England and there's nothing in England big enough to warrant that size trap," he said.
"But the English manufacturers did make traps for lions and tigers, that bigger kind of animal.
"The landlords, or land owners, didn't like poachers coming in and spoiling their block of land because they had nothing to shoot at then if the poachers got too many."
From man traps to mosquito traps, Mr Walsgott has the complete collection.
Mr Walsgott says it's time to move on and is unsure how he will feel when the final trap sells at an auction in Murtoa, north east of Horsham, on July 27.
"It doesn't worry me particularly," he said. "All good things come to an end I suppose, don't they?"
Anyone interested in attending the auction can email Leigh Hammerton from Murtoa Auctions (murtoan@bigpond.net.au) for details and a catalogue, or call him on 0427 300 268.