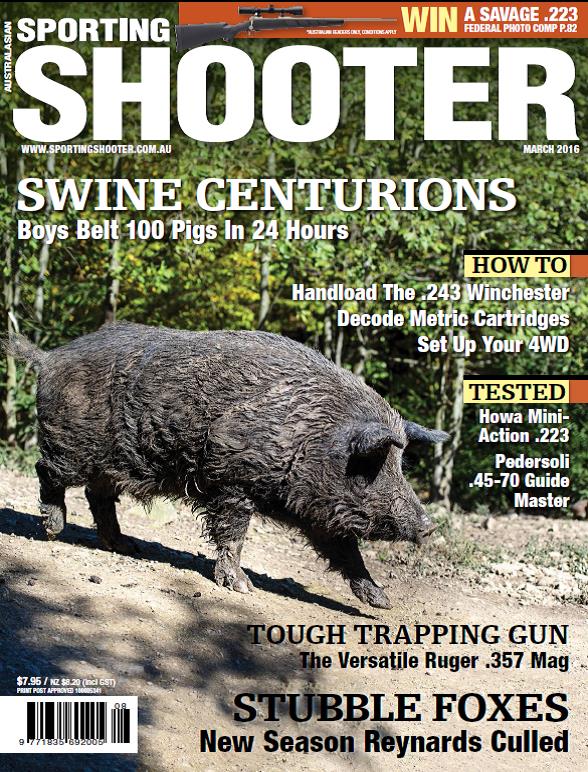 The March edition of Australia's favourite hunting magazine is out now! The March issue of Sporting Shooter leads with a jaw-dropping story by old hand Mike Cleary about how he and his mate Pete accounted for 100 pigs in less than 24 hours. Now that's some shooting!
Other hunting stories include a run-down by Yours Truly on hunting waterbuck in Zimbabwe, an article by South Oz expert Tim Blackwell about hunting foxes in stubble paddocks (welcome back, Tim!), and a story by professional trapper Matt Beach about using his tough-as-nails Ruger 77/357 along the trapline. Meanwhile John Denman gives us some advice about using 4WDs for hunting.
In product news, Nick Harvey takes a look at the Howa Model 1500 mini-action .223 and the Pedersoli 1886/71 .45-70 Guide Master lever action rifle. We also have a couple of cracking 'how to' articles, one about hand loading the .243 Win, and the other on decoding metric cartridges.
All this in addition to Nick Harvey's monthly Q&A column, Tony Pizzata's new product pages, all the latest industry info, hunting and technical tips, and two photo competitions makes this another massive read.  Pick up your copy at your local newsagent or favourite gunshop.