Name and birthplace?
Col (Colin) Allison, Sans Souci, Sydney, NSW, April 1944.
When did you first start hunting?
At age five in 1949 – with Uncles Sonny and Cliff ("drop over some time") Parkes, and red setter dogs. The smell of fired shotgun shells and the moving hordes of rabbits then in plaque proportions at Lake Illawarra, South Coast, NSW remain poignant memories. I was occasionally allowed to try and shoot a rabbit with a Lithgow .22 rimfire, which I did a year or two later.
What are your three favourite species to hunt?
Wapiti (elk in America) on horseback and all deer. Sheep when I was younger (dall, stone, barbary and mouflon). Marco Polo rams in Tajikistan two years ago on a shock-horror high-altitude hunt when I was confirmed with prostate cancer (since cured) – and the big cats.
What's your favourite hunting technique?
Stalking likely ground for good sign such as wallow, rubs and game trails, then sitting and waiting. Hunting twice a day, I waited five days once over a wallow to grass a sambar stag. I shot him at about 30 metres with a custom .300 Weatherby Magnum.
What's your favourite hunting destination? 
America and Africa, not necessarily in that order. I hunted the 'States first in 1977 on an extraordinary three-month sojourn of the type that pretty much ended as a generality in the 1930s. Horseback for five weeks in British Columbia with an Indian guide and a supply pack-string of tough ponies, seeking grizzly bear, elk, stone sheep and Rocky Mountain goat, caribou and moose, black bear, coyote,  whitetail and mule deer. Then south for pronghorn antelope, bobcat, muley and whitetail again in Mexico. A side trip to New Mexico brought home aoudad, or barbary sheep, and a trip to Texas a few exotics. All up 21 animals of 14 species.
Africa I first hunted in 1985, and many times subsequently for the Big Four plus hippo (black rhino being off the menu by then) and a host of plains game. These safaris resulted in the last of my four best-selling books, African Trails. Two years ago I was back in the Dark Continent on the Botswanan-South African border hunting lion on a property named after my birthplace, Sans Souci. The 7ft-plus black-maned lion I grassed with a .375 H&H Improved (Weatherby) was my boyhood dream come true. As it happens I was among the last to be able to import a lion into this country.
Tell us about the top three favourite firearms that you own (or bows).
Depending on where I am going, I invariably grab one of three rifles. A former .30/06 on a much modified engraved Mauser '98 Oberndorf action built for me by my late mate and triple-treat gunmaker, Jeff Wilkins. It now carries a 26-inch .243 tube chambered for the hard-hitting, long-stepping.240 Weatherby magnum round. I use this easy-to-carry rig on goat and pig trips and for pretty much all deer hunting except for sambar. A 100 grain Nosler at 3,400fps is something to behold when it strikes flesh.
My main rifle remains a custom 7mm Remington Magnum,  the first decent gun I bought except for a Sako L46 in .222 which I paid off from the age of 12. Over 60 heads on my trophy room wall were shot with the 7mm and 150 and 160 grain Remington Cork-Lokt or Nosler Partition pills. Plus just as many I've sold over the years. Most of the rest were taken with my Brno 602 magnum in .375 H&H. Like all my rifles and shotguns, it has been re-worked and re-stocked in fine Circassian Turkish walnut. With 270 grain Nosler Partitions it puts three shots into ½-MOA consistently.
When did you start writing/working for Sporting Shooter?
My first article in Sporting Shooter magazine was in August, 1965, entitled "Rifles for NZ Game." Re-reading it, nothing much has changed – a .222 Remington, .243 Winchester, .270 Winchester or .30/06 Springfield pretty much covers the game today as 50 years ago. Throw in a shotgun for the birds and you've got it sorted.
What do you enjoy about writing/working for a hunting magazine?
Well, it's certainly not the money, which has hardly changed since that first article! Being primarily a trophy hunter, I guess I like to inform and guide people, especially new chums, in trophy estimation, hunting techniques, experiences, ethics and animal ecology. There's always been a conservation and philosophical streak in what I do, invariably backed with live animal pics  – don't kill for tallies, let-'em-go, let-'em-grow, how-to-hunt the various species, with a special emphasis on animal behaviour. Big-game animals of the world have been an avid interest since boyhood as has hunting literature.
What is the best or most satisfying article you have written for Sporting Shooter?
That's like asking what's the best sex you've ever had? (That answer, of course, is the last!). There's hardly a gun or hunting-related topic I haven't written about over the years.  I wrote a lengthy series on my North American hunting adventures, and another long series on taxidermy, when I did all my own work in the 1970s and 1980s, which were both particularly satisfying. Early custom gun articles and hunts for exotic critters all over the world. The best articles for Sporting Shooter I haven't written yet… I'm about eight trips behind the eight-ball at the moment…Canadian bison, whitetail, chamois, thar and red stags in New Zealand, Argali sheep in Asia, African lion and other cats and horned critters, 40-inch goats, and deer hunts.
What advice can you give anyone wanting to get in to hunting writing?
Just do it but be prepared for rejection from editors. The hardest thing is to write the first sentence of an article, then the rest flows.  But you must have something interesting to say or an unusual viewpoint. Write about what you know best. And you must have top quality photos, pretty easy today with high-resolution and relatively inexpensive digital mini-cameras
Please supply three of your favourite hunting photos from past or present.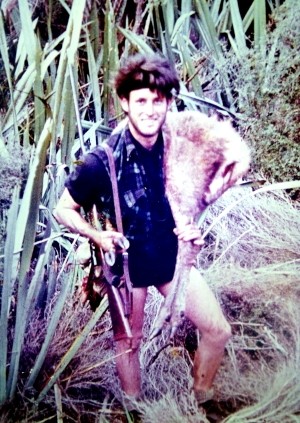 Col in 1964 as a 20-year-old professional deer shooter on Stewart Island, off the southern coast of NZ's South Island. I spent a year hunting whitetail and red deer for the meat market, exporting venison to Germany.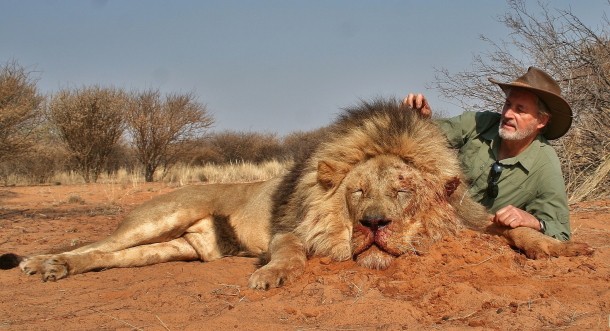 Col (in Selous mode) admires an old black-maned lion, his dream trophy of a lifetime and one of the last lion trophies to be exported into Australia. This one was taken at short range, tail twitching, ears back under a tree waiting for the trackers to walk onto it in hiding. Col shot it through the left eye with a 300 grain Woodleigh in Ray Hammond's .375 Weatherby magnum, blowing out the back of the skull for an instant kill. At daylight, it's spoor was picked up at a waterhole and then the bite-back beast was silently tracked on foot for several hours until that climactic moment when, tired and sick of being pushed along time and time again on a full stomach, it decided to wait and get even with its tormentors.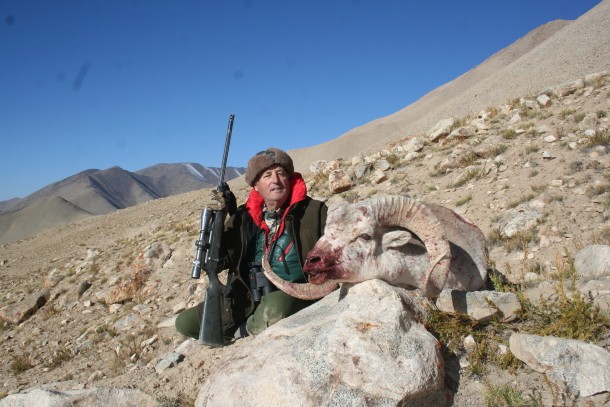 On the Roof of the World, Tajikistan, 2013, at about 17,000ft with the smaller of two Marco Polo rams shot in the Pamirs, backbone of Central Asia. I was booked on a winter hunt when the rams were driven low by pooling snows and shooting was easy, but I hadn't counted on a shock to my health. No matter how fit you are, cancer is the equaliser. Faced with an imminent operation for prostrate cancer, I brought my hunt forward from November-December to September. But unseasonal warm weather meant the big rams were way up on top on the range, forcing me to climb to the point of no oxygen and the onset of mountain sickness. I thought I was going to die sooner rather than later…