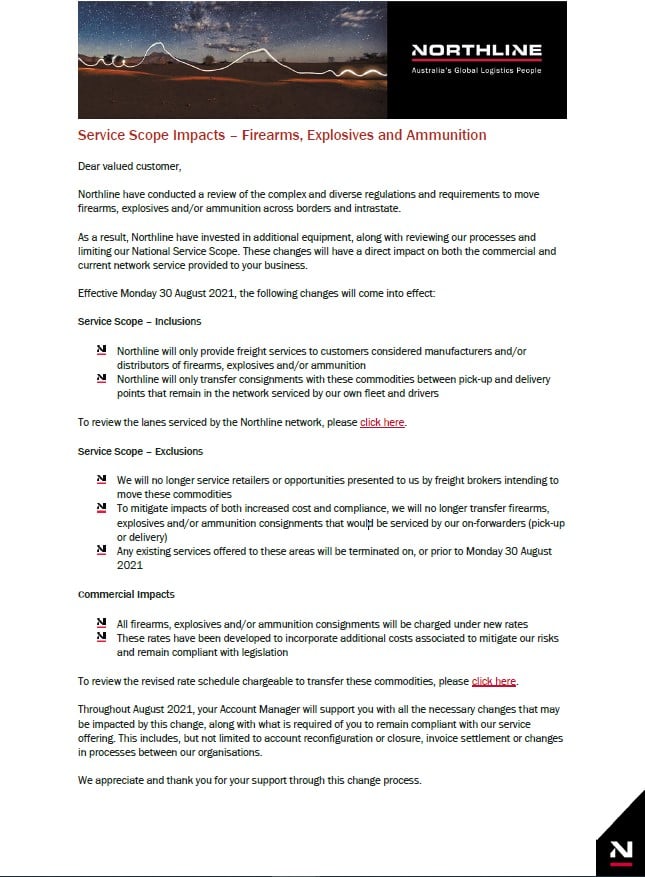 Northline freight has joined FedEx / TNT restricting their transportation services to the Australian firearms industry. This will be a nail in the coffin of many regional and rural family-owned shops that will no longer be serviced.
Northline notified their customers via a letter outlining they will no longer provide freight services to firearms retailers at the end of the month.
The Weekly Times reported Shooting Industry Foundation of Australia executive officer James Walsh said it was undeniable the reduced services would cause "massive supply chain issues" across Australia.
"It's not going to be felt in the capital cities as much as it will in the regions that rely on freight," Mr Walsh said.
"And they're more reliant than ever on it due to Covid-19."
Northline did not respond toThe Weekly Times' queries by deadline.
The letter sent to clients, Northline advises that from August 30 it will only provide freight to manufacturers or distributors of firearms, explosives and ammunition, and that it will only accept deliveries between its own network pick-up and delivery points.
The letter states the changes are to "mitigate impacts of both increased cost and compliance"; rates for remaining customers are also going up "to incorporate additional costs associated to mitigate our risks and remain compliant with legislation".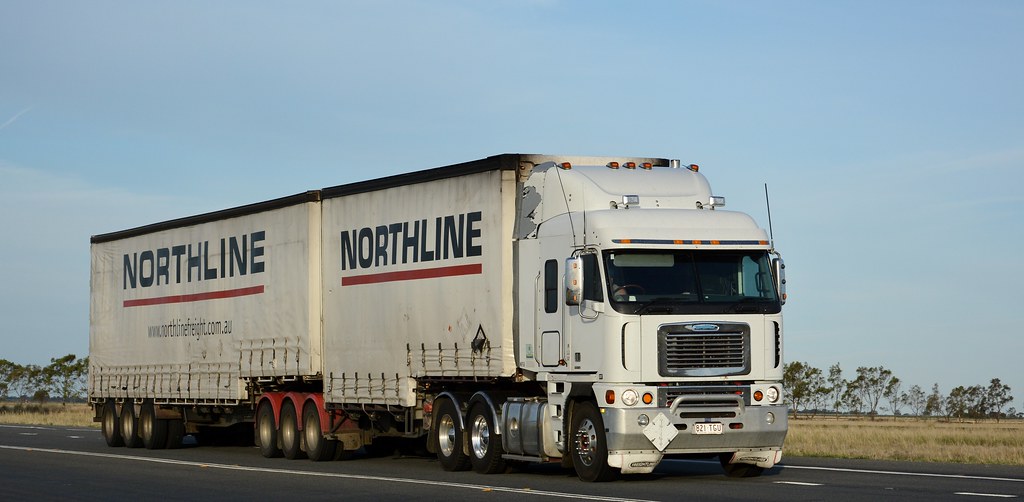 Mr Walsh said there had been no regulatory changes around transporting firearms and ammunition that he was aware of.
"It's the mum and dad businesses in the regions that aren't going to be able to get stock from the cities, it's the farmers who aren't going to be able to buy the goods they need," he said.
"There are businesses that have had accounts with Northline for a very long time, and now all of a sudden they're restricting services."
Last month, US-owned FedEx-TNT announced it would not longer transport anything even resembling a gunfrom August 9; no reason has been offered for the change in policy.
Mr Walsh said SIFA was in talks with a number of transport companies to try to find other couriers.
"Hopefully they will be able to bail us out but there will be some supply chain issues. That's going to be inevitable because of the notice period they are giving," he said.