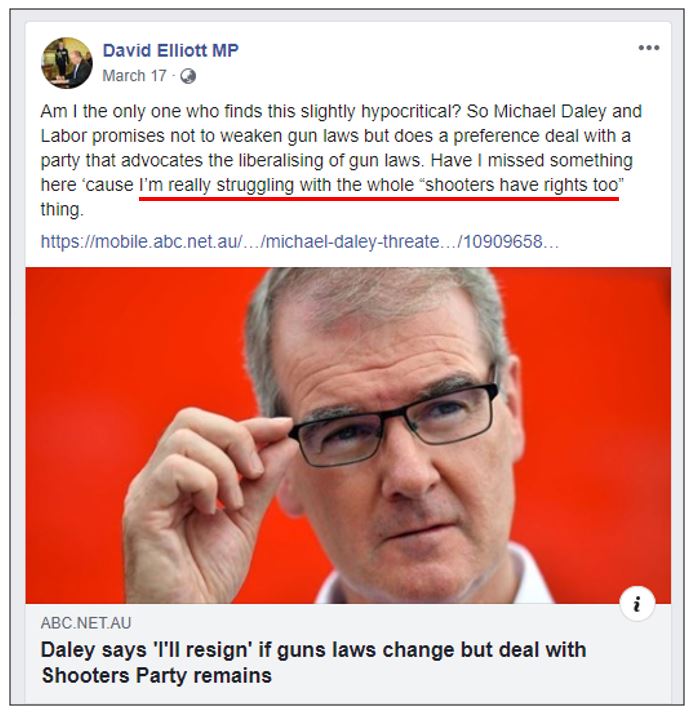 The NSW Police Minister David Elliott made it loud and clear what he thought of law-abiding firearms owners in NSW this week.
With a Facebook statement "I'm really struggling with the whole "shooters have rights thing"" is it any wonder that the firearms registry treats every firearm owner like a criminal in waiting.
This comment comes after New South Wales Labor leader Michael Daley says he will resign from parliament if the state's guns laws are weakened, despite his party cutting a preference deal with the Shooters, Fishers and Farmers Party ahead of this Saturday's state election.
Gladys Berejiklian continues to rain hate on the Shooters Fishers and Farmers Party.
The Premier Gladys Berejiklian today echoed her warning that Labor's preference deal with the Shooters, Fishers and Farmers Party sent a dangerous message.
"It concerns me because it legitimises a party, being the Shooters Party, who support the reduction or dilution of our guns laws," Ms Berejiklian said.
During the election campaign Ms Berejiklian has repeatedly ruled out accepting the support of Shooters MPs to form government if the voters deliver a hung parliament.
She urged Mr Daley to do the same.
"The Shooters support giving guns to 10-year-olds, they support bringing semi-automatics into NSW," Ms Berejiklian said.
"I don't stand for that, I never have, I never will. And I think the Labor leader and his party need to make the same call," she said.
When asked whether he would accept the Shooters numbers' to secure minority government in a hung parliament, Mr Daley said he "wouldn't get into hypotheticals".