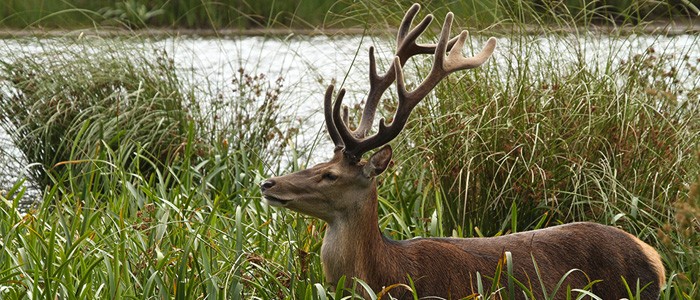 Parks Victoria has just installed signs in State Game Reserves across the Grampians and Wimmera as part of an action plan to improve hunting opportunities.
Hunting in regional Victoria generates millions of dollars whilst also geeping deer and feral animal populations in check.
TheSustainable Hunting Action Plan 2016-2020 aims topromote responsible hunting, improve opportunities for hunters and ensure sustainable hunting.
These signs will help people to identify State Game Reserves, increase awareness of where hunting is permitted, increase knowledge of hunting conditions and opportunities, and help hunters comply with relevant regulations.
The Ararat Advertiser reported the signs are part of a state-wide initiative, with a total of 360 signs and information totems installed at 130 game reserves that permit hunting across Victoria.
They also feature the RESPECT logo, which is a reminder to hunt responsibly.
Parks Victoria Program Coordinator Sustainable Hunting Action Plan Mark Pinney said the initiative ensured the best use of public land.
"This is a significant milestone for Parks Victoria in supporting sustainable hunting and enabling all Victorians to make the best use of public land," he said.
"Parks Victoria works together with many groups to ensure Victoria's natural environment is healthy and accessible for a range of recreational activities."
To develop the signage, Parks Victoria worked closely with a number of organisations including the Australian Deer Association, Department of Environment, Land, Water and Planning, Field and Game Australia, Game Management Authority and Sporting Shooters Association of Australia (Victoria).
However, anti-hunting proponents have condemned the move. They want your way of life squashed for no good reason other than they don't like what we do. Every statistic and study shows the benefits, but this pill is too hard to swallow. The group is still sighting climate change to support their duck arguments.
"Logically, the only way to ensure sustainable hunting, is to firstly know where the hunting occurs and secondly to monitor it," Regional Victorians Opposed to Duck Shooting spokeswoman Kerrie Allen said.
"Sadly, both of these measures are grossly lacking in Victoria, despite millions in taxpayer subsidies.
"Erecting signs at 130 reserves is great, but there are thousands of public waterways where duck shooting – about to commence March 16 – occurs, un-monitored.
"No government department has been able to advise the public of locations of the creeks, rivers, lakes, reservoirs, wetlands and waterways where duck shooting takes place across Victoria, often in close proximity to residents."
"Under the circumstances and at a time when climate change is wreaking unprecedented havoc on our eco-systems and struggling native waterbirds – many unique to our country – it is irresponsible to allow native waterbird shooting to continue, let alone suggest it is sustainable."
The Sustainable Hunting Action Plan, released in 2016 with an investment of $5.3 million by the Victorian Government, aimed to address the issues raised in the Game Management Authority's State Game Reserve Audit and deliver practical actions to benefit the environment, the economy, community and hunters.
Sporting Shooters Association of Australia (Victoria) Hunting Development ManagerDavid Laird said the newsigns clearly laid out what was and was not acceptable at the sites.
"This signage is important to our members because it makes it clear, to both hunters and non-hunters, that hunting is a legal activity in a particular area," he said.
"Clear signage removes any ambiguity and also demonstrates progress under the Sustainable Hunting Action Plan, which we fully support."
The signs are located at:
Brady Swamp State Game Reserve
Bryan Swamp State Game Reserve
Bunnugal State Game Reserve
Connangorach Swamp State Game Reserve
Cookes Reserve State Game Reserve
Darragan Swamp State Game Reserve
Donald (Dollin) Swamp State Game Reserve
Lake Buninjon State Game Reserve
Mutton Swamp State Game Reserve
Red Gum Swamp, Jallumba State Game Reserve
Saw Pit Swamp State Game Reserve
Victoria Lagoon State Game Reserve
Wal Wal Swamp State Game Reserve
White Swamp State Game Reserve