Ridgeline's specialist ladies' range is designed with function, comfort and style in mind. The broad range of fabrics, colours and sizes ensure that mum will be ready for any challenge or environment she takes on. This Mother's Day Ridgeline encourages ladies of action to continue their adventures in comfort and style! Ridgeline's ladies products come in a unique range of colours and camos. There is a measurement guide provided on the Ridgeline website.
CASADORA JACKET
The casadora jacket and pants are the ultimate outdoor combination. With the legendary QuietTex material, both jacket and pants are fully waterproof, windproof and fully lined, designed for the huntress. Ridgeline's attractive ladies cut casadora jacket ensures you are ready to tackle the outdoors in style. Features include 2 side entry pockets, zippered internal pocket, 2 chest pockets and a hard-wearing 2 way zip. The casadora pants are the perfect waterproof and windproof pants to take on anything Mother Nature will throw at you. Features include 2 side pockets, hip pocket, 2 side vents, belt loops and 3/4 leg zip. Available in pink camo or buffalo camo and sizes: XS, S, M, L, XL, 2XL, 3XL, 4XL,5XL
JACKET RRP: $249.95
PANTS RRP: $149.95
KAKAPO JACKET
This effortlessly stylish womens kakapo Jacket is perfect for a casual hike in the country. The durable, softshell fabric includes a windproof membrane with a drawstring hood to keep you dry, and the tailored waist for a flattering fit. The generous chest and sleeve pockets give you plenty of room for your accessories and any extra layers in winter months. Available in the unique rust red and sizes: 8, 10, 12, 14, 16, 18
RRP: $129.95
LADIES BASA FISHING SHIRT
For the enthusiastic fisher, this ladies cut fishing shirt is UV rated and moisture wicking to protect you out in the sun. This shirt is durable and suitable for the outdoors at any time of year. Features include quick dry material, rear ventilation and twin chest pockets. This is one high performing ladies shirt that will not let you down. Available in grey or dusky blue and sizes: 6, 8, 10, 12, 14.
RRP: $59.95
LADIES MONTANA JACKET/VEST
The all-important membrane, this jacket features lightweight construction while giving wind and water resistancy. The montana comes with removable hood and zip-off sleeves to make a vest. Available in blue and red with black trim. Sizes: XS, S, M, L, XL, 2XL, 3XL, 4XL
RRP: $164.95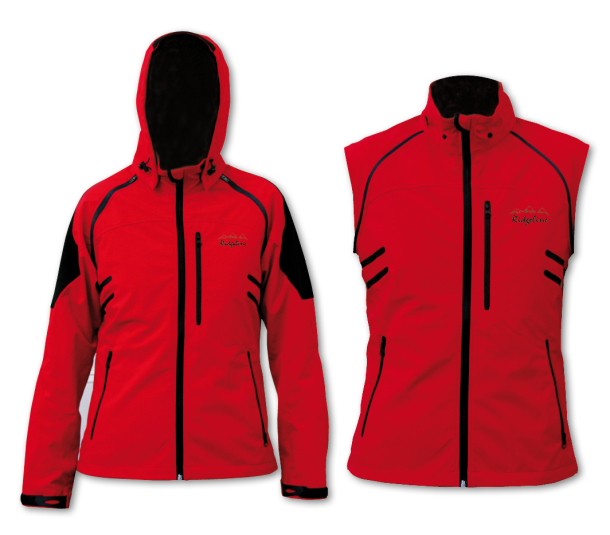 The ladies' Montana  jacket features lightweight construction while giving wind and water resistancy
AVOCA VEST 
The women's avoca vest is made from durable fleece and also features 2 zippered front pockets. It is the perfect piece for that extra layer of warmth with the winter months rolling in. The avoca vest has a ladies cut and is equally as stylish during and post adventure. Available in royal blue and sand, sizes: 8, 10, 12, 14, 16,18.
RRP: $54.95
TOP TO TOE 
One of Ridgeline's renowned packs just for women including: black premium fleece track pant with two side pockets; Claret/black two-tone premium fleece long sleeve zip top; 2 micro fleece t-shirts (black and grey); pair of high quality black cotton socks and black fleece beanie. This gift will get you from zero to hero in one go. Available in sizes: XS, S, M, L, XL, 2XL.
RRP: $99.95
Ridgeline specialises in producing comfortable, durable performance outdoor clothing at affordable prices and is the market leader and first choice of many hunting and outdoor enthusiasts alike. Ridgeline Australia supplies over 300 retailers nationally including Aussie Disposals, All Goods, Camping world, and all major hunting outlets Visit: www.ridgelineclothing.com.au for more information.