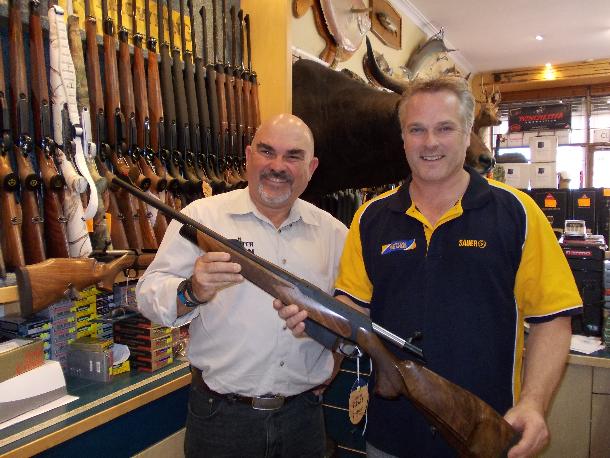 I had the pleasure to visit Greg and Craig Meuleman (pictured) to get an update on Sauer and to simply have a natter. It was just before the Wild Deer Show at Bendigo, but we managed to while away a couple of very pleasant hours talking about the industry, sambar hunting (one day) and the relative merits of different firearms. In the process I came away with a few more excellent Niggeloh slings to replace inferior ones on some of my rifles – they are very comfortable at the carry and now come in Blaze-orange, surely a plus. Incidentally, their prices have dropped significantly due to the strong Aussie dollar.
The new Sauer factory-fitted muzzle brake was on show on a .375 H&H barrel and it looked the goods, being beautifully finished in their Ilaflon proprietary metal treatment, which I have found impervious to rust and marking in more than three years of dragging my own Sauer .30-06 through scrub and taking the occasional tumble. It is reported to reduce recoil substantially while not being too bad on the ears, unlike standard brakes which seem to shift the earth when you are standing to one side of one in use.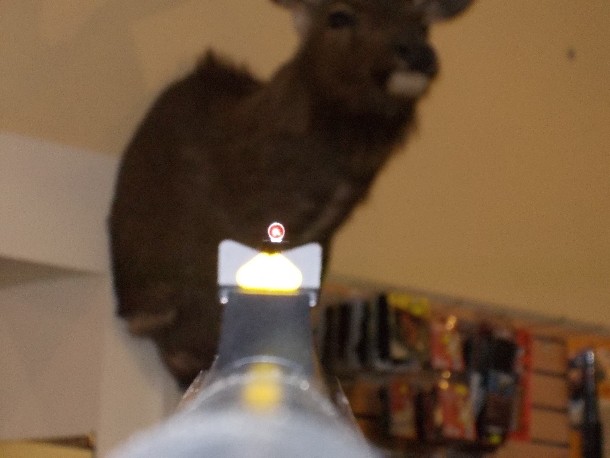 I was also impressed with the amazingly visible and effective express-style open sights now current on some Sauer barrels. My poor photo, taken with a compact camera with flash in-store does not do justice to just how good they are but it gives an indication anyway.
One very good tip Greg shared with me was that, if you want a nice timber stock on your Sauer, buy it as a package with the complete rifle, instead of getting a synthetic stock and later adding a timber one for pride of ownership and aesthetics. It works out a lot cheaper that way.
All in all, I came away full of admiration for the Sauer brand, which keeps making incremental, but significant, changes to their superb, enduring 202 model platform.
I can't wait to see what comes next.
MarcusODean
Editor