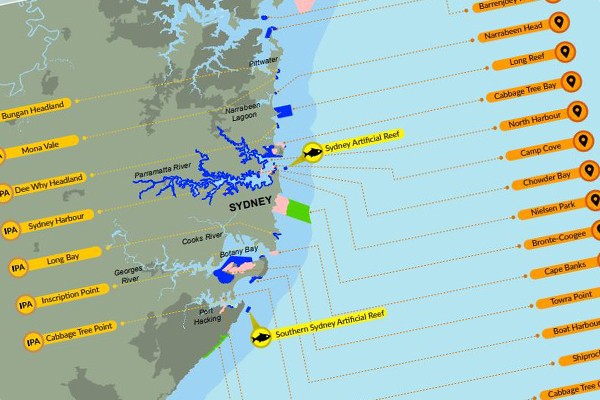 Shooters Fishers and Farmers Party MPs confirmed they will be searching for candidates in all Sydney and regional Liberal Party seats, including the Premier's own seat of Willoughby, in the next state election unless proposed marine parks are abandoned.
Last week, Premier Gladys Berejiklian announced the creation of 25 new marine parks across Newcastle, Sydney and Wollongong,effectively locking out recreational and sustainable fishing along the New South Wales coastline.
The Premier was joined by Liberal Ministers as well as National Party Minister Niall Blair as they cheerfully announced they were planning to lock out up to 900,000 law-abiding fishers along the New South Wales coastline.
Upper House Members Robert Brown and Robert Borsak, and Member for Orange Philip Donato, all strongly condemned the proposal by the Liberal and National Parties and vowed to introduce a bill to stop the creation of marine parks and no-go zones, similar to the one the party passed in 2011: theMarine Parks Amendment (Moratorium) Bill 2011.
This political decision is designed to help inner city and coastal Liberal party members retain their seats by courting green voters at the next election.
Quotes attributable to Robert Brown MLC:
"Make no mistake, this is purely a political decision. It has nothing to do with science or the protection of marine estate".
"We squashed this in 2011, and we will squash it again. We will stop any future Governments from implementing thisbad policy."
"Inner city Liberals are sitting on smaller margins than they were in 2011 so they created this a way to claw back green votes."
"We're coming after their seats."
Quotes attributable to Robert Borsak MLC:
"Bega, Goulburn, Drummoyne, Oatley, South Coast, East Hills, Coogee, and Hawkesbury:these are just some of the Liberal seats in our sights sitting on small margins.
"The green politics within the Liberal Party and theNational Partynever ceases to amaze me. They will not be happy until all forms of recreational fishing are banned so they can appease their inner city Green voters".
"They pretend this is about science and conservation when really all it has got to do with is holding their seats at the 2019 state election.
Quotes attributable to Philip Donato MP:
"This fishing lockout is just like the greyhound racing ban all over again."
"Why are the Nationals going so green? They haven't learned anything from the Orange by-election."
"Imagine a bunch of green bureaucrats sitting in a room drawing lines on a map of where fish will swim and where they won't. Recreational fishers are the friends of marine diversity, notit's enemy."
"The Nationals just don't get it. They cannot stand up to the inner-city green Liberals on these poor knee-jerk decisions designed purely to court inner city pro-Green votes. They are completely ineffective."
Background
In 2011, the Shooters Fishers and Farmers Party successfully passed theMarine Parks Amendment (Moratorium) Bill 2011.
The bill imposed a five-year moratorium on the declaration of additional marine parks or the alteration or creation of sanctuary zones within existing marine parks. The bill was introduced by Robert Brown MLC.
Information on the bill can be accessed here:https://www.parliament.nsw.gov.au/bills/Pages/bill-details.aspx?pk=3193