There is no logical excuse for Australia's ongoing and seemingly non-negotiable ban on the use of suppressors by recreational shooters, so why aren't we able to buy them at our local gun shop?
The simple answer is that existing law in Australia classifies suppressors as prohibited weapons (or similar, depending upon state legislation) and there's a very strong desire to keep it that way.
The more complex answer involves police forces that are unwilling to accept there is no public safety issue involved, an anti-gun lobby that knows how to pull emotional strings, and a political establishment that has no interest in rocking a boat filled with the votes of a gun-fearing public.
Asked about suppressors, Australian gun control advocate Samantha Lee recently said, "If someone is shooting, you want people to be able to hear it so they can run."
That kind of paranoid thinking, which implies all shooters are criminals and any 'silenced' shooting is murderous, sums up the basis for ongoing resistance to de-criminalising suppressors. 
Suppressors are not literally banned throughout Australia but their status as prohibited weapons in the more liberal states, available only under special permit, effectively outlaws them for the vast majority of shooters.
Recent changes in the ACT have made suppressors available on a very limited basis to non-professional shooters. 
In NSW, suppressors are available under the 'genuine reason' of recreational hunting and vermin control while still retaining their status as prohibited weapons. The NSW Firearms Registry has refused all but one application since the genuine reason was added to the application form in 2015, all on the grounds that a suppressor's use was not deemed "necessary" as required by law.
It only gets worse in other states and territories.   
REGULATION AROUND THE WORLD
How does the rest of the world treat suppressors? The following is a quick overview spelt out in general terms, intended to give you an idea of the situation. 
The European Union is a federation of nations and each nation has its own laws. Italy and Spain effectively outlaw suppressors while Norway puts no controls on them at all. Other countries cover the range in between, and many allow licensed hunters to use them. In July 2022, Sweden became the latest liberalise suppressor laws, enabling licensed gun owners to own them without any further special permits or licences.
Over the past few years in the US, suppressors have become legal in more and more states. Now only eight states outlaw their use. Strangely, two states allow their use except by hunters.  
Russia outlaws suppressors, as does Canada.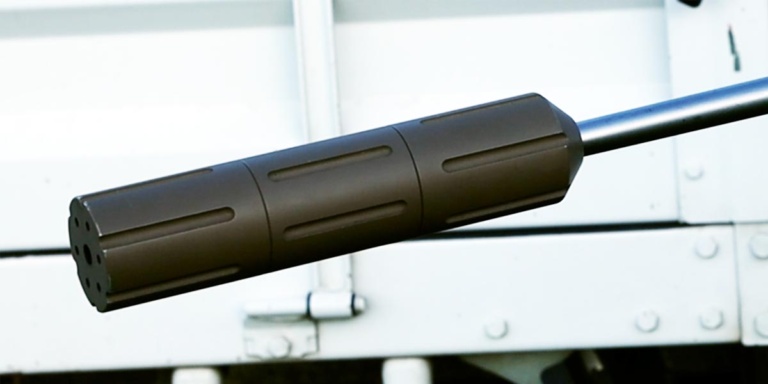 Suppressors are unrestricted and perfectly legal to use in New Zealand.
In many places suppressors are encouraged, as they reduce noise pollution and reduce stress in nearby people, livestock and wild animals.
However, it is not true that suppressors are compulsory by law in some countries. It may be that certain local jurisdictions enforce their use and there's plenty of anecdotal evidence that local landholders demand it. But compulsory by law? Not according to my research.
CRIME, SILENCERS AND LAWS
There is simply no evidence to back up the claims that silencers are the tools of criminals. There is no link between suppressors and gun crime. 
The vast majority of evidence of criminal use of suppressors comes from Hollywood movies.
The belief that widespread use of suppressors will increase gun crime appears to be very much a fiction but one that authorities are intent on spreading.
Steve Larsson, in a document prepared for the Shooters Fishers and Farmers Party in NSW, noted that, "Expert witnesses (police officers) appearing for the Commissioner of Police … have suggested suppressors may be used to conceal the use of a firearm in the course of criminal activity, however no evidence has been presented."
Larsson has been keeping what he calls an "unofficial tally" of NSW murders in which gunshots were heard, and has counted 47 since January 2009. 
"Clearly, the criminals who commit these crimes have no interest in suppressing the sound of their firearms," he says.
Even in the US, where studies on gun crime are much more common, there's very little on the criminal use of suppressors.
A 2007 study published in Western Criminology Review looked at US federal laws that imposed a mandatory 20-year additional sentence if a suppressor were used in crime. It found the laws had been implemented on the basis of crimes in which suppressors had not been used at all. 
That study found no statistical link between suppressors and criminality.
"The data indicates that use of silenced firearms in crime is a rare occurrence, and is a minor problem," said the study's author, Paul A Clarke. "Moreover, the legislative history of silencer statutes indicates that these provisions were adopted with little or no debate."
In New Zealand, where suppressors are freely available, there is again no substantial evidence of criminal misuse, a point brought up in a report by researchers from Edith Cowan University, WA. 
"The lack of extensive criminal misuse of moderators in New Zealand is highlighted as one of a number of valid reasons why Australian regulatory entities should re-consider whether the very low level of possible detriment, outweighs the benefits of sound moderation in firearms," the researchers said.
CAN WE HEAR CHANGE COMING?
While it has become easier for professionals to use suppressors in ACT, NSW, Victoria and SA, the resistance to them is rigidly entrenched in bureaucracies around the nation, especially when it comes to recreational use. 
It will take legislative change and, according to some of those working to make change, it'll require a big shift in police culture.
Achieving either of those things is a long, slow and uncertain process. 
The Shooters Fishers and Farmers Party in Victoria tried to introduce legislative changes 2018 with a bill specifically written to put suppressors in the mainstream but it was roundly defeated by both major parties and the Greens: four votes in support, 36 votes against.
However, the shooting lobby is continuing to work at it. 
Change may come but it is likely to be some years away.