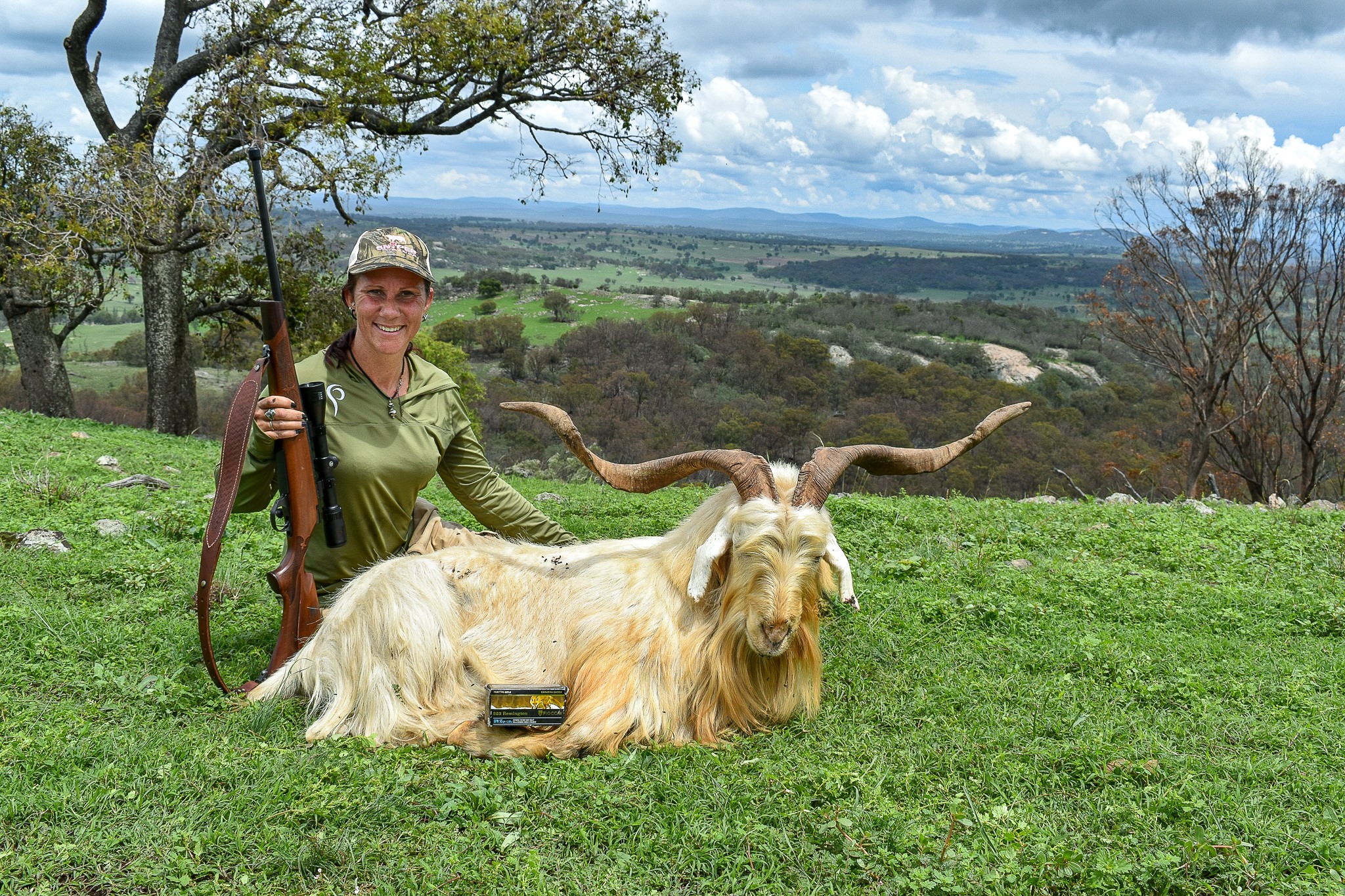 WIN-WIN-WIN-WIN-WIN With Sporting Shooter in 2021
12 Weatherby Rifles
A Vortex Binocular
A Vortex Spotting Scope
A Vortex Riflescope
20kg of CaraPet Dog Food for your favourite pooch
Multiple RIDGELINE Knives and Packs
12 Garmin E-Trex GPS Units
HOW CAN YOU WIN IN 2021?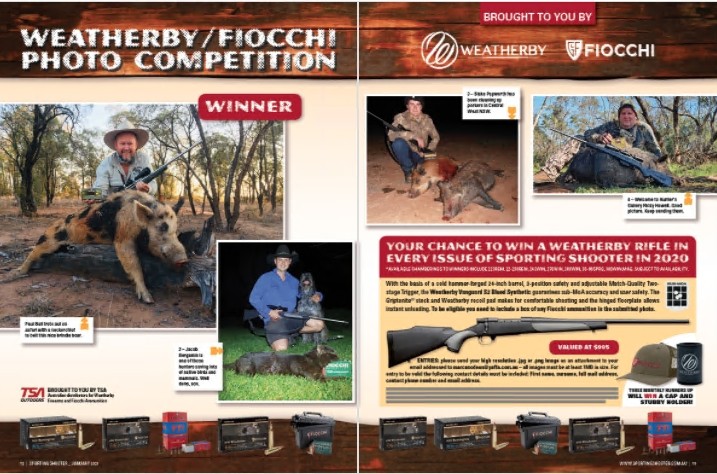 The Weatherby Fiocchi Hunter's Gallery Competition
To Win A Weatherby Vanguard Centrefire Rifle in your choice of chambering, enter the Sporting Shooter Fiocchi-Weatherby Hunter's Gallery Photo Competition by sending your best hunting photo with Fiocchi Ammo featured to marcusodean@yaffa.com.au Sporting Shooter Magazine. Follow the link above. Sponsored by TSA Outdoors.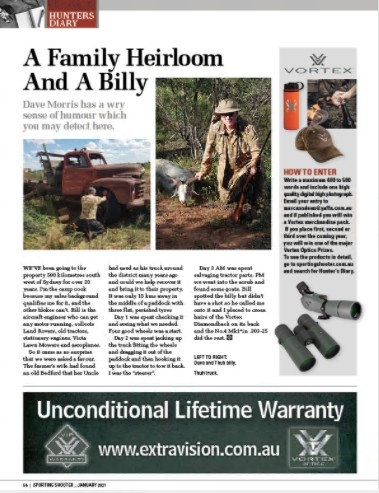 The VORTEX Hunter's Diary Competition
Email us you hunting short story of 150 to 400 words and photo in to Sporting Shooter Magazine to win one of three great Vortex optics prizes over 20121. A Vortex Razor binocular, high-end Vortex spotting scope or riflescope. We also have great Vortex merchandise to send to every published storywriter for the year. Send your entries to marcusodean@yaffa.com.com.au Sponsored by Extravision Australia.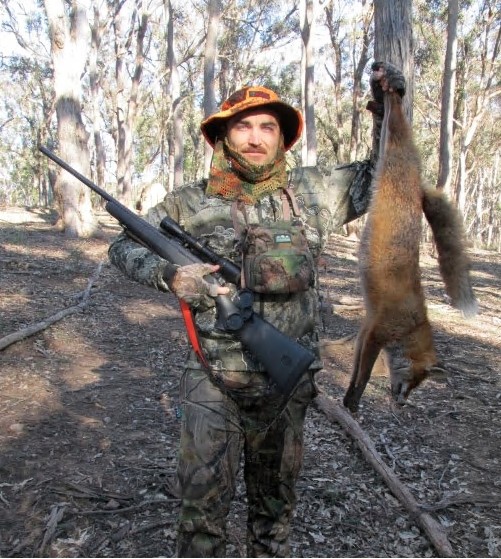 We have six sets of great Ridgeline Knives and Backpacks/Bumbags in 2021 to award to hunters who send in their best or latest hunting photos to marcusodean@yaffa.com.au to be featured in our sportingshooter.com.au bi-monthly Ridgeline Photo Comp. Follow the title link to see the comp online. Sponsored by Ridgeline.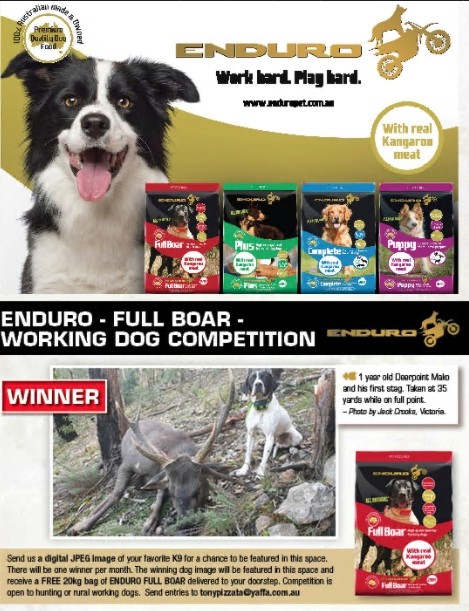 The Enduro Working Dog Food Photo Competition
Our friends at CaraPet have generously sponsored twelve 20 kilogram bags of Enduro Working Dog Formula to be awarded through the pages of Sporting Shooter Magazine. All you need to do is email a photo of your canine mate into Tony Pizzata at tonypizzata@yaffa.com.au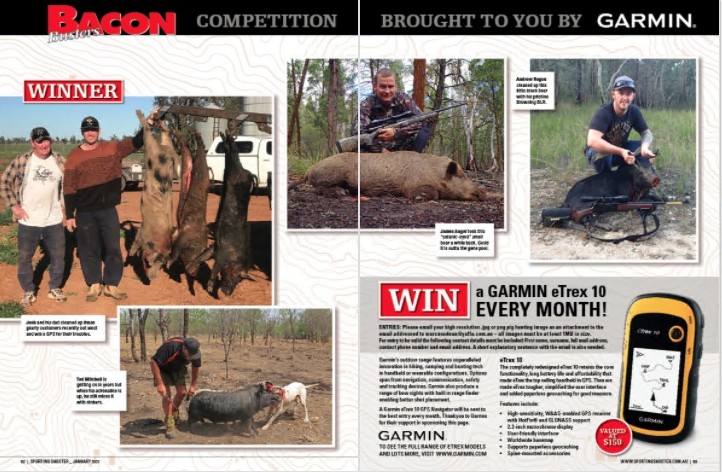 The Bacon Busters Photo Competition
Garmin Australia have sponsored the two-page photo competition in Sporting Shooter Magazine. So email your recent pig hunting photos in to marcusodean@yaffa.com.au We are always looking for good live photos of pigs to possibly make the cover of the magazine, so don't be shy. Each month's winner receives a Garmin E-Trex GPS unit, so you don't get bushed out bush.
So what's stopping you from getting amongst the winners with Sporting Shooter Magazine and sportingshooter.com.au web competitions in 2021? We look forward to your entries and wish you all good luck.