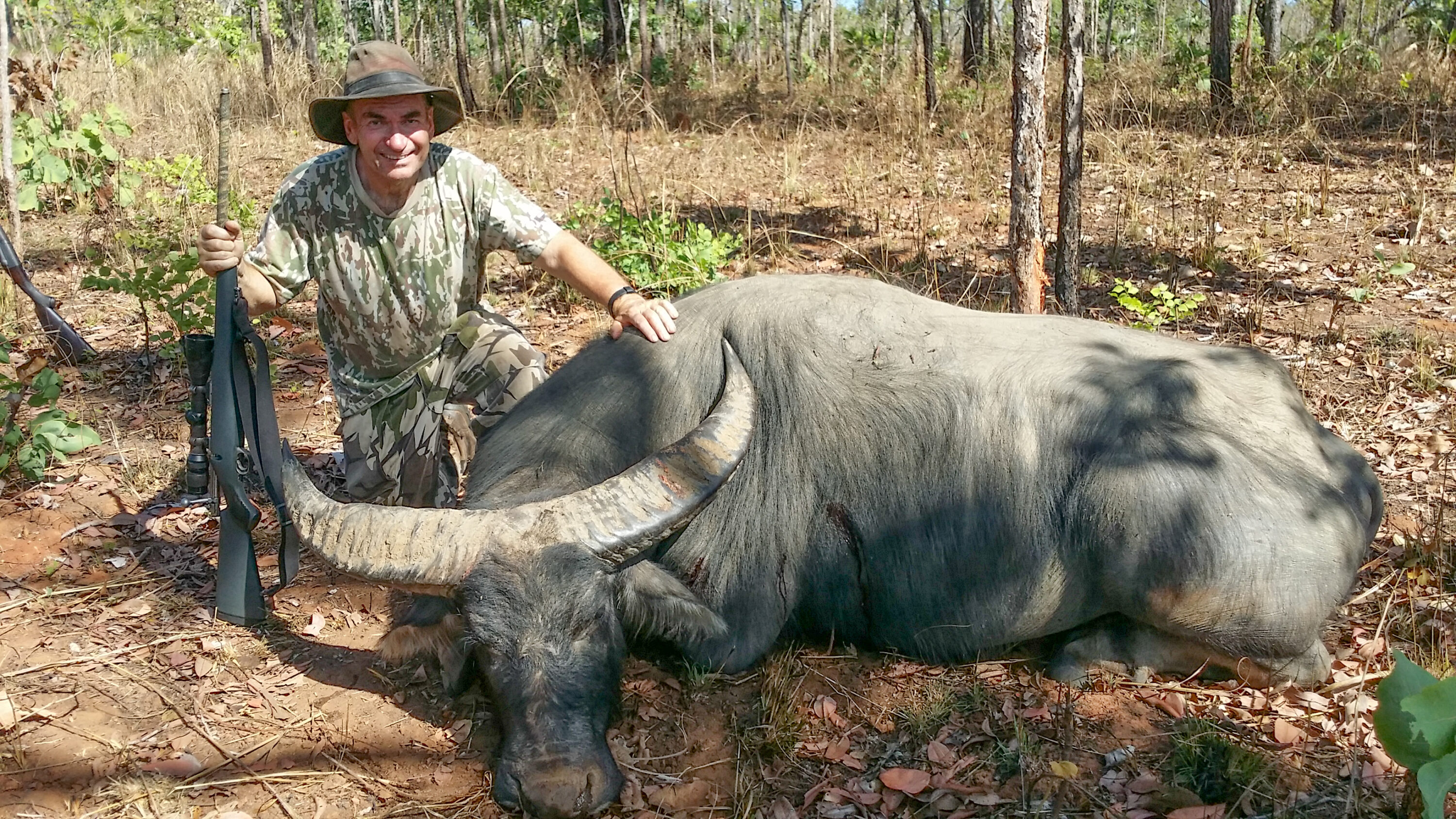 by Brian Boyle
Heading in and setting up
It was good to get out of Darwin and head south on the Stuart Hwy on the first part of our trip into our Back Country Hunting block. My son-in-law Jase was with me on his first trip to the Top End, he was as keen as to get in and experience buffalo hunting for the first time. We had the traditional feed of barramundi and chips washed down with a schooner of Northern at the Adelaide River Pub, fuelled up and then headed into the block. Our campsite would be on a terrace above the upper Adelaide River, close enough to get water, but high enough and far enough from the river not to worry about saltwater crocs making an uninvited visit to camp in the middle of the night.
As we bumped down the track it was great to see how much Jase was pumped, taking it all in and straining for his first sighting of a buff or scrub bull. He asked if there anything to watch out for out here and I replied that apart from the heat, grumpy buffs and scrub bulls, and the odd saltwater croc that could be in any body of water, there wasn't really that much to worry about now as the cane toads seemed to have cleaned up all the snakes (I'm a kiwi and not a great fan of snakes).
We got in and set up camp, sorted our gear and sat down in the shade of my camp set-up which I call my "Tarp Mahal" and had a look at the map of the hunting block. Our other two party members Matt and Chris would be arriving in later that night as they both had work commitments. It was nearing mid-day and was a cool 32 degrees, just perfect for a hunt in the NT's "winter" months. The breeze had settled in from the south, so I suggested to Jase that we drive south for half an hour and then hunt down one of the creeks I knew. The BCH Block is in ridge country in the upper Adelaide River where it runs back into Litchfield National Park. You are hunting the creek and river flats in between the ridges. This is not the normal flood plains hunting that you associate with hunting water buffalo in the Top End, it is tough but great hunting. Ideally you are looking for good green pick on burnt areas with water nearby.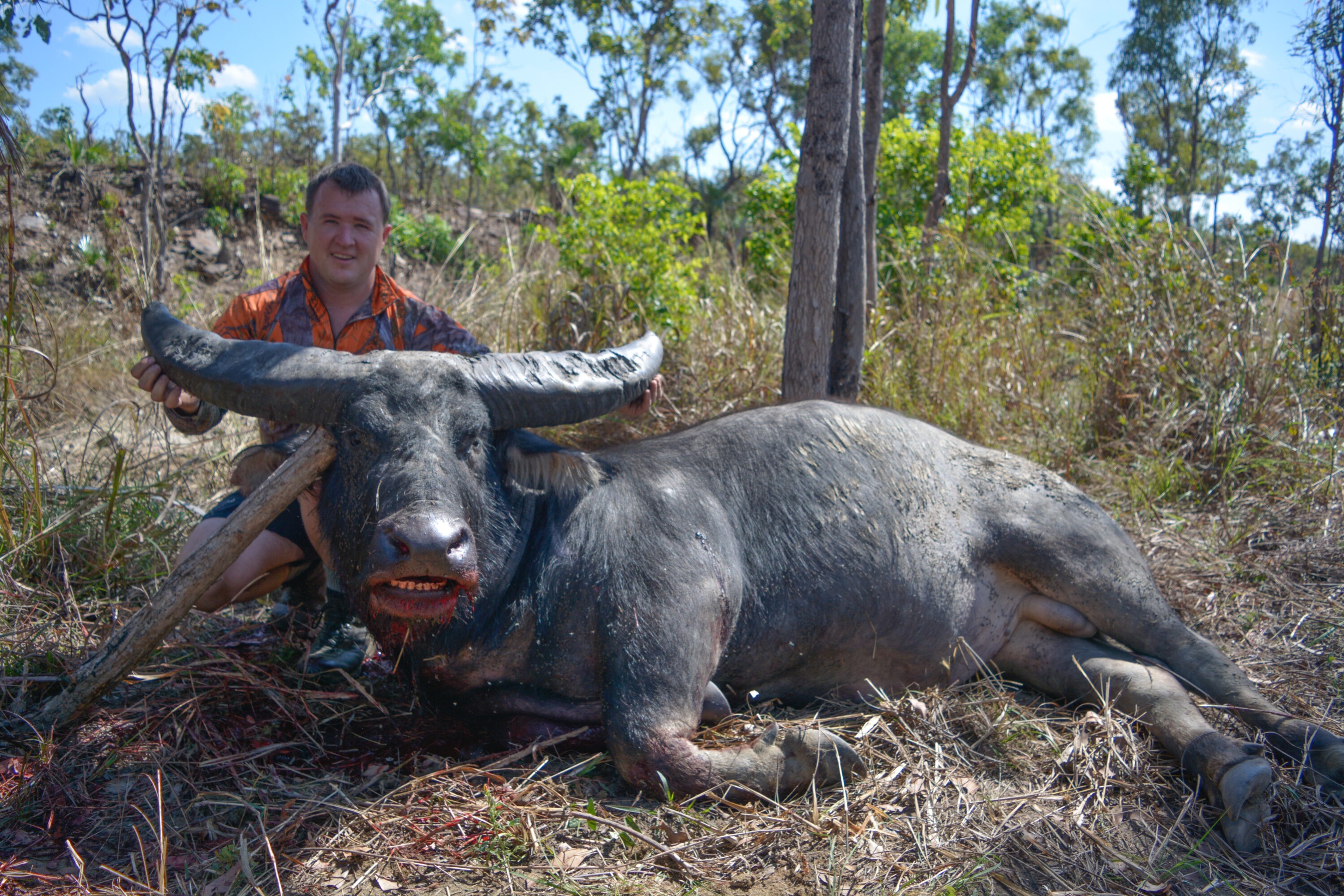 Jase's takes his first bull buffalo
A few kilometres from camp we started seeing fresh buff sign on the track so I quietly pulled up and we got our day packs out. First up was to guzzle a litre or so of water and then GPS'ing the coordinates of my old Rodeo. I have learnt how vital it is up here to know where your vehicle is and how to get back to it. It is remarkable how much of the country all looks the same when you are in the ridge country with open savannah woodland that covers the Top End (especially in the dark!!!!).
We made sure we had spare ammo, radios, a small floorboard saw to skull cap or cut the head off, GPS and compass and most importantly, enough water and hydrolyte mix in our packs. I sweat a bit, so I like having a litre of water for each hour I am going to hunt.
We then headed off, Jase was carrying my Zastava .375 H&H and I was carrying my favourite rifle, a Kimber Montana in .325 WSM. Jase dropped down off the track into the creek. We immediately picked up fresh marks and big buffalo crap that still had a shine and flies on it, things were looking good alright. Another 400 meters or so and we could both smell buff, I whispered to Jase "there's gotta be something close by".
A couple of hundred meters further on and I noticed that Jase had stopped and tensed up, he looked back at me and I could tell he had seen something. His eyes were the size of saucers and that's not easy for a guy with "squinty eyes"! I followed his gaze and there about 80 meters away was a nice buff bull having a quiet look at us. As the buff wasn't disturbed at all, I quietly said to Jase "just lean against that tree beside you and when he turns side on give it to him in the shoulder". About 30 seconds later (Jase thought it felt like half an hour!) the buff turned. Jase took the shot which I saw clearly in my binos knock the bull in the right spot on the shoulder. The bull staggered and turned to the other side and Jase put another shot into the other shoulder and the bull went down.
I then showed Jase how to safely approach the bull angling in from behind, the bull was down but not out. Jase commented "Jeez – how much lead can they take". He put in another shot into the heart and the bull went still. As we approached I said "put another shot into the heart down through the spine Jase, just in case". I have heard a few stories of bulls getting up after photos were taken (and one even half way through being caped!) and for the sake of a bullet it's always better to be safe than sorry.
Jase walked up to his bull and I didn't need to shake his hand. Both of his hands (and knees) were shaking furiously on their own. I really get a kick out of seeing how hunting affects new hunters and this was no exception. Time for photos and for Jase to see just how much bigger buffs are to the sambar and fallow deer he normally hunts in NSW and Victoria. He was blown away by the sheer size and bulk of the bull as well as the thickness of skin on the animal shoulder and head.
He wanted the whole skull, so we took the whole head off by sawing through the spine after opening the skin up with box cutters. A quick butchering job was done to get the best meat off the animal and cool it down in the shade and the first projectile was retrieved from under the skin on the opposite shoulder. The first shot had actually been a perfect killing shot on the shoulder, taking out the top of the heart and lungs, the only problem was the bull hadn't read the script or theory on projectile function, they are tough animals.
We loaded up the packs, Jase had a fair amount on board with the whole head and some meat, luckily it was less than a kilometre back to the vehicle. I offered to carry his rifle and said "you will hardly get a sweat up bro", I was wrong, neva mind. He did sweat a bit, but I think his feet were hardly touching the ground he was that pleased with securing his first bull. Fifteen minutes later and we were back at the vehicle having a cool drink of water and me telling how Jase how tinnie he was. We put the buff head in the back of my old Rodeo and headed further down the track to look for more sign.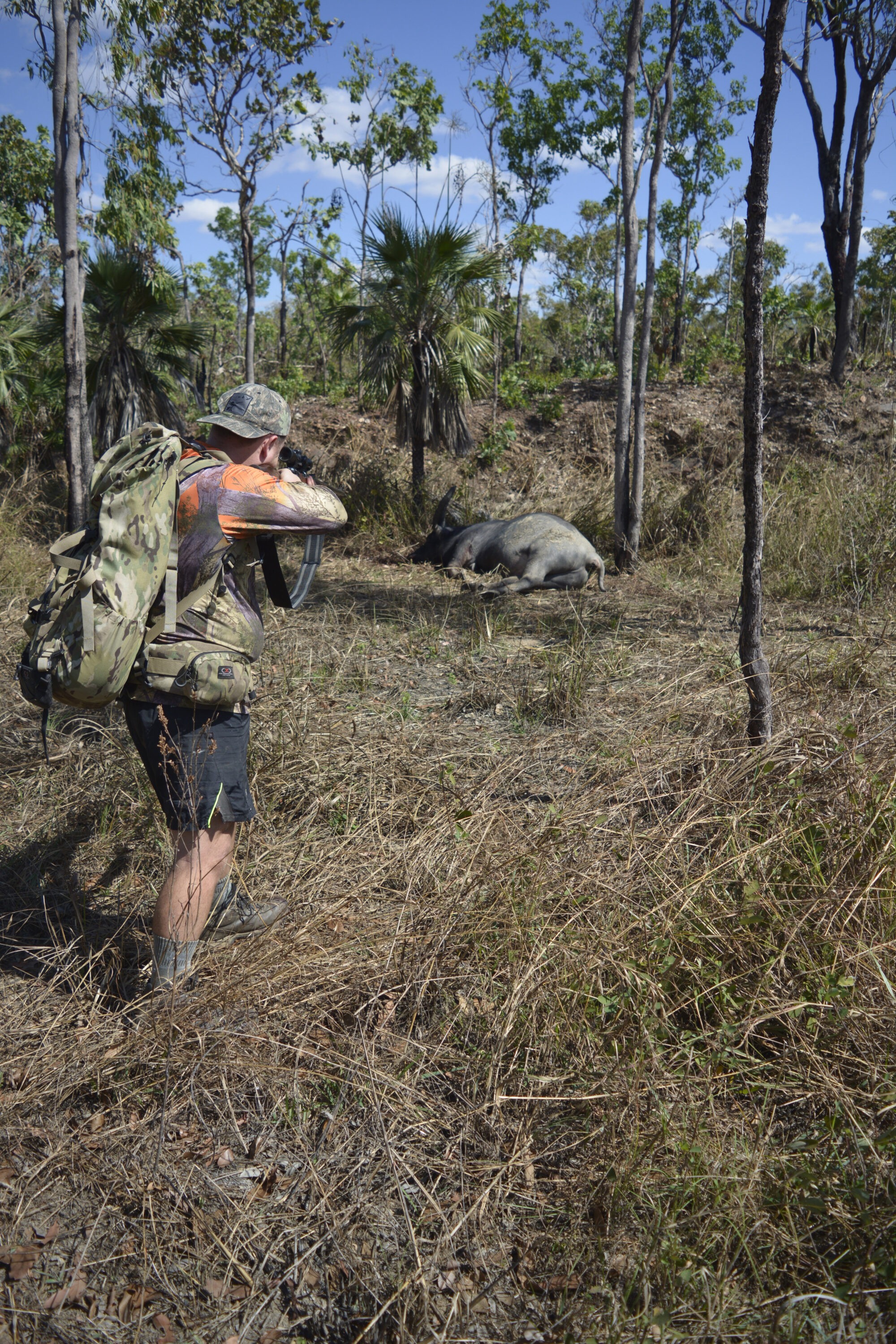 A young scrubbie
About 30 minutes later we came on to a freshly burnt area that ran down to a creek with clear running water. One side of the creek had long unburnt grass, the other had been burnt about two or three weeks prior and had some nice green pick coming up. The area looked promising indeed, so I pulled up quietly and we got our gear out and headed off for a quiet hunt. There was plenty of pig, buff and scrub cattle sign, so again it was looking good.
Twenty minutes on and I spotted two cattle up on the side of the hill. I got my binos out and checked their ears, no tags, you beauty they were clean skins and fair game. One was a nice little weaner which would be superb eating. I gave Jase my Kimber and told him to take the shot which he did. He had taken his first scrubbie and secured some superb scrub veal into the process. Another quick photo session with me telling Jase how tinnie he was and then we got into the butchering job and getting all the meat off the animal as I didn't want to waste any.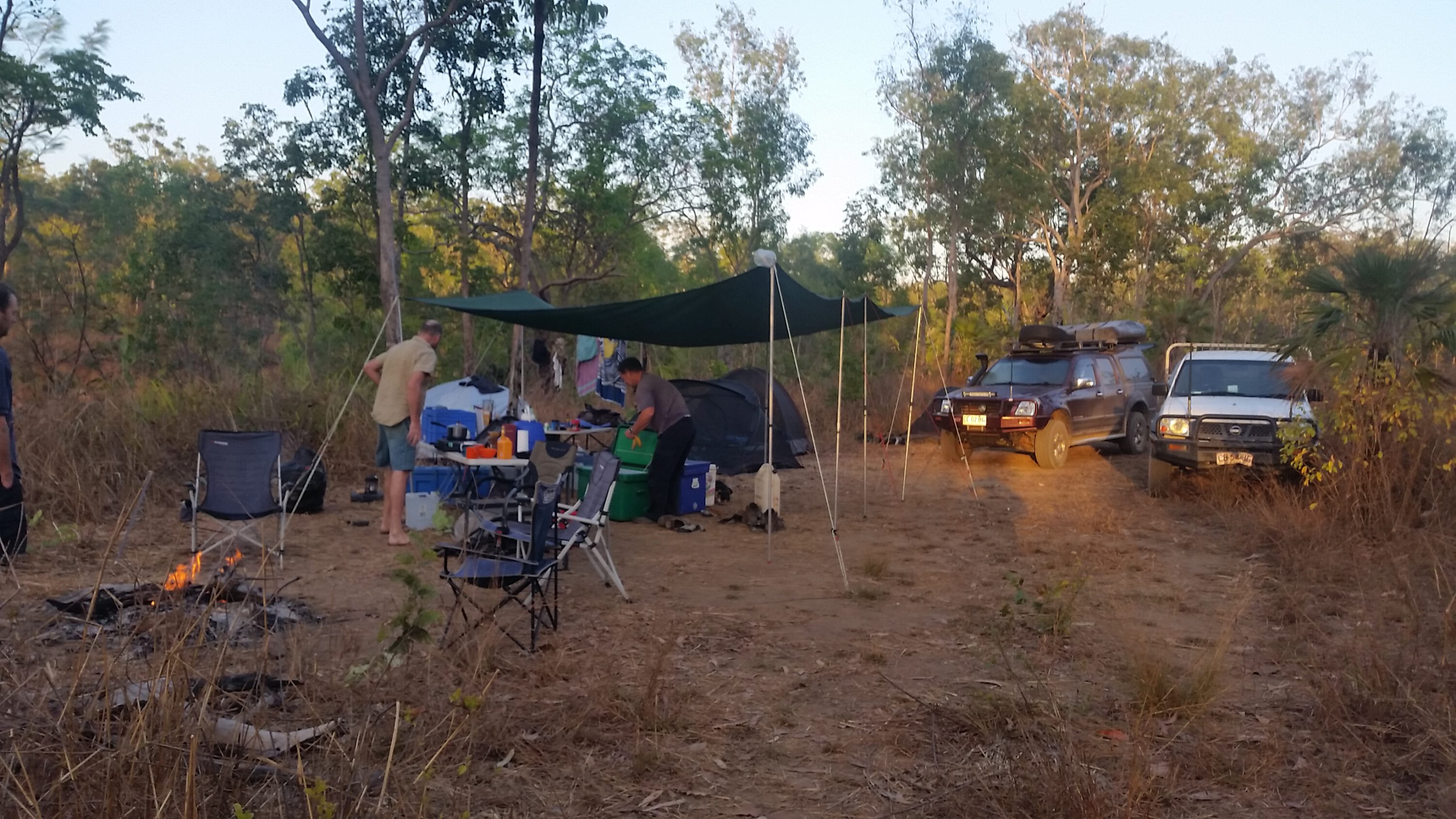 Third hunt not so lucky
After getting the meat back to the vehicle, we headed to another spot to have a hunt into a nice cool gully just on dark. Everything was right, except there were no animals in the area. But we couldn't complain it had been a top day and a great introduction for Jase to buffalo hunting and the Back Country Hunting program. The other boys joined the hunting party that night and we did have further success that weekend, but that's another story for another day.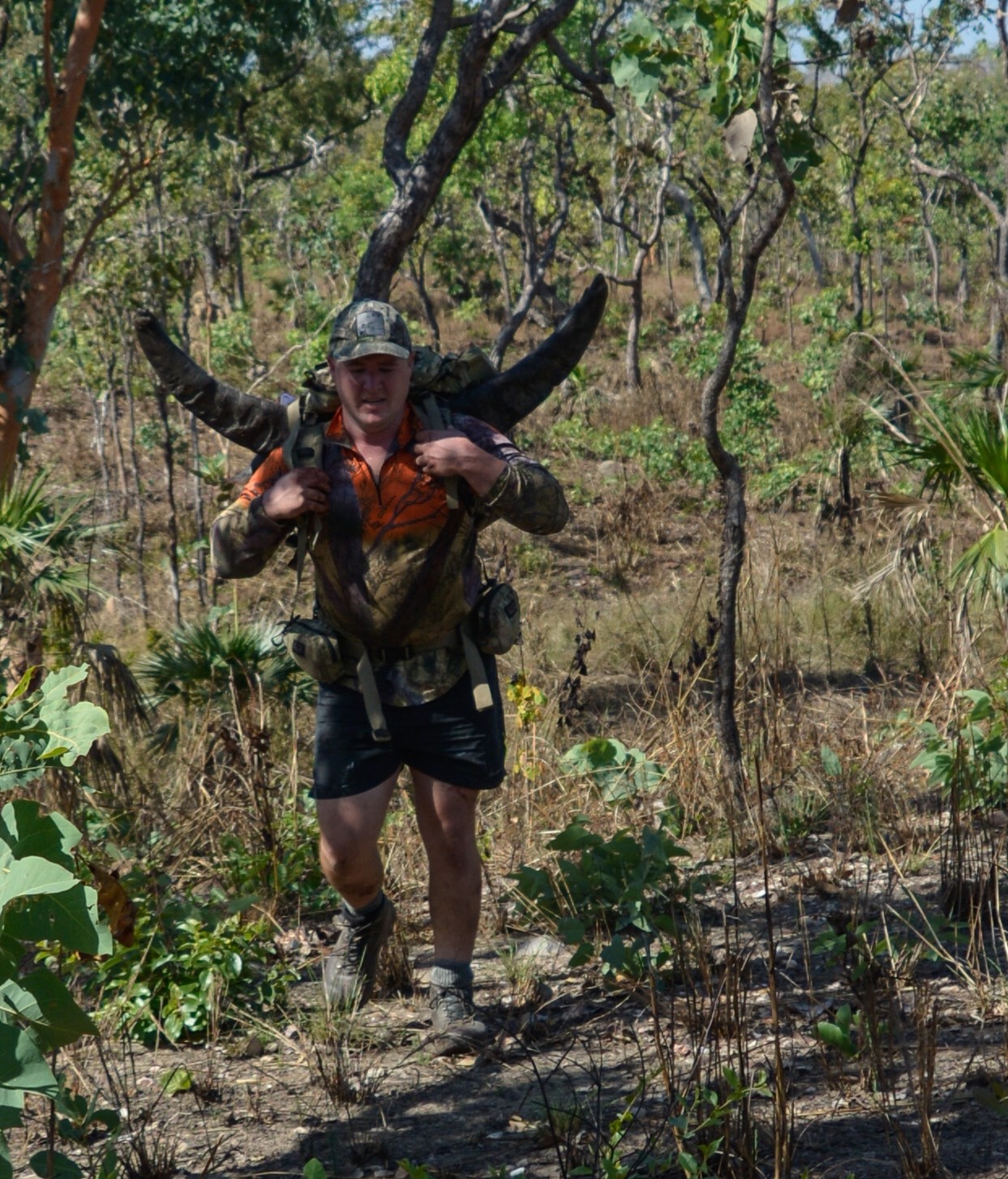 Origins of the NT Back Country Hunting program
Over the past 18 years or so the Northern Territory Firearms Council worked behind the scenes and quietly lobbying the Territory Government to open up areas of public land hunting and the Back Country Hunting initiative (BCH) is a product of these efforts. The BCH grew out of a "Territory Lifestyle Camping" concept developed by the NT Firearms Council some years ago. Firearm owners who enjoyed an outdoor lifestyle in the traditional sense in the Territory, centred around "going bush" on family camping trips that included hunting and fishing, became increasingly concerned that more and more of their favourite camping spots were being closed off and earmarked for high-volume tourism development.
Local Territorians were also feeling disenfranchised as their beloved outdoor lifestyle came under threat from a number of fronts. Previously unoccupied pastoral leases were being fenced and stocked, Aboriginal land with native title was sought by Federal and Territory Governments for jointly managed National Parks or conservation reserves, and many hunters began to feel the use of firearms for recreational hunting of feral animals was being unfairly restricted.
Fortunately, the former NT Government showed an understanding of these concerns and agreed to develop the BCH initiative, a concept that provides for limited access by permit for accredited Territorians (and their inter-State guests) to portions of the NT estate that are suitable for 'Äòtraditional' outdoor camping and hunting activities. Amazingly with the change of government in the NT the current Labor government stood by its promise to carry on with the trial BCH program. Who knows, the NT may be pioneering a whole new concept for politics 'Äì one where politicians actually stick to their pre-election commitments when it comes to hunting and firearms use!!
If you interested to learn more about the NT BCH Program go to the NT Firearms Council website: www.ntfirearms.com.au