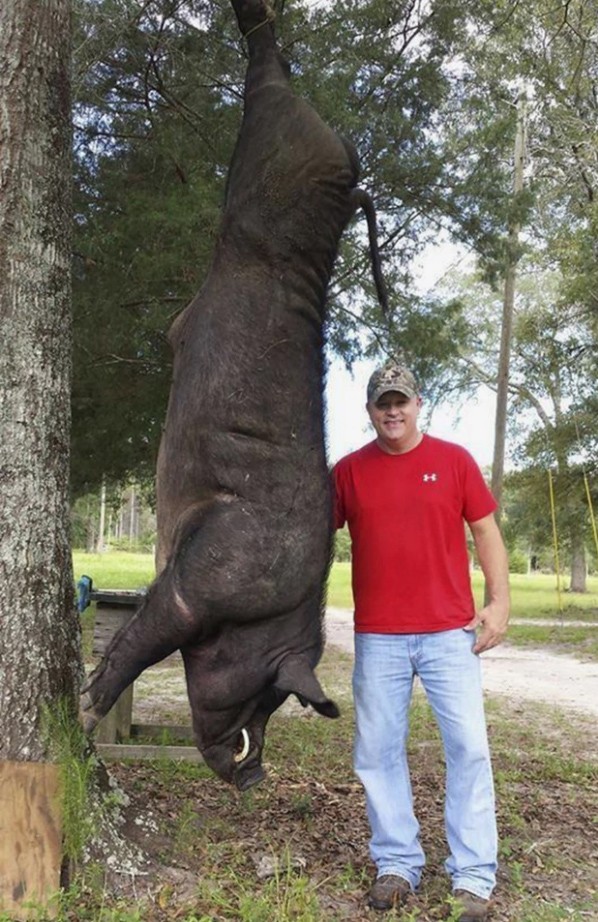 An Alabama man said he shot and killed a massive feral hog in self-defense when it wandered into his front yard and caused the family dog to go berserk.
Wade Seago, a deer hunter who runs a taxidermy business in Samson, Ala., not far from the state's southern border, told Al.com that he was worried the hog – which weighed 377kgand had 6-inch "hooks" – would harm his dog, a small schnauzer named Cruiser.
So, he grabbed a .38-caliber revolver and opened fire.
"Cruiser had this huge hog confused, with all of the barking and movement," Seago told the newspaper. "It was not a good situation."
He added: "By the time I got in a position to shoot, the hog was about 12 yards away. Cruiser was out of my line to the hog, so I fired."
Seago posted a photo with the dead hog on Facebook, saying the animal would be "mounted by me personally" in his taxidermy shop.
The image, which shows the hog hanging upside down from a tree by its hoofs, quickly spread across social media. A video posted just days later shows what appears to be the same giant hog squirming on the ground.