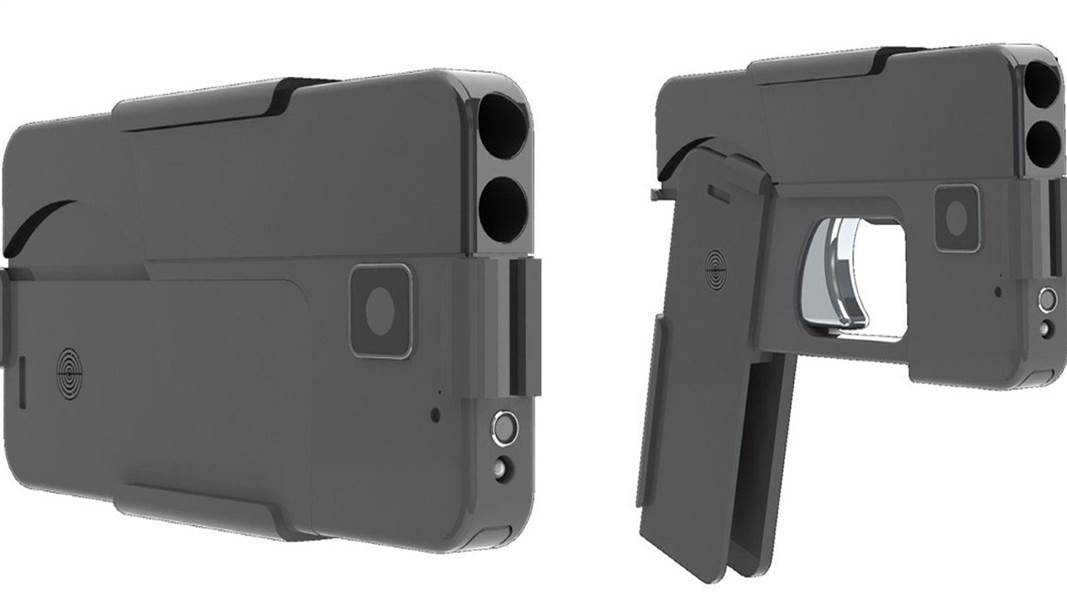 European police have been warned to remain vigilant as a gun disguised as a mobile phone goes on sale in the US. The Ideal Conceal pistol, a .380 calibre handgun that can be folded up to look like a generic smartphone, will go on sale in the coming months and is expected to be imported illegally into Europe.
Created by Minnesota-based manufacturer Ideal Conceal, the double-barrelled pistol can carry two bullets and comes complete with laser sights. The pistol grip can be folded upwards to disguise the weapon as an unassuming mobile phone, leading it to be dubbed the "iPhone gun".
According to The Times, Ideal Conceal has already received 12,000 pre-orders for the handgun. ,
Police believe the double-barrelled pistol will make its way to European shores via illegal imports.
"To the eye, nothing can distinguish it from a mobile telephone," the police alert read, according to local newspaper Dernière Heure. "Most people possess a smartphone, meaning that it can pass completely overlooked."
According to its manufacturer, the Ideal Conceal pistol has been designed to "hide in plain sight" and easily fits into a purse or back pocket, making it "virtually undetectable". The gun fires high-velocity ammunition, meaning it can be discharged with speed and is hammerless so that the pistol does not have to be "cocked" before being fired.
"In today's day and age, carrying a concealed pistol has become a necessity," Ideal Conceal's website reads.
"The idea for Ideal Conceal follows the present-day demand for handguns that people can carry on a day to day basis, in a manner that makes carrying a gun easy to do. From soccer moms to professionals of every type, this gun allows you the option of not being a victim."