My daughter made me do it. I was doomed the moment she realised the Ruger Precision Rimfire rifle had an adjustable stock and looked "neat".
When we picked up my (her) new Ruger in .22LR from Cleaver Firearms on the eastern side of Brisbane, I was impressed. It offers features way beyond its price point of around $850 (shop around for the best price).
So despite her being the motivation to buy this rifle, I've been shooting it a lot. Between us we have racked up a couple of thousand rounds. This gives me a great background to give you a review of this innovative little rifle.
The Ruger Precision Rimfire Rifle (RPRR) gives us the look and feel of a modern chassis-style rifle in an affordable rimfire package. It is a world-wide hit, having been embraced as something quite different in the market.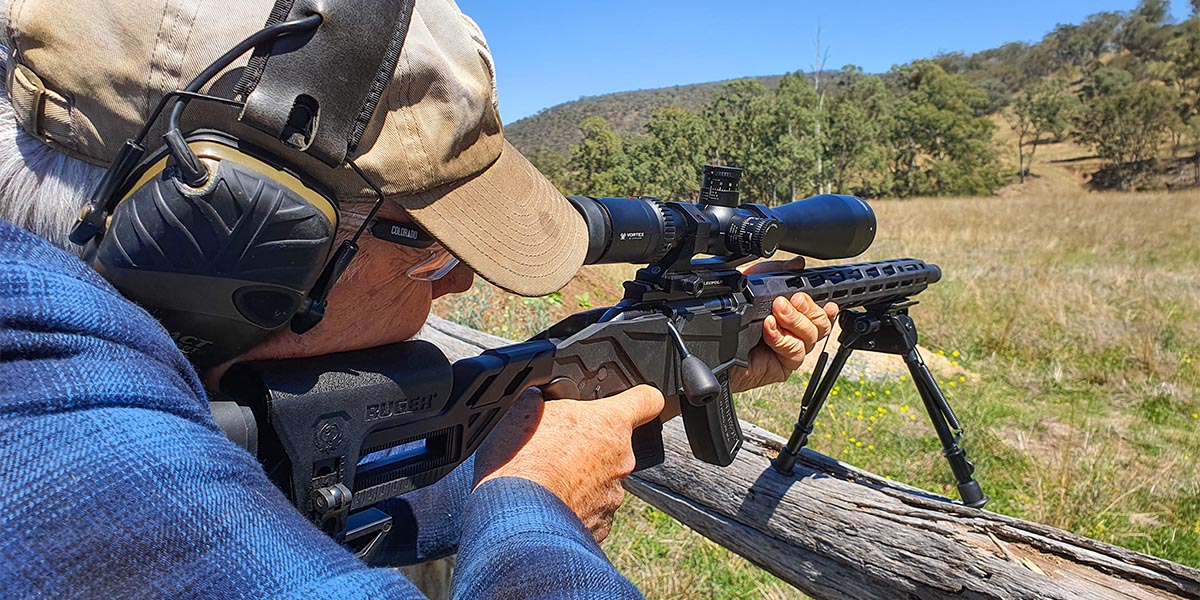 FEATURES
The molded, one-piece chassis assembly is made of glass-filled nylon, so it's strong but not as heavy as a metal chassis; the rifle's full weight is just 3kg. The stock has adjustable length of pull and comb height, although the former is not legal in NSW and ACT so gets pinned.
The chassis' fore-end, which is well clear of the floating barrel, features Magpul M-LOK slots all over for simple mounting of compatible accessories.
The pistol grip is an AR-pattern one that can easily be swapped for an aftermarket unit, and the safety switch can be reversed if desired.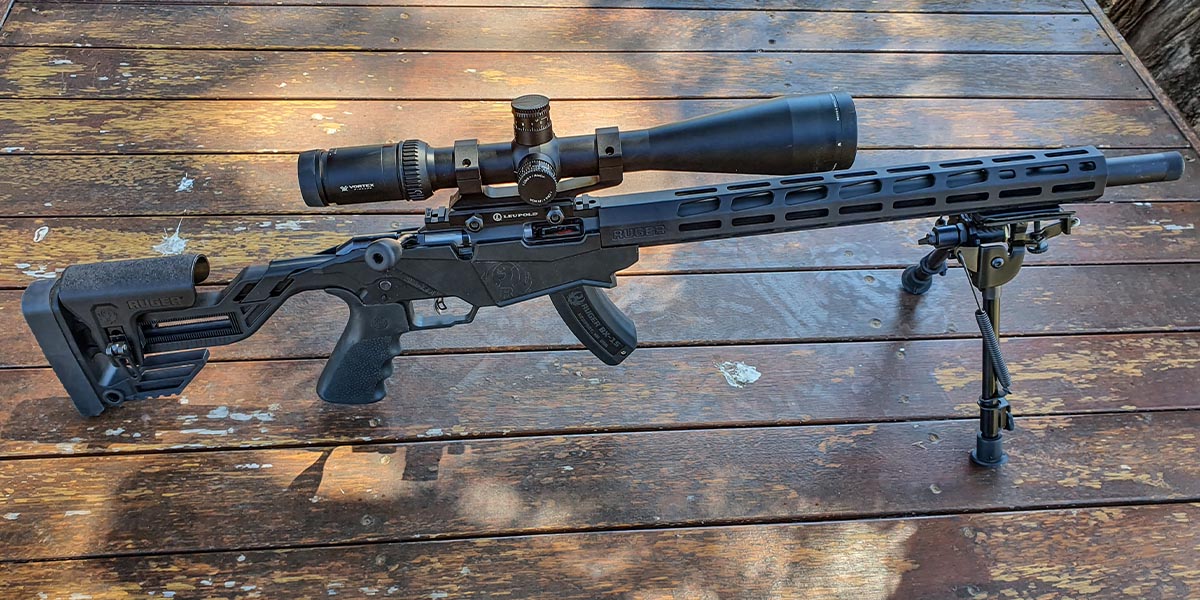 As with all American Rimfires, the trigger is adjustable. You can make it as light as 1kg (2.25lb), which is respectable enough for competition, or up to 2.25kg (5lb) if you've got Popeye's fingers. Thoughtfully, the adjustment key is stored on the rifle.
One of the Precision Rimfire's roles is to be a training rifle for centrefire competition, so it needed to behave a bit like a bigger rifle. Ruger's engineers designed an adjustable bolt throw to suit. By simply removing a spring clip, you can change from a rimfire-length throw of 38mm to the 76mm of a short-action centrefire, reducing the chance of short-stroking the bolt in centrefire competition.
The oversized bolt handle plays its part — it is identical to the one fitted to the centrefire Ruger Precision Rifle.
The rifle's 18″ target barrel is cold hammer-forged from 4140 alloy steel and is threaded.
The 15-round magazines originally supplied with the Precision Rimfire fell foul of Customs regulations, so all current versions are supplied with Ruger's 10-round rotary magazine.
For scope mounting, the Precision comes with a rail on the receiver. Recognising that more and more people want to compete (or simply plink) at way beyond the normal .22 ranges, the rail is angled at 30MOA to facilitate correct sighting.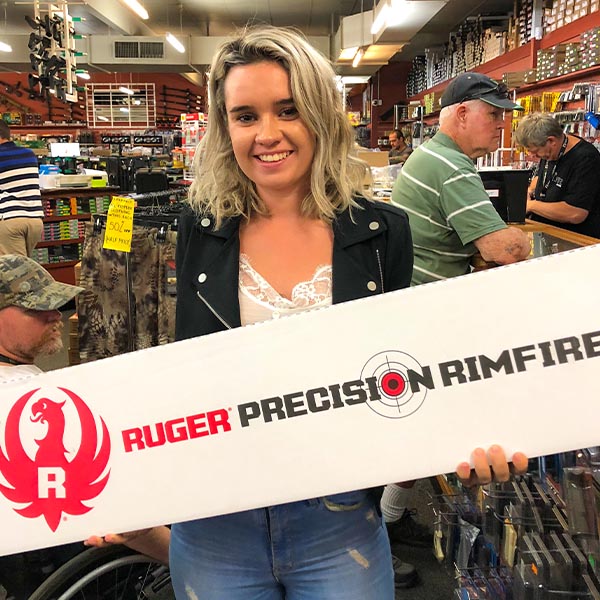 THE FUN PART
That's all the facts and figures, so let's get to the fun part, actually using and shooting the Ruger.
We have used the rifle for long and fun plinking sessions, happily sniping empty shotgun shells out to 75 and 100 metres off a bench or prone and destroying lots of soft drink cans consistently at 100 metres and more. A very satisfying way to spend an afternoon.
Now, with its weight it is not a gun I would use for a walk around .22 but it has proven to be an exceptional bunny-buster when driving around the paddocks at night or set up on a warren. It has even accounted for a couple of foxes that got curious and came a bit close, with single shot kills on both due to the accurate and stable platform.
I did not like that I had to purchase a sling swivel to mount a bipod onto at the front of the rifle as I think it should be included, however this is a small gripe fixed with about $25 due to the M-LOK slots on the fore-end. At one time I also mounted an Olight hunting torch onto the side of the rifle and used it as a self-contained spotlighting unit very effectively.
This is an accurate and very versatile rimfire which has proven very reliable, with no malfunctions so far and great extraction and ejection, which I was concerned about after seeing some early US reviews. Ruger must have addressed any issues early in the game as we have had more than a dozen people try the rifle (including a bricklayer who was here doing some work at the farm and is a keen shooter; offhand he managed to hit a 6" steel plate at a measured 100 metres on his second shot) and no one has had any feeding or ejection issues at all.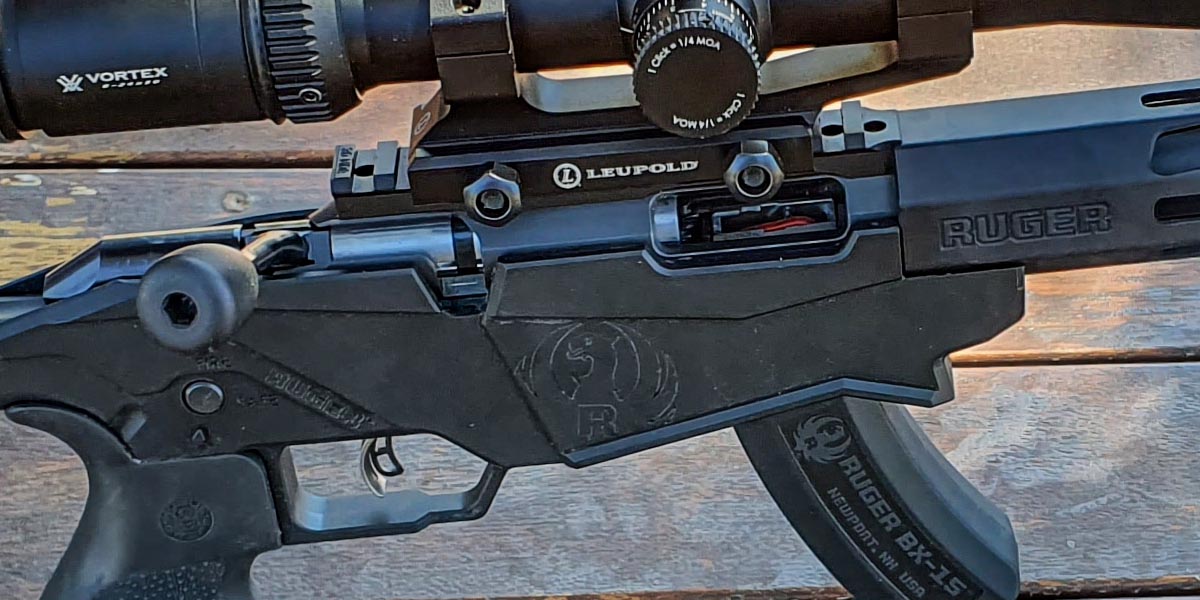 The 'tacticool' style of the oversize bolt handle makes working the bolt swift and smooth at the range and seems to encourage me to keep on shooting whenever I get it out of the safe.
For accuracy testing I fitted a 6-25x50mm Vortex Viper target scope which is likely way too much scope for most uses, but it's a proven performer on tiny targets and the pic rail on top of the Ruger allowed me to mount the Leupold one piece base straight on.
I tried several types of both standard velocity and high velocity ammunition and the Ruger was mostly easy on brands, although it certainly does like CCI standard and SK Standard so I focussed my accuracy testing on them.

I shot five groups of five rounds of each ammo type. The barrel was patched through once between groups, and I fired 10 fouling rounds between ammo types. The results at 50 metres were:
CCI Standard 40gr — 0.58" average for five groups
SK Standard Plus 40gr — 0.51" average for five groups
Excellent results for the price bracket of the rifle. It will not beat a top-tier Anschutz or similar, but it makes a great accurate and fun rimfire that won't bankrupt us.
We're not the only one's who think this way. Check out this great video review by Ozzie Reviews:
RUGER PRECISION RIMFIRE SPECIFICATIONS
Calibre: .22LR as tested (also .17HMR and .22WMR)
Barrel: 46cm (18 inches), heavy profile
Twist rate: 1:16″
Overall length: 89-98cm (35.13-38.63 inches)
Weight: 3.1kg (6.8lb)
Stock: Nylon chassis with AR-pattern grip, floating fore-end
Action: Bolt with adjustable throw
Length of pull: 30-40cm (12-15.5 inches) adjustable except in NSW, ACT
Magazine: Detachable 10-round rotary
Colour options: Black, bronze, FDE, green, grey, US flag
Price: From about $850 (May 2021)
Importer: NIOA