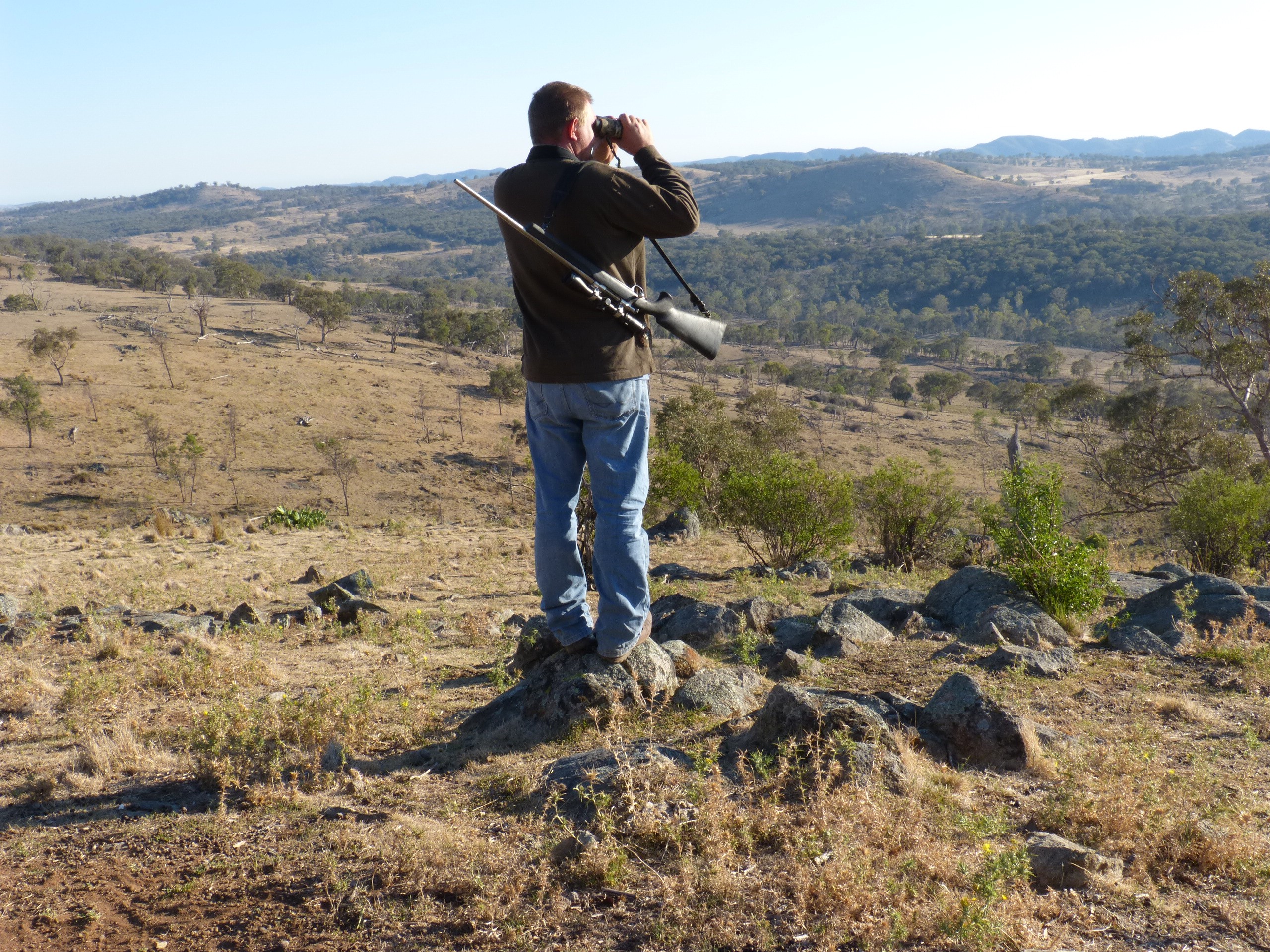 It was Coops 50th birthday and as is tradition in our group- if you have a birthday ending in a zero, we take you away for a weekend of adventure and celebrating. Story by Michael Cleary.
12 blokes converged on a property in the mountainous backblocks of the central west of NSW. After settling in to the woolshed, we got a roaring fire going and cooked a feed fit for 12 kings. Having three seriously gifted amateur chefs in our group ensures we always eat well – even to the point where a menu is drafted and all of the necessary ingredients are purchased for each meal. Master Chef has nothing on us!
Five of us decided to go for a quick spotlight while the remaining seven guys thought a few beers around the fire was a much more gentlemanly pastime. The rabbit population had built up to their highest level in a number of years. Using the shotgun off the back of the ute provided excellent sport and we accounted for around 60 bunnies in a couple of hours. My marksmanship let me down on the first two foxes. I blamed the long grass but the boys were having none of that. Fortunately the next fox was only around 80 metres and fell to a straight forward shot.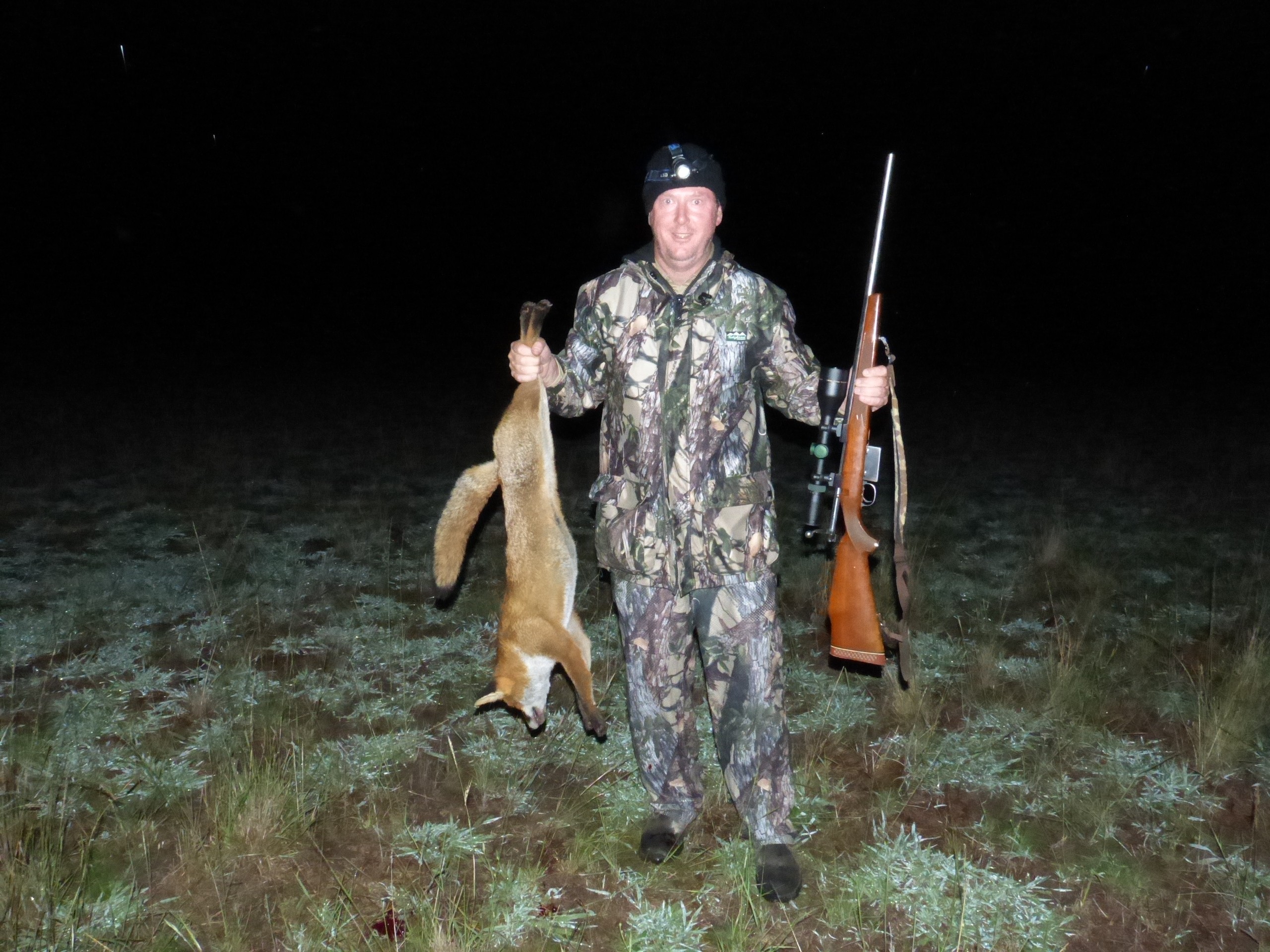 A fraction of hold-over was required for the next fox. He was way out yonder, lying down looking straight at the spotlight. Call it luck, but I drilled him with a perfect head shot from an estimated 250 metres. We were back near camp when a fox took off and snuck along the back of a contour bank. He re-appeared at 120 metres and it was lights out for this Reynard. He turned out to be a big dog fox and his cunning was on full display whilst trying to evade us. I recently had my old Tikka model 55 in 22/250 re-barreled to a slightly heavier profile barrel. I was more than pleased with the results. A few beers around the camp fire topped off an awesome day.
Scrub and I were up at "sparrows" for a deer stalk. It was an uneventful sojourn with no sightings and on returning to camp the boys were still snoring away peacefully. After a huge brunch we loaded up the utes and went to the rear of the property for a session on the clay pigeons. The spot we picked was the highest point in the area and you could see for around 30 km taking in a full 360 degrees. What a view!
The clay pigeon session was only interrupted by a break for a BBQ lunch. What a feed! It felt like we were dining on top of the world. While we were eating lunch we spied a mob of goats around 1 km away over a few ridges. We took off on foot and returned to the boys about an hour later without sighting a goat. It turns out the boys were watching through the binos and we turned back one ridge short of the goats. There were a few smaller ridges we couldn't see from the starting point that got us confused.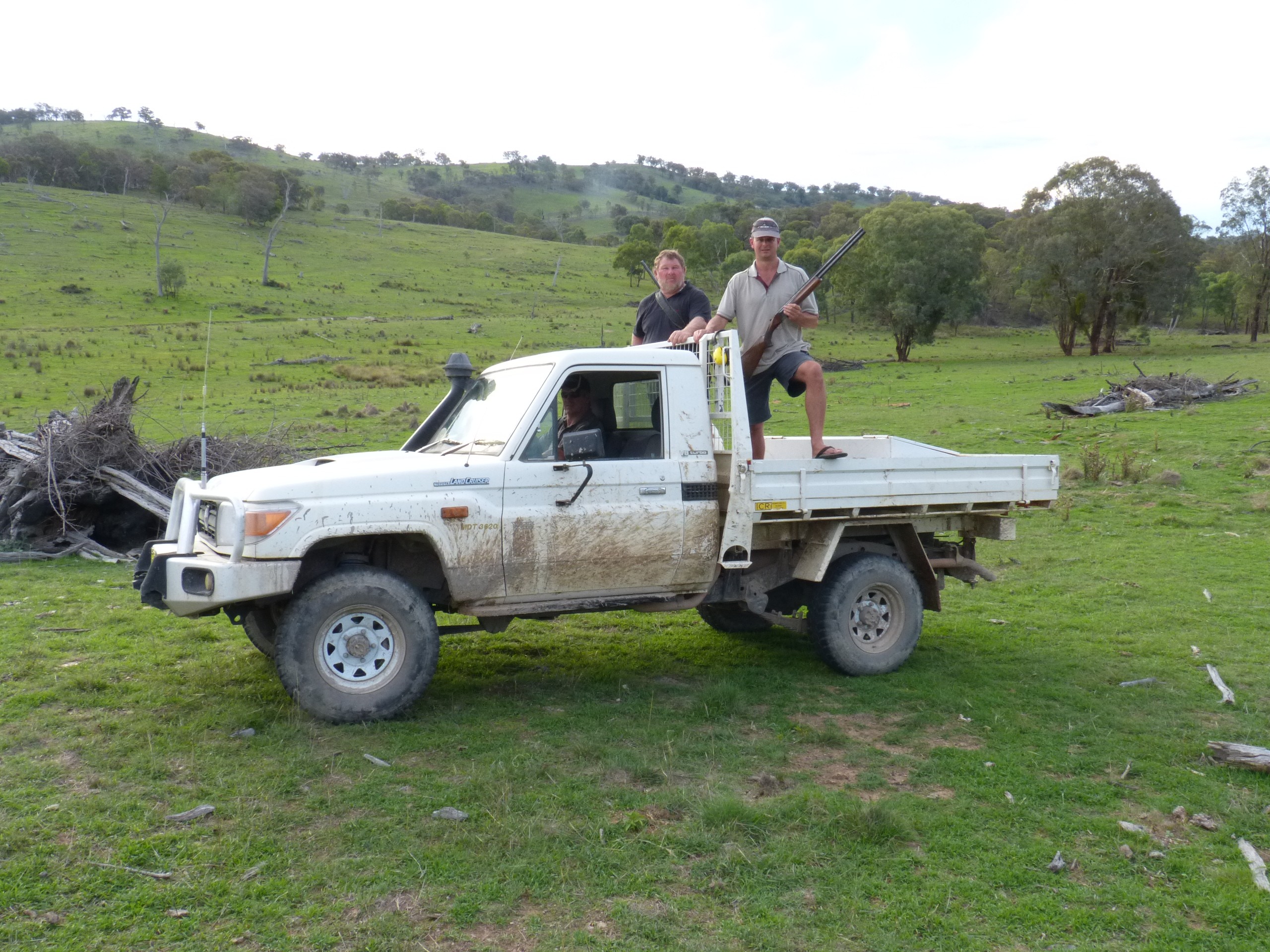 As we were packing up from the clay pigeon shoot, one of the boys spotted a mob of 20- odd goats down in the valley around three km away. The best part was that they weren't far from the track leading back to the woolshed. We drove to the nearest point to where the goats were last seen and hatched a plan. Greg went over to the right and gained some height while the remaining four of us snuck up to a pile of fallen logs. Not having a rifle on me, I was glassing the mob and exclaimed, "check out that white billy with one massive horn." The goats must have seen Greg as they decided to move on quickly. Greg dropped a solid white billy on the trot. We followed the goats over the ridge and Greg dropped a three-quarter grown browny-black-coloured billy. He later had the skin tanned. The rest of the mob took off and Greg and Scrub both fired as they ran through the trees. They were both confident of a hit. We got to the point where the goats were last seen and could only find one white billy. Greg claimed it!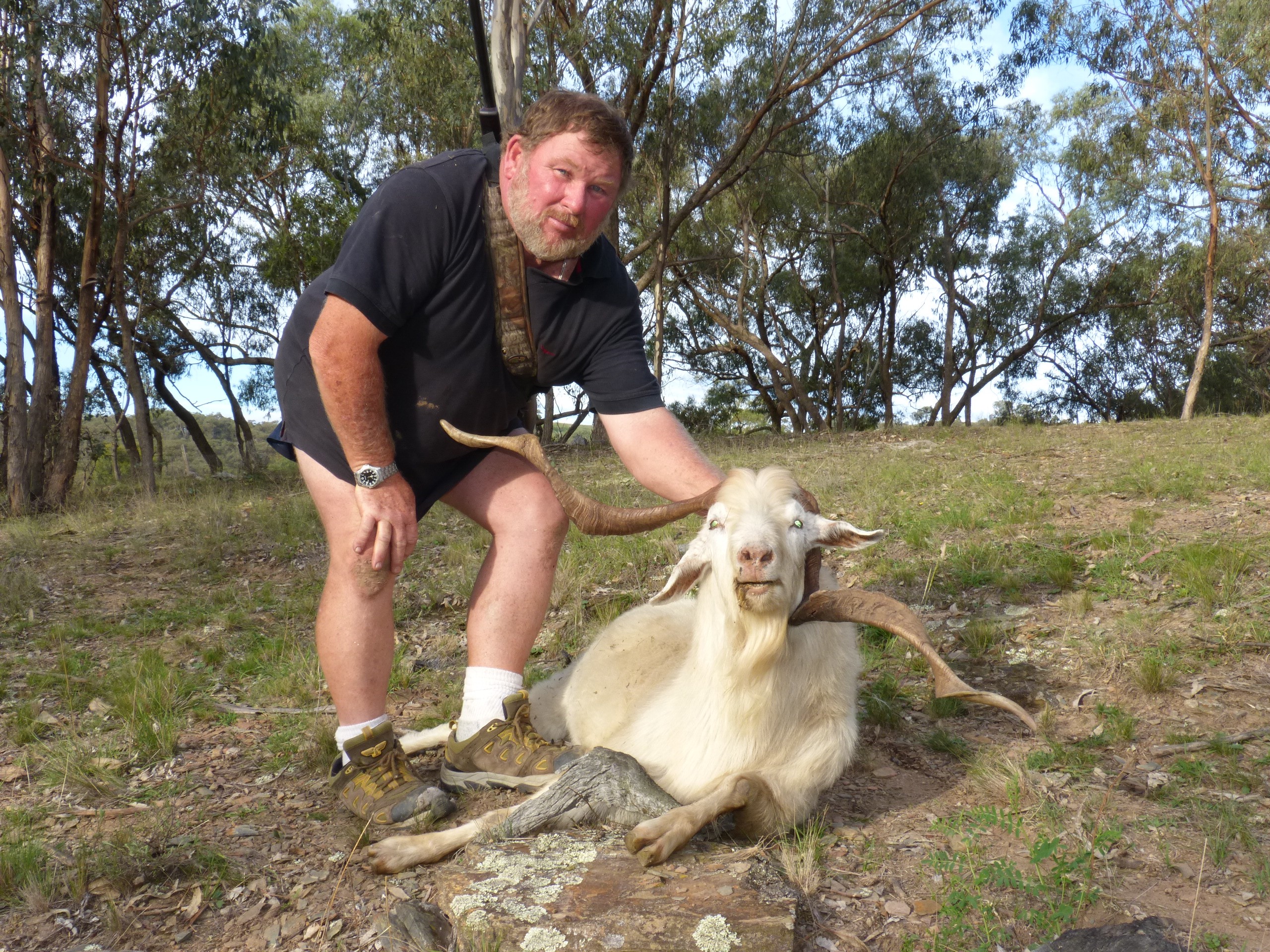 Scrub said he had to do a number two, so the rest of us started walking back to the ute. A minute later we heard a commotion and there was Scrub running after a big goat whilst pulling up his strides. Just as we arrived he put a finisher into the big billy. It turned out Scrub had wounded the "one-horned" billy and when he was about to do his business the unseen goat decided to get out of Dodge. Who said goats have a poor sense of smell! The amazing thing is that the billy had two horns but the second horn went in beside the cheek and then down at an angle. He was a cock-horn, but a huge one. He measured 44 3/8 inches tip to tip – by far Scrub's best ever goat.
As we approached Scrub standing over his prized goat, pants at half- mast, John said, "I guess there was no time for paperwork Scrub?" As you can imagine, we all cracked up laughing.
After securing his strides, Scrub took the head and we drove back to camp claiming a few bunnies on the way. Tonight was the gala night, the fancy dress party. It was a super hero theme. Can you imagine 12 blokes in the middle of nowhere dressed up as Batman, Superman, a few Incredible Hulks etc. What a sight! I won't share any images in this article as it might scar you for life!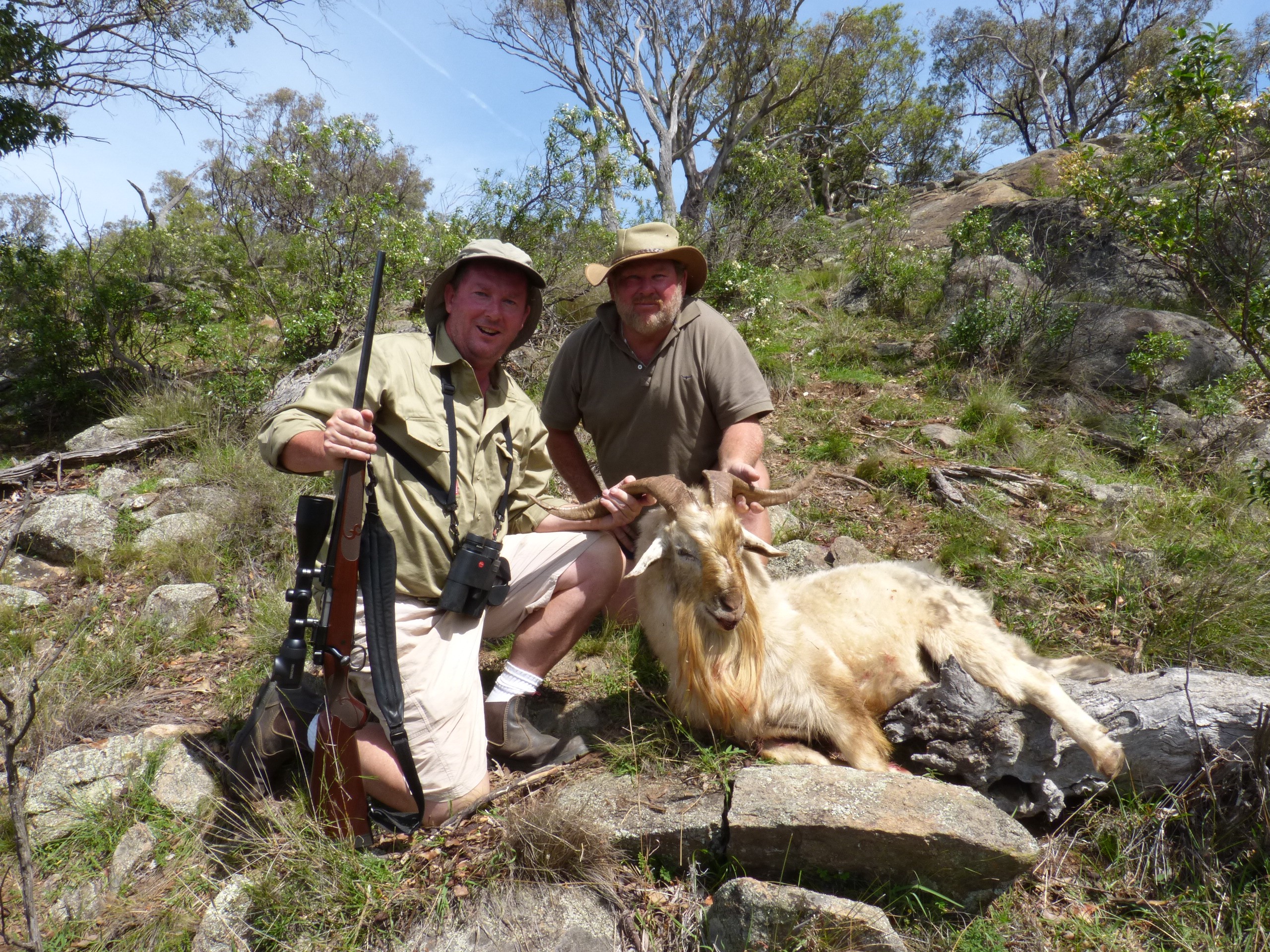 It was a slow start the next morning and we disproved a myth – Superheroes can get hangovers!! After a massive brunch, most of the boys headed for home- except for the diehards. We stayed on for an afternoon hunt.
After a few hours of driving around the mountainous tracks at the rear of the property, we were almost ready to give up when we spotted a mob of goats slowly making their way out of the heavy timber. Scrub and I put in a lengthy stalk from downwind and got into an ambush position. There were three decent billy's in the mob and Scrub and I decided which one we would each take. On cue, the mob fed out of the timber only 60 metres from our concealed position. My .300 WSM and Scrubs' .308 boomed in unison. Both goats dropped. The rest of the mob took off back into the timber and I was looking for the remaining large billy. I got off a snap-shot as he was going through the thick stuff, but missed. He then changed direction and headed up the hill, which was slightly more open. Big mistake as I pole-axed the billy in mid-stride just before he disappeared.
Scrub and I dragged our two billy's together for a photo session. Scrub decided to cape his black billy as it had a better cape than the cock-horned goat. We packed up and headed home with smiles on our faces. What a great weekend. We managed to celebrate Coops' 50th and do some incredible hunting to boot.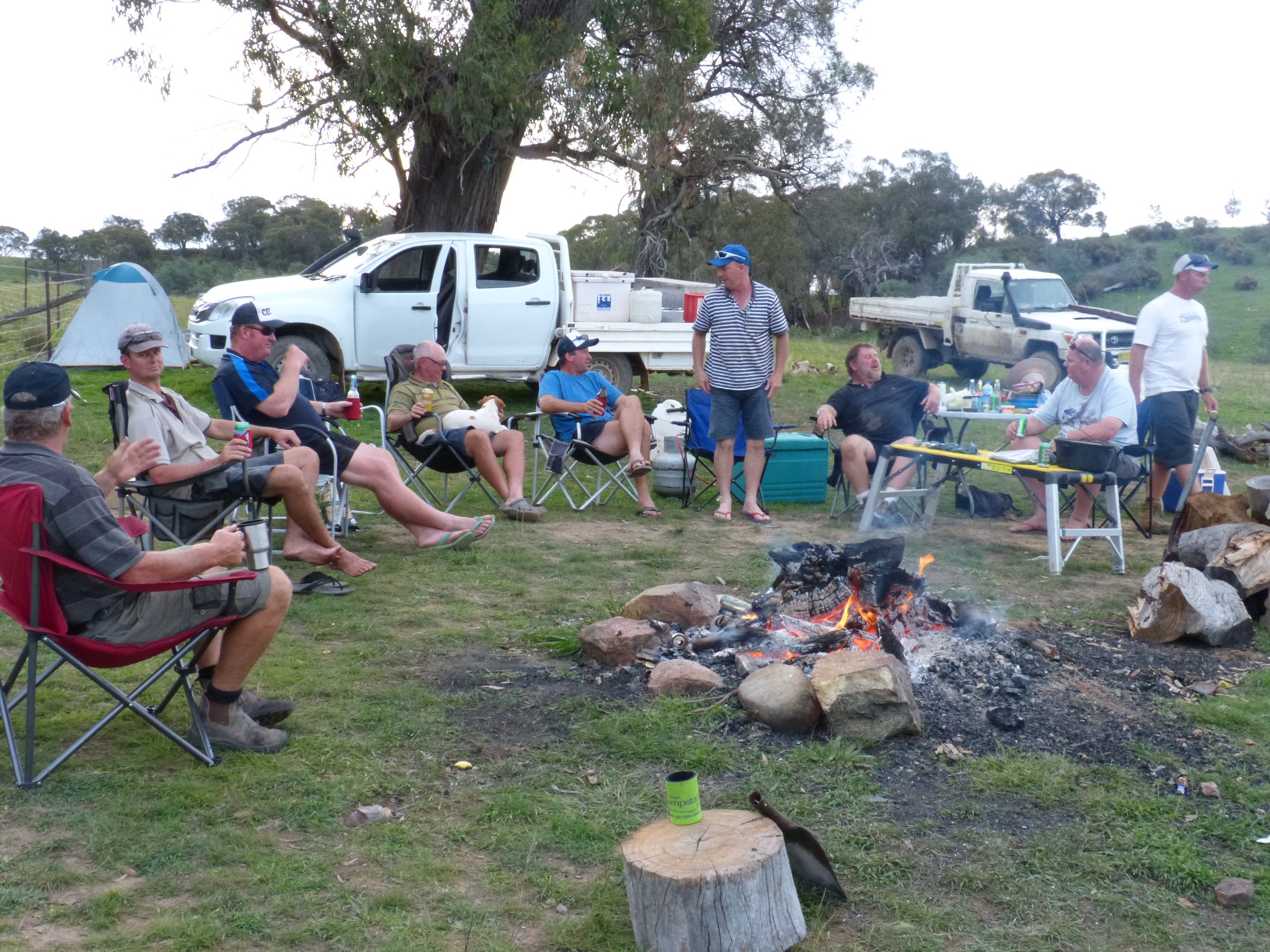 The moral of this story is simple- Always and I mean Always, take your rifle when you go for a shit in the woods!
Incidentally, Scrub is the older brother of Coop. Scrub has just turned 60 and we recently returned from his 60th birthday celebrations for five days out at Bourke – but that is another story!