By Nick Harvey
Riflescopes have come a long way since I attached that 2-1/2x Raven to my .303-25 back in 1952. Back in those far off days scopes were still rather fragile, finicky instruments that tended to fog up, if the hunter broke into a heavy sweat or got caught in a shower of rain. Optics weren't all that great either, not nearly as sharp and bright as modern scopes. The aperture sight was far more reliable. Too, variable-power scopes hadn't yet been perfected and were prone to change their point of impact along with magnifcation as power was varied. Riflescopes have come a long way since then, so that, today, it's hard to keep up with all the innovations and new technology being incorporated into the latest and greatest, not the least of which is six and eight times zoom capability.
If there's one thing I've learned about hunting scopes over six decades of using them, it's that not all riflescopes are created equal and that a small number are designed to be entirely different from the general run of optics. Such a scope is the Trijicon, a name often associated with tritium night sights, red dot sights and the superb ACOG sight which is the top choice of U.S police and military. The new VCOG (Variable Combat Optical Gunsight), a 1-6x optic with LED illuminated first plane BDC reticle powered by a single AA battery, has graduated bullet drop compensation lines either for 55gn or 77gn .223 Rem. or 175gn   .308 Win. This unit works just as well for any hog hunter who can rustle up enough cash to buy one.
More affordable is the RMR (Ruggedized Miniature Reflex) battery-powered sight, available in seven models with different reticles – red dot, and green or red triangle. Weighing only 32 grams the RMR is a versatile sight that can be mounted on rifles, pistols and shotguns. It's particularly good choice for leverguns.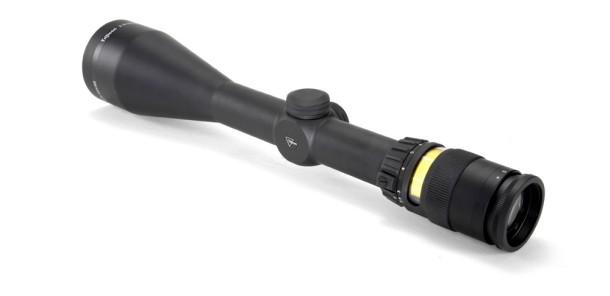 Of more interest to the majority of hunters will  be Trijicon's stable of AccuPoint scopes for big game rifles which includes 25 different models in 4 different magnification ranges from 1-4×24 to 5-20×50 equipped with a variety of reticles, but sharing the same unique illuminated reticle that's not battery dependent.
Maybe I'm old school, far too conservative or whatever you like to call it, but I don't care for scopes which have a battery compartment integrated with the top of the scope's eyepiece. To me, it makes the scope look unsightly and adds unnecessary bulk. As well, there has to be a third turret to control the brightness of the reticle. Trijicon's AccuPoint scopes don't have all these add-ons or a battery to die at the wrong time because of extreme cold, excessively heavy recoil or just plain old age.
All I ask in a riflescope is that it has precise adjustments, holds zero, and shows a bright, sharp image. Nor do I have any use for a complicated Mil Dot reticle, being well satisfied with a plain Duplex type.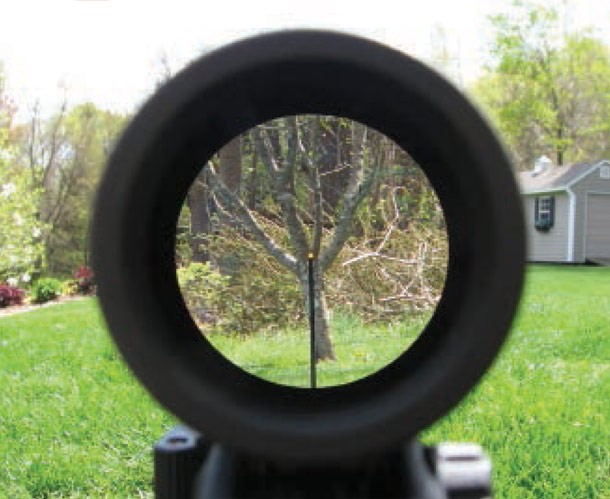 Having got all that off my chest and with so many good scopes on the market costing less, what makes the Trijicon better than the rest of the illuminated scope tribe? Obviously, it's the method used to make the reticle light up.
The most unique feature of AccuPoint scopes is the way the reticle is illuminated. Trijicon refers to it as dual illumination, but most of the light is provided through the cunning application of  fibre optics. Atop the eyepiece is a pattern of fibre optic cable connected to the reticle itself. It's actually the cable that collects light and carries it to the reticle. Three colour choices are offered, amber, red and green. Incidentally, if there's little or no ambient light, the reticle is equipped with a tritium insert, which is always visible.
Tritium is a radioactive isotope of hydrogen which glows in the dark, and it's highly visible in both bright light and total darkness. No batteries are required and there's nothing to turn on or forget to turn off. Thus in the absence of sunlight the illuminated reticle of the Trijicon really comes into its own.  The reticle shows up boldly during poor light conditions such as those encountered in prime hunting times at dawn and dusk, and in heavy cover where there's dim light. Under such conditions the Trijicon AccuPoint scope relies upon tritium to power the reticle. However, tritium doesn't last forever, and after 12-1/2 years (its half life), the brightness will only be half what it was when new.
Trijicon fibreoptics automatically adjust the brightness level and contrast of the Aiming Point reticle to available  light conditions, but there's a manual brightness override to adjust brightness to your personal preference. In really bright daylight a rotating cover on the eyepiece can be used to partly block the fibre optic circuit and reduce reticle intensity. During testing I left it open most of the time without striking any problems.
The scope body is made from aircraft quality hard-anodized aluminium and all-weather construction protects against the harshest climatic conditions and roughest terrain. The robust battery-free AccuPoint scope delivers fast, accurate shots under any and all light conditions. But don't sell it short in terms of viewing quality – resolution, clarity and brightness – optically, Trijicon uses multi-layer lenses and is fully the equal of any scope I've tested with a comparable power range. While I haven't personally used an AccuPoint on a big bore rifle with heavy recoil, my friend, the late Heber Norkauer took a Model 70 Winchester in .458 Lott mounted with a 1.25-4x24mm AccuPoint to Africa and later used used it on a buffalo hunt we shared in the N.T. The rifle stood up to rough treatment dished out by baggage handlers during air travel (including six baggage transfers to get from Baton Rouge to Darwin via Capetown) plus several days of hunting being jolted and jarred about in a rack on the back of a Land Cruiser, with no change in point of impact. But that was 20 years ago and the AccuPoint I tested in that era had a post reticle with a red triangular-shape tip.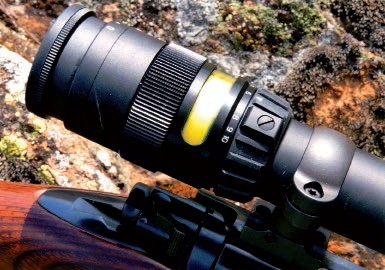 In case anyone imagines that precise accuracy cannot be gained with this type of reticle, 20 years ago I tested one of these scopes on a .270 Winchester. I used the tip of the post for aiming and landed three shots into a 1.5 inch group at 200 yards. This didn't come as any surprise me since on a previous trip to Germany I managed a five shot, thumbnail-size group at the Zeiss factory using one of their scopes which had a pointed picket post on a .30-06.
My own preference, however, is for a less specialised reticle. When I requested a Trijicon scope from Winchester for testing I asked them for a conventional Duplex-type reticle which doesn't clutter up the field and is easier aim with. Nor does it hide too much of the game when you hold over on a long shot. In real life I've found that most shots at game are taken at moderate ranges between 100 and 200 metres very few at 300, and rarely one at 400.
It is when the light has faded and fast target acquisition is necessary, that the AccuPoint really shows to advantage. Just like any other illuminated reticle it should be used with both eyes open, but with a little practice it becomes instinctive to simply dab the bright aiming point on a vital area on the target and quickly trigger the shot.
The Trijicon extends your hunting time in late evening in the growing dusk; if you can see the game, you can take aim at it.  Obviously, black crosswires stand out better on a light-coloured fawn fallow deer than a coal black boar, but even large easy-to- see cervus like sambar can present in a way that makes the reticle become absorbed.
In the growing dusk, up to 20 minutes after sun down, a dark animal or one partly obscured by brush blends in so very well with their background that it becomes barely visible. When standing facing you head-on, a sambar stag can virtually become invisible, as his black ruff and dark face are all you can make out above brown legs. In a situation like this, Trijicon's AccuPoint 3-9×40 with post triangle works very well. You may lose a bit of precision at long range, but you are more than compensated for it with fast target acquisition. At least this is why my old friend Heber Norckauer chose the 1-4×24 AccuPoint for his hunt in Africa and the N.T. He found that reticle lightning fast to align on dangerous-game like Cape buffalo at short to medium range. And he also said that the 4x setting was adequate for longer shots at the larger plains antelopes out to 250 yards. For my own use, I'd choose the standard Duplex reticle with fibre-optic dot, either red or amber, which allows finer aim to be taken for distant shots.
For all around big-game hunting I would be satisfied with the 3-9×40 AccuPoint with Duplex-dot reticle. Shooters looking for a scope with a bigger, brighter exit pupil would be positively ecstatic about the 2.5-10×56 AccuPoint that I tested, while the low-light predator hunter who likes to pick 'em off way out yonder would find nothing better than the 5-20×50 which offers a choice of AD or GD Mil-Dot reticles. Side-focus parallax and external adjustments allow shooters to compensate for wind and range quickly and reliably.
The 3-9×40 is the only scope with a one-inch tube, the 1- 4×24 and higher range variables are all a fat 30mm. All have quick-focus eyepieces, a matte finish, are nitrogen filled, and waterproofed to a depth of 3 metres and offer a wide choice of reticle designs.
For testing, I attached the Trijicon 2.5-10×56 to my Model 70 Winchester .300 WSM with laminated stock using Leupold Q/D rings.
This is a very accurate rifle, ideally suited for testing a scope. After zeroing the rifle I shot the square by walking the adjustments up to 30 clicks at a time all around the target. The 1/4″ clicks were crisp and precise which enabled me to land two shots at each setting inside the one-inch aiming marks.
To check how well this Trijicon worked, I shot at the 100 and 200 yard targets in the late evening when there was just enough light to let me see the aiming marks on the targets. No problem landing each bullet where it was aimed.
For night hunting predatory foxes and pigs, the light gorging 2.5-10×56 is ideal. Even on the highest power, the 56mm objective produces a large exit pupil allowing plenty of latitude for eye placement and a bright image to allow proper bullet placement on predators.
AccuPoints are the most practical illuminated big-game scopes of them all. Whether your sport is taking a fast shot at pigs at short distances or a precision shot at a 300 metre deer under the poorest light conditions, the AccuPoint can make it happen. Not many scopes cover such a wide spectrum. Best of all they have no electronics or batteries to worry about. They aren't cheap, neither are they outrageously expensive, but for your money you will be getting a scope that will master any lighting condition you are likely to encounter in the hunting field.