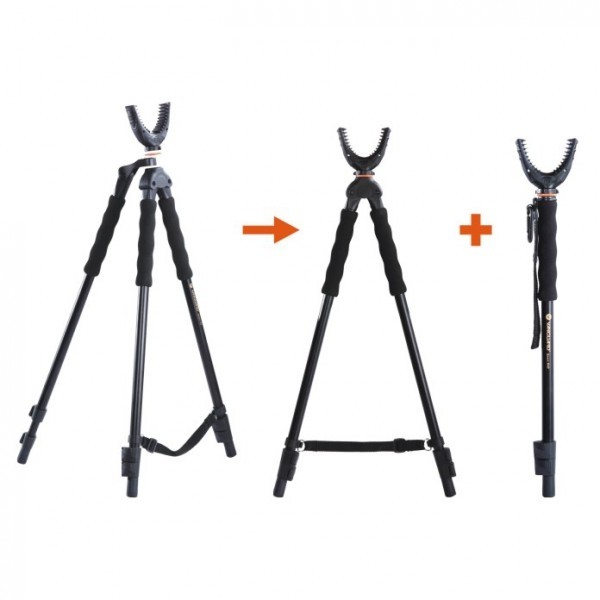 I had been carrying a shooting bipod on hunts less routinely of late, to the point where I put my last one down somewhere in the bush on a goat hunt several months ago and, as far as I know, it's still there, somewhere …
Never mind. I spoke with Victor Jettens, Product Manager of the terrific line of Vanguard photography and outdoor products and he took pity on me, sending me a top-of-the-range shooting tripod, the T62-U. It seemed to me to be a sturdy, but not over-heavy piece of kit, but you know it'll perform for the long haul, because it carries a standard Vanguard extended 5-year warranty if you register it on line when you purchase it. That gives great peace of mind and is a valuable asset in itself.
You know, being almost six decades on the planet, I am going pretty well physically. I have never suffered the surgeon's knife for dodgy knees, hip or back, despite covering hundreds of thousands of ks on my delicate size 9's in my lifetime. Part of that longevity is due to the fact that whenever I walked down or up steep hills, I mostly zig-zagged across the face of the hill, losing altitude gradually and I mostly used a stick or pole to support my feet when placed, particularly when carrying a pack.
As you can see from the teaser image, this Vanguard Tripod is adaptable to be a lightweight walking and shooting Bipod, suitable to steady you for a hasty shot over mid-height obstacles, like long grass, bushes etc. By carrying the screw-detachable monopod in your pack, you can convert your Bipod back to a Tripod, thereby providing you with a very steady rest to shoot in the standing, kneeling or prone positions, achievable in a matter of less than a minute.
I have made a video to show you this excellent tripod in action. It took one take – most of my videos do … and you can tell – and under real world shooting conditions, the Vanguard T62-U does very well, particularly when you consider my little 5-pound beast of a .270 bucks hard.
Enjoy the video and if you want to buy a set of shootin' stix, then you won't go wrong with Vanguard. Check 'em out at www.vanguardworld.com.au
Vanguard products are distributed in Australia by C.R. Kennedy.