I love the common sense that issues from the pen of Nick Harvey, guru of hunting writers with whom I have developed a firm friendship over the last five years. As such I had a bit of a prejudice about using any riflescope greater than 12-power. That was the case until the irrepressibly enthusiastic and tech-savvy Goran Pehar of Extravision convinced me to mount a 30mm-tubed Vortex 6.5-20×44 Viper riflescope on my .223 Varminter. It was a bit heavy as a walk-around hunting outfit; that role had been usurped by my CZ 527 Mannlicher-stocked .223 with a compact Nikon 2-8×33 M223, which had garnered many successes in the field and service target competition, so the Vortex-mounted Varminter didn't get many outings.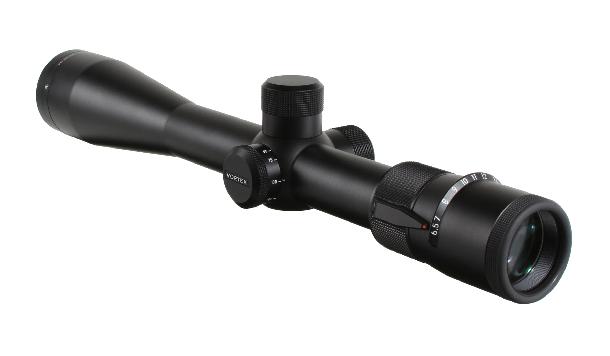 The Vortex Viper PST 6.5-20×44 Target Riflescope. They sell more with the 50mm objective but author wanted to mount his optic lower for balance in a field-target compromise, Light transmission characteristics are excellent.
The last time I had used the Varminter-Vortex combo was at a 300 metre MRCA Sniper Match, where it had won the state-of-the–art class with a 99/100. These sniper matches are no walk in the park, let me say from the outset. You will only succeed with adequate preparation, very good gear and good technique. At 300m, you engage a five-inch bullseye five ring on an 18×14-inch figure-12 backing, which scores four points. When you only have a four-second exposure of the target, in different locations over a four-square-metre area, 10 times over about two minutes, you get some idea of the level of difficulty. Pretty much everything has to go right and your sighting shots have to get you dead-centre from the start.
Typically, the matches are won with a score or 98 to 100 and there is a smattering of runners-up getting in the mid- to high-90s, all using classic well-tuned varmint or target rigs on Howa, CZ, Sako, Omark, Savage etc rifles in .223 or .308. Any of them could win on the day but for the skill and luck of the best.

An MRCA detail lined up on the 300 metre mound for a Sniper Match. Everything competes, from Barnard-actioned F-Class rigs to "coke-bottle" scoped SMLEs over four different classes.
The difference with that last 99/100 I shot with was that there were two points between me and the next competitor (generally only one point separates the top two to four) and I was using the Vortex Viper instead of my 4-12 Bushnell Elite. With the Vortex, I benefited greatly from its superb optics, greater magnification and 1/8 MOA Dot reticle, which allowed me to place my shots very accurately. Two days before that match, using the Vortex, I'd shot a 0.19MOA four-shot group at 200 metres with some new Nosler 69-grainers I was trialling at Silverdale and I took a (very tiny) leap of faith using them in the match. That leap was gratifyingly rewarded with that decisive win.
Scroll forward about five months after that match and I had not used the Vortex-scoped CZ Varminter at all. I decided to take it back to Oberon to do some fox shooting, along with my Mannlicher-stocked CZ, which I was lending to a mate. As it happened, I forgot to pack the bolt for the shortie and Barry had to use his .308, but that's another story.
I was humping the Vortex-Varminter (VV) and getting a few shots at foxes, staying well out once whistled; anchoring them was difficult with Nosler Match bullets and they did not achieve the emphatic "slap-down" that the 55gn Nosler Shots always had in the past – a good lesson learnt there. Use game bullets on game and leave target bullets to paper punching.

Two foxes shot under the excellent Lightforce HID spotlight.The left fox was hit between the eyes at 150m and the right one through the boiler room at 250m. The Vortex Target Dot and great clarity under the light made for very precise shooting.
Notwithstanding, when I took the VV out spotlighting, the Vortex performed beautifully under the new Lightforce HID spottie. I thought I'd lose the dot reticle under night shooting conditions but, if I had an adequate rest, I could place the dot between their eyes at 150 yards and then they did not go anywhere after being shot. The 6.5x low end magnification of the Vortex was just about perfect for daytime field use and for spotlighting, allowing adequate precision for hits out to around 200 yards – I never wound it up higher.
The CZ was proving itself yet again, but with the Vortex mounted, it stepped up onto another level of performance, and that was proven at another 300m sniper match the very next weekend. I assiduously zeroed the VV that morning at 300 with compadré and fierce competitor, Mark Adamson.
He chose to use an extremely accurate Omark .308 with a lovely Sightron SIII 6-24×50 target scope, again with a dot reticle. He was satisfied with the sub-two inch groups he was shooting with Sierra 150gn Game Kings he'd handloaded. My zeroing session did not go as well – I'd been battling a nasty flu and I had an elevated heart rate and difficulty breathing well enough. Nevertheless, I felt equipped enough to be competitive, but suspected Mark would wear the garland that day.
When it came to the shoot briefing, the range officer, Arthur Johnstone, gleefully held up the target we were to engage. The bullseye had shrunk from five inches to a little under four. Remonstrations by the assembled crusty service shooters met with Arthur's sarcasm: "You'll find a padré I've invited up the back who'll listen to your complaints; don't come to me whinging."

A compressed perspective of the targets at 300m. The bullseye is the little four-inch white dot which comes up in different locations for four seconds, 10 times over two minutes; then it's repeated. It is a very challenging match.
At this juncture, I opined to Mark standing beside me that it would be unlikely that any 99s were shot today and that the winner would be lucky to get in the mid-90s, now that the bull size had been reduced by 20 percent. Mark replied, "Well, it's the same size for everybody, you've just got to dig a bit deeper." Sometimes that best man of mine really cheeses me off.
Now, there's an element in these scope matches that works only in state-of-the-art classification, if you have good, high-magnification optics. You can see your bullet holes in the white bullseye when you've recovered from recoil, but in a cruel irony, if you miss the bull and hit the surrounding black four, you won't see diddly-squat. Hence, the early bullseye hitters can make very slight hold corrections to keep their shots in there and the poor saps who are just out have no feedback to get into the bull and are correcting purely on guesswork. While spotters are allowed to coach the shooter into the bull, they have just as hard a time seeing the holes outside the white.
I shot early without a spotter and during my sighters I was most unsettled and shaky. I broke a cardinal rule, got up and reconfigured my sandbag rests so I became more steady and prepared for the counting shots. My first three appeared to go outside the bull but on a hold correction I luckily got inside and continued to plonk them in there. My spotters for the first stage came up, giving me much needed feedback that my fours were at between 11 and 12 o'clock, about an inch out. I wound down a quarter and decide to hold on the right edge of the bull, a hair below the waterline. Next stage, I saw them mostly go in, using just about all of the white. The spotters revealed one four and the rest in the bull. Had I been using my old 12-power scope, I would not have had much of an idea.
Then came Mark's turn and I offered to spot for him. He is not as experienced a sniper shooter as me but his technique and attitude are superb. I saw his first shot go in the five at one o'clock, and he proceeded to put a staggeringly small group in, using only the right third of the bullseye. His spotters came up, indicating nine bulls and one inner. I joked with him that I was giving him all my hard-won sniper shoot wisdom while I rued the time I offered to assist him by spotting, but persisted and did my best for him through his second stage where, halfway through, he started to miss the bull. The bullet trails I could see through the spotter told me they were going high and I fed back to Mark that I thought they were out between 12 and 2 o'clock. He attempted to correct but never got back in. Spotters indicated he had four in the bull and six inners – total score 93. The inners were a couple of inches high, spread between 11 and 2 o'clock.
What went wrong in the middle of his stage, I cannot imagine, and I was genuinely sorry that what started as a blinder, deteriorated in the end. Perhaps his hot barrel caused the group to climb or copper fouling had caught up with him – he only cleans his stainless Tru-flite barrel every 80 shots – who knows? I was lucky that the only competitor there who proved he could keep nine consecutive shots inside 2/3 MOA under snap shooting conditions, had something go wrong. My score came back as 96 with Mark gaining second. It could have easily gone the other way.

The newspaper cutting, reporting the match results.
Now, I am not suggesting that every field shooter should immediately rush out and mount a high-magnification high-quality variable riflescope on their fox gun, but the only way I felt at all handicapped in the field was in the weight I was lugging while walking, but it wasn't that bad. If I had to pick a perfect optic for sniper matches or F-Class, though, the Vortex Viper that now lives on my CZ would be very high on the list.
Thanks for the advice, Goran.